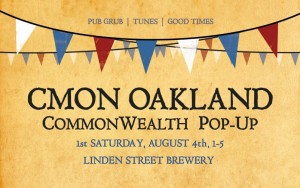 Commonwealth Cafe & Pub opened a couple years ago and has been kind of like THE place to watch soccer in Oakland.  Unfortunately, there was a fire last month and it has been closed for repairs.  Fortunately, the Commonwealth Crew is hosting a pop-up at Linden Street Brewery this weekend to reconnect with their customers: "We may be down but we are not out… & we miss you."  There will be pub grub, music and plenty of beer.
95 Linden St, Oakland
Sat, 8/4, 1 – 5pm

Christina is a blogger, podcaster and social media consultant for local food businesses. She started East Bay Dish over 7 years ago and has been sharing her adventures in local restaurants ever since.

Latest posts by Christina Mitchell (see all)