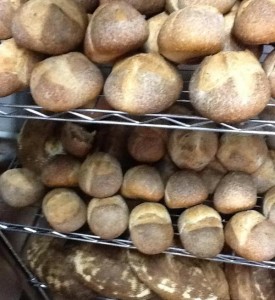 You might remember that Nick's Pizza opened in May.  Since then they have been serving seasonal pizzas, including the Pear and Arugula on the menu this week.  Chef/owner Nick Yapor-Cox, who has experience at Arizmendi Bakery, had so much fun making sourdough loaves and rolls for Thanksgiving he now has plans to add a "cafe/bakery aspect to the shop."  The goal is to expand hours and offer coffee, housemade pastries and bread to the neighborhood, starting sometime in the spring or summer.
6211 Shattuck Ave, Oakland
510-658-3903

Christina is a blogger, podcaster and social media consultant for local food businesses. She started East Bay Dish over 7 years ago and has been sharing her adventures in local restaurants ever since.

Latest posts by Christina Mitchell (see all)