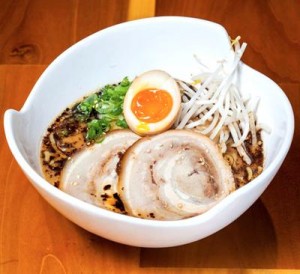 Good News: Sobo Ramen is celebrating the Oakland A's Kickoff Week with special prix fixe menus  for lunch and dinner.  For example, lunch for two is $25 and includes a Karaage Appetizer (Fried Chicken Nuggets), Ramen of your choice and soft drinks.  Go A's!
988 Franklin St #186, Oakland
Through Sun, 4/7
photo: Sobo Ramen
Best Tastes of Market Hall is basically four hours of meeting producers and TASTING.   Artisans include Talcott Olive Oil, Laura Chenel Chèvre, Pollen Ranch, Hodo Soy, Edmunds St. John Wines and more.  You can also learn about coffee roasting techniques at Highwire Coffee Roasters and watch butchery demos at Marin  Sun Farms.
5655 College Ave, Oakland
Sat, 4/6, 10:30 – 2:30pm
Free entry

Christina is the founder of East Bay Dish and a social media marketing consultant. If you want to attract more customers with social media, click on my picture 🙂

Latest posts by Christina Mitchell (see all)