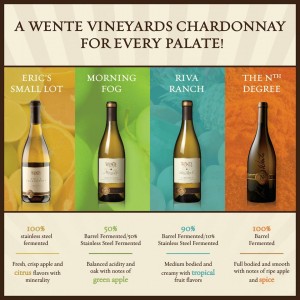 Did you know that National Chardonnay Day is in May?  Hey, that rhymes. Anyway, you can celebrate by hosting a party at home or going to Wente Vineyards for a Chardonnay reception ($45) or you can have dinner at The Restaurant at Wente Vineyards. Executive Chef Matt Greco is preparing a special 3 course prix fixe dinner that will, of course, be paired with chardonnay: Here's the menu:
Dungeness Crab Cakes with Cornflake, Charred Avocado and Red Curry
Stone Valley Farms Pork with Red Flint Corn, Pancetta, Grilled Turnip and Peanuts
Coconut Rice Pudding and Cherries
There will also be a special Chardonnay tasting flight offered through the end of the month.
5050 Arroyo Road, Livermore
Thurs, 5/22, 5:30 – 8:30pm

Christina is the founder of East Bay Dish and a social media marketing consultant. If you want to attract more customers with social media, click on my picture 🙂

Latest posts by Christina Mitchell (see all)