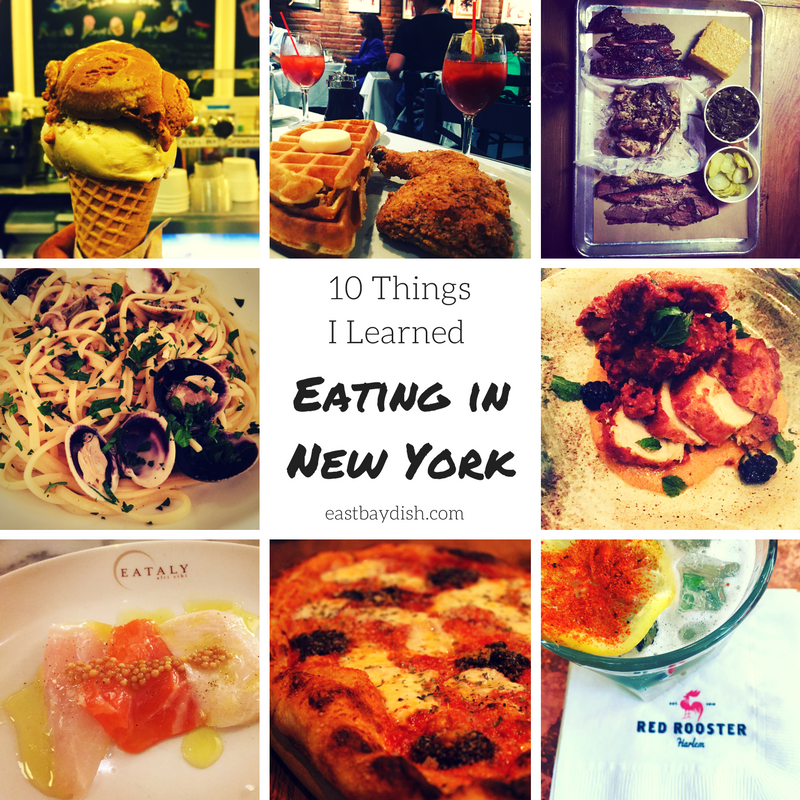 If you follow me on Instagram, you probably noticed that I spent 5 days eating and gallivanting through New York.  It was such a delicious city, but I definitely messed up a few times along the way – I wanted to share my experience so we can ALL learn from my mistakes.
Here are 10 things I learned eating in New York:
1.  Sometimes it's hard to choose the right dish.
This happened to us at Talde. Everything on the menu looked amazing and the server didn't give us much direction, so we ended up ordering the KFC (which was tasty, but not spectacular).  After some research, realized that we should've ordered the chicken wings.
Oops.
Next time…
I had two meals that were incredibly simple and also incredibly delicious – this can only happen when all of the ingredients and technique are top notch.  Lunch at Eataly and dinner at Prune were just that.  
Eataly is like a huge market with several restaurants inside, and I had the two course prix fixe lunch menu from Il Pesce.  The Crudo was fresher than fresh and with mustard seeds and a really grassy olive oil.
And most of the dishes at Prune were so straightforward and perfectly executed, but my favorites were the Buttered Blue Cheese Toasts with Marinated Celery and the Linguine with Clam Sauce.
3. Really good BBQ can make you dance.
My friend insisted on taking me to Hometown BBQ – and I'm glad she did.  We don't have a lot of good BBQ in Oakland right now and the spare ribs were so tender and flavorful they made me dance!
Don't bother going to #Cosme for lunch. Closed for special filming #NYC #foiled pic.twitter.com/iFTz2s2yvx

— Ben S. (@FocusSnapEat) September 6, 2016
4. Be flexible.
We had a shared spreadsheet to plan our eating itinerary and we made an effort to visit both new and established restaurants. But our plans fell through when two new spots were closed (without mentioning it on their website or social media) – Wildair was on vacation for the weekend and Cosme was closed for filming. It was pretty disappointing, but at least we always came up with a Plan B!
5. It's a good idea to meet a friend that happened to be in New York on vacation.
Speaking of Cosme, I met Ben there, but since it was closed, we ended up having lunch at Upland. And the 'nduja pizza was spectacular! Here's Ben's post about our meal.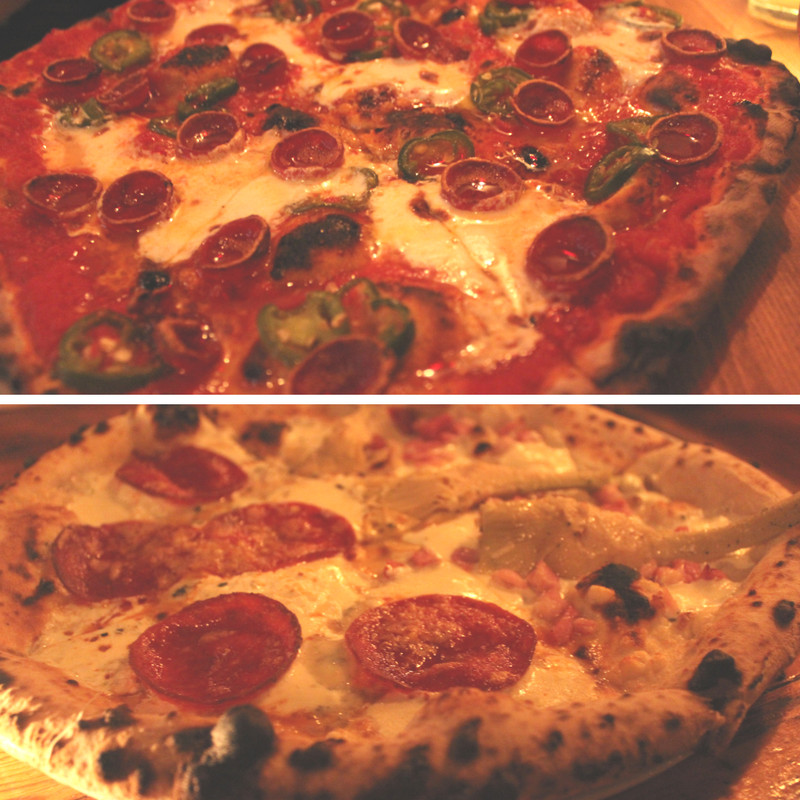 6. Going to two different pizzerias in one night is also a good idea.
Speaking of pizza, one night we ended up trying two different styles of pizza in one night. Emily had a crispy crust and Baboncino's version was puffy and chewy.  The trick is to have some restraint during the first meal in order to save room for the second. 
7. There is a wrong way to order Jerk Chicken.
We loved watching the West Indian Day Parade and I was happy to see that there were lots of food vendors on the street.  Most of them were grilling and it smelled amazing, so I was excited to try some Jerk Chicken.  Unfortunately, I made the mistake of waiting in "line" while others gracefully pushed to the front. Next time I will definitely try a different approach, but at least I got to have some refreshing Soursop Juice!
8. Running through Central Park takes away the guilt.
Running from one end of Central Park to the other turned out to be the perfect way to work up an appetite for a Fried Chicken & Waffles brunch at Sylvia's Restaurant. The chicken was crispy and juicy and I cleaned my plate without a shred of guilt.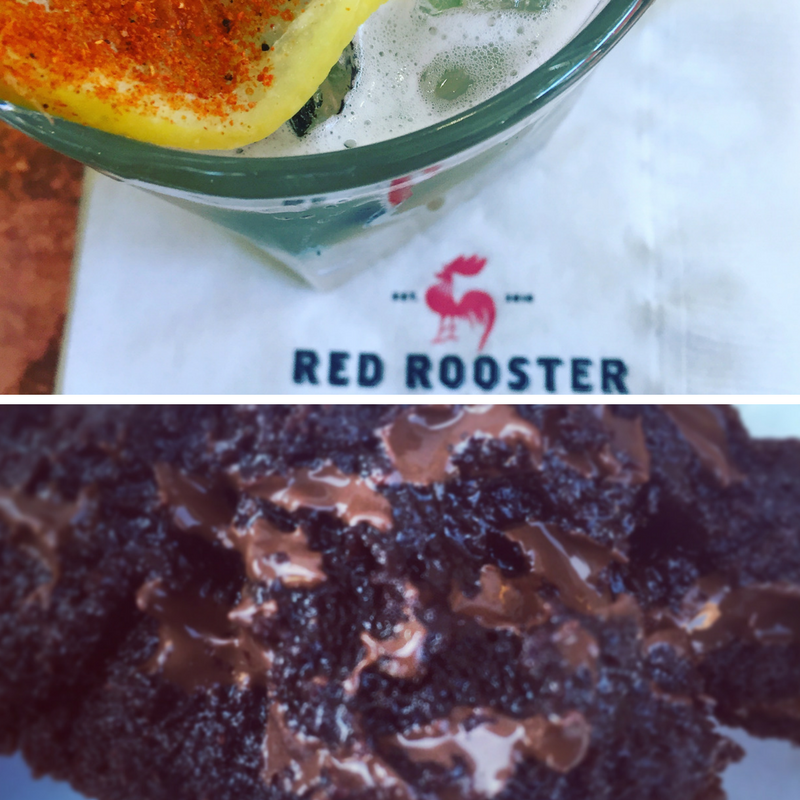 9. Always try to stop by several spots in the same neighborhood.
After brunch, we stopped by Red Rooster for a refreshing drink, then Levain Bakery for an epic double chocolate cookie. It was so convenient to make several stops in Harlem before hopping back on the train, so I would definitely do that again!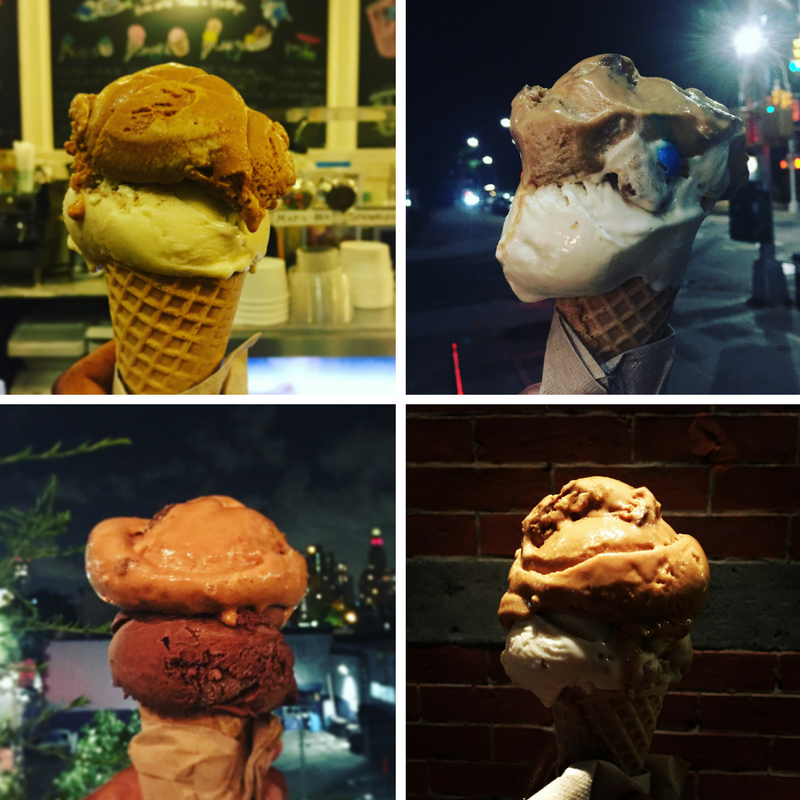 10. The ice cream was AMAZING.
I was hooked the second I tried a sample at Ample Hill.  The ice cream was so smooth, salty, and incredibly flavorful. This is not your average ice cream.
My favorite flavors were The Munchies (Pretzel-infused ice cream with clusters of Ritz crackers, potato chips, pretzels and mini M&Ms) and Salted Crack Caramel (Salted butter caramel ice cream with Deb`s Famous Crack Cookies: saltine crackers coated with butter, sugar and chocolate). I learned that they pasteurize the milk, cream, sugar, and eggs together on site, so this must be why it was so addictive. It's also really convenient that they have several locations that closed at midnight, so we stopped by after dinner on 4 out of the 5 days I was there!
Have you ever been to New York?
Let me know if you have any suggestions for my next trip!

Christina is the founder of East Bay Dish and a social media marketing consultant. If you want to attract more customers with social media, click on my picture 🙂

Latest posts by Christina Mitchell (see all)