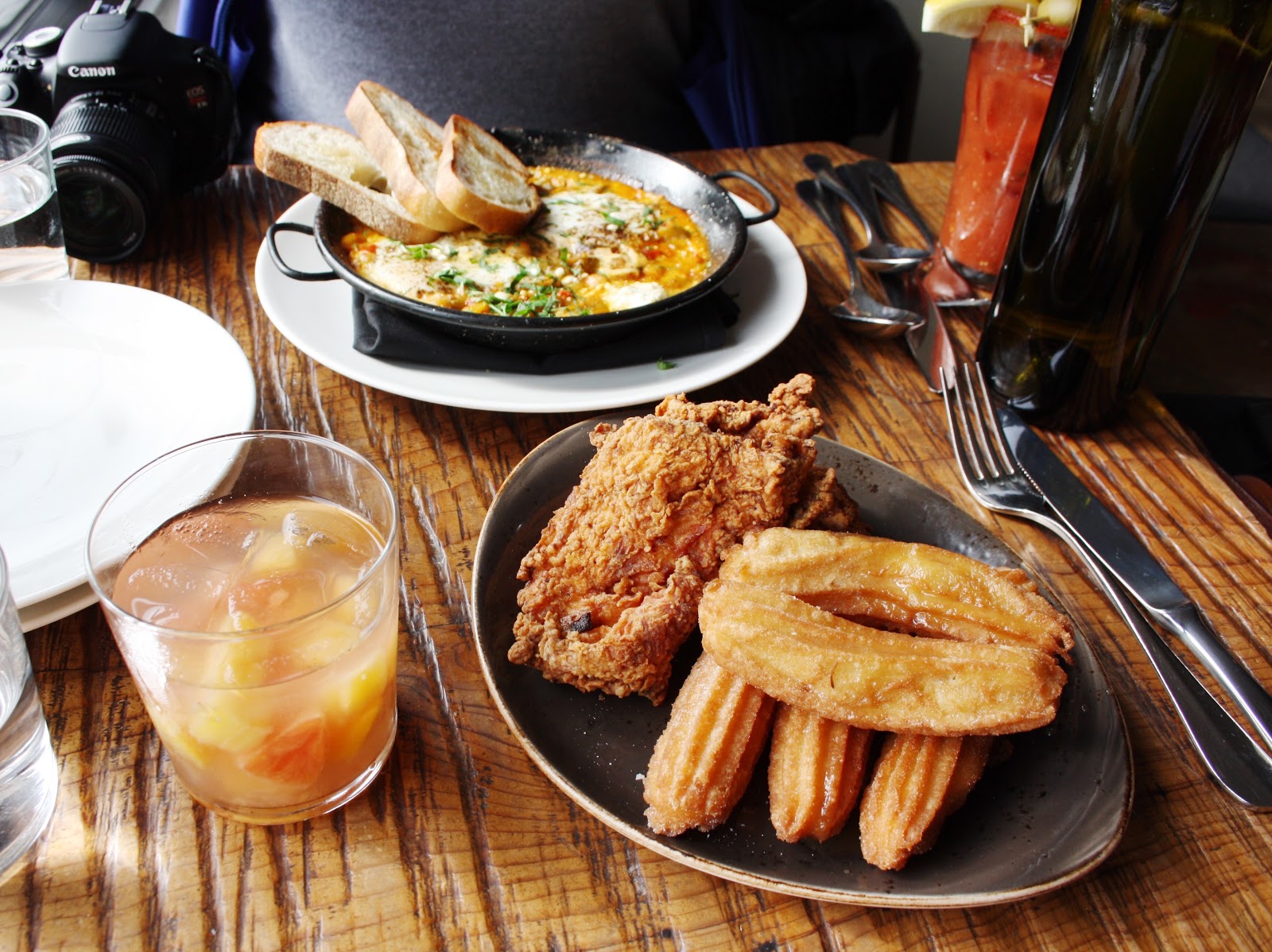 Christina and I were recently invited to have brunch at Shakewell, which is a Mediterranean-inspired restaurant owned and operated by two Top Chef alums, Jen Biesty and Tim Nugent. We had just read Brenda Ton's rave review at Bites and Bourbon, so this was a highly anticipated meal. Judging by the large crowd at Shakewell when we arrived on Sunday morning, we weren't the only ones looking forward to brunch.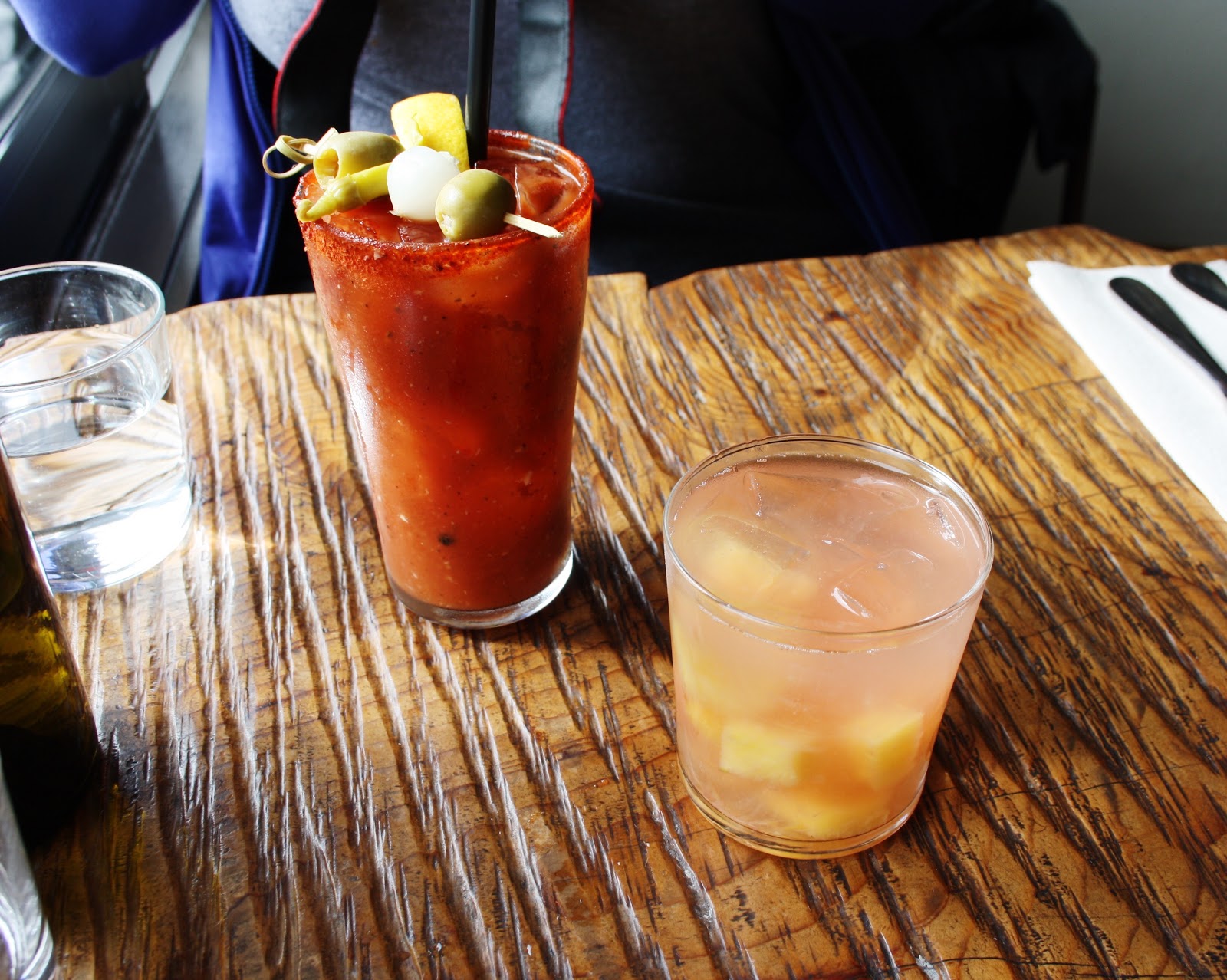 To start: cocktails (what else?). I immediately went for the Rosé Sangria (right – rosé, combier, brandy, cocci americano, lemon, grapefruit, pineapple) which tasted fresh, sweet, and light. I recommend it if you're looking for something fruity but not in the mood for something as sugary or bubbly as a mimosa. Christina started with the Bloody Mary (left – vodka, SW mary mix, topped with an anchovy stuffed olive, guindilla pepper & chili spiced rim) and she said it was pretty spicy and woke up her palate.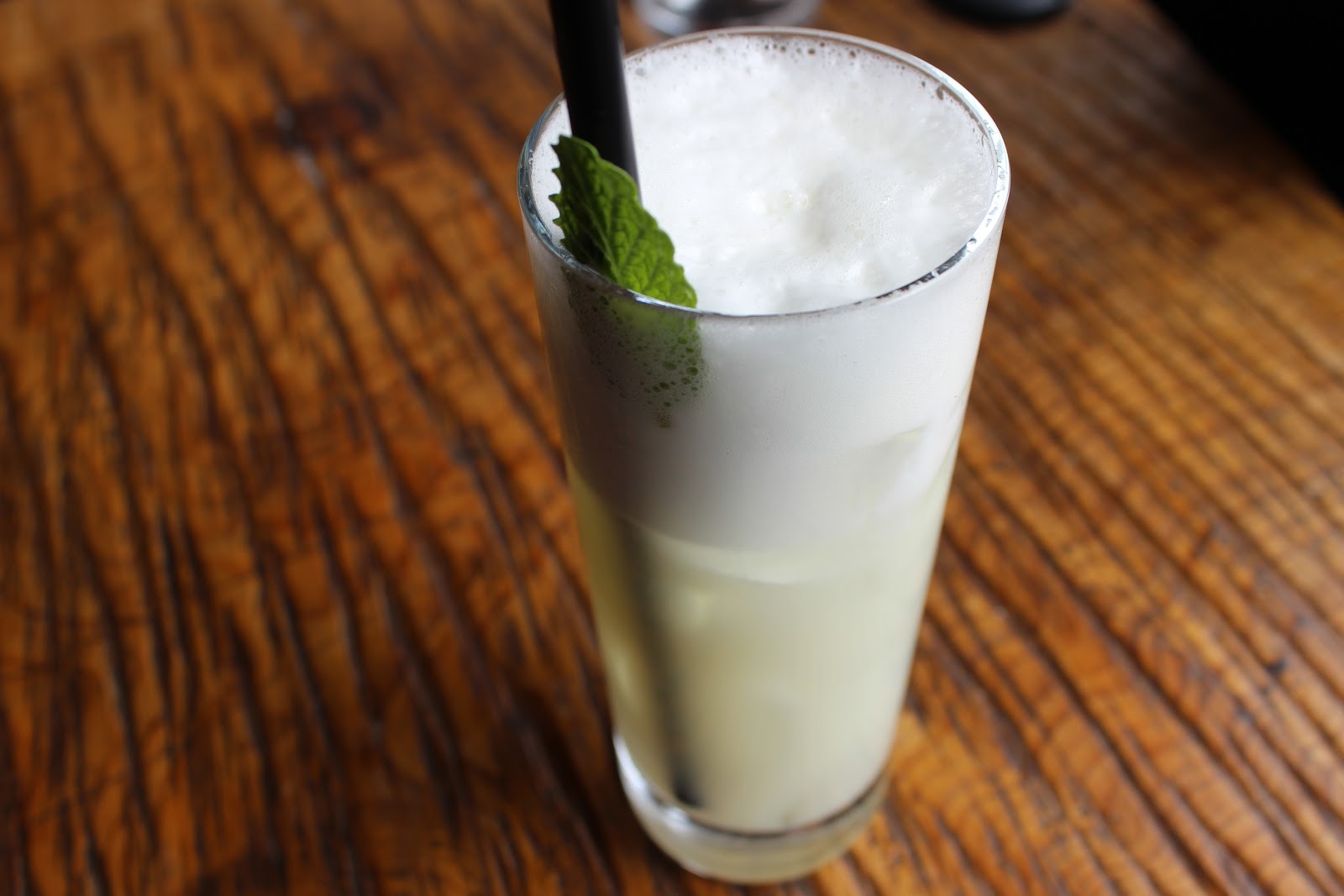 We also tried the Morning Glory Fizz (gin, absinthe, lemon, orange blossom water, egg white, cava), which was very light and clean.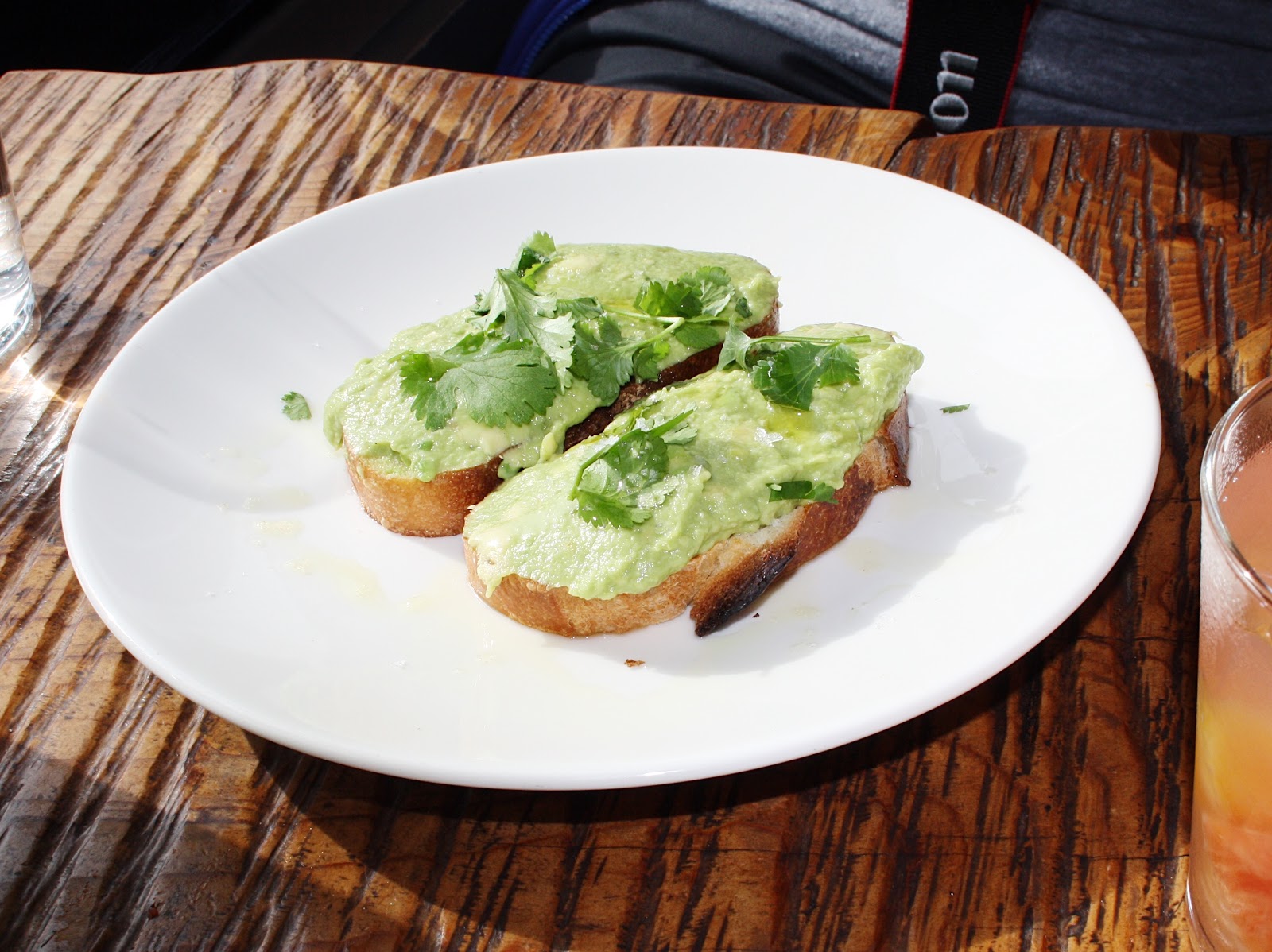 We decided to split an order of Avocado Toast (lime, sea salt, extra virgin olive oil) at our server's suggestion. The simple, straightforward flavors complemented each other nicely, but I felt the toast was just fine, not special.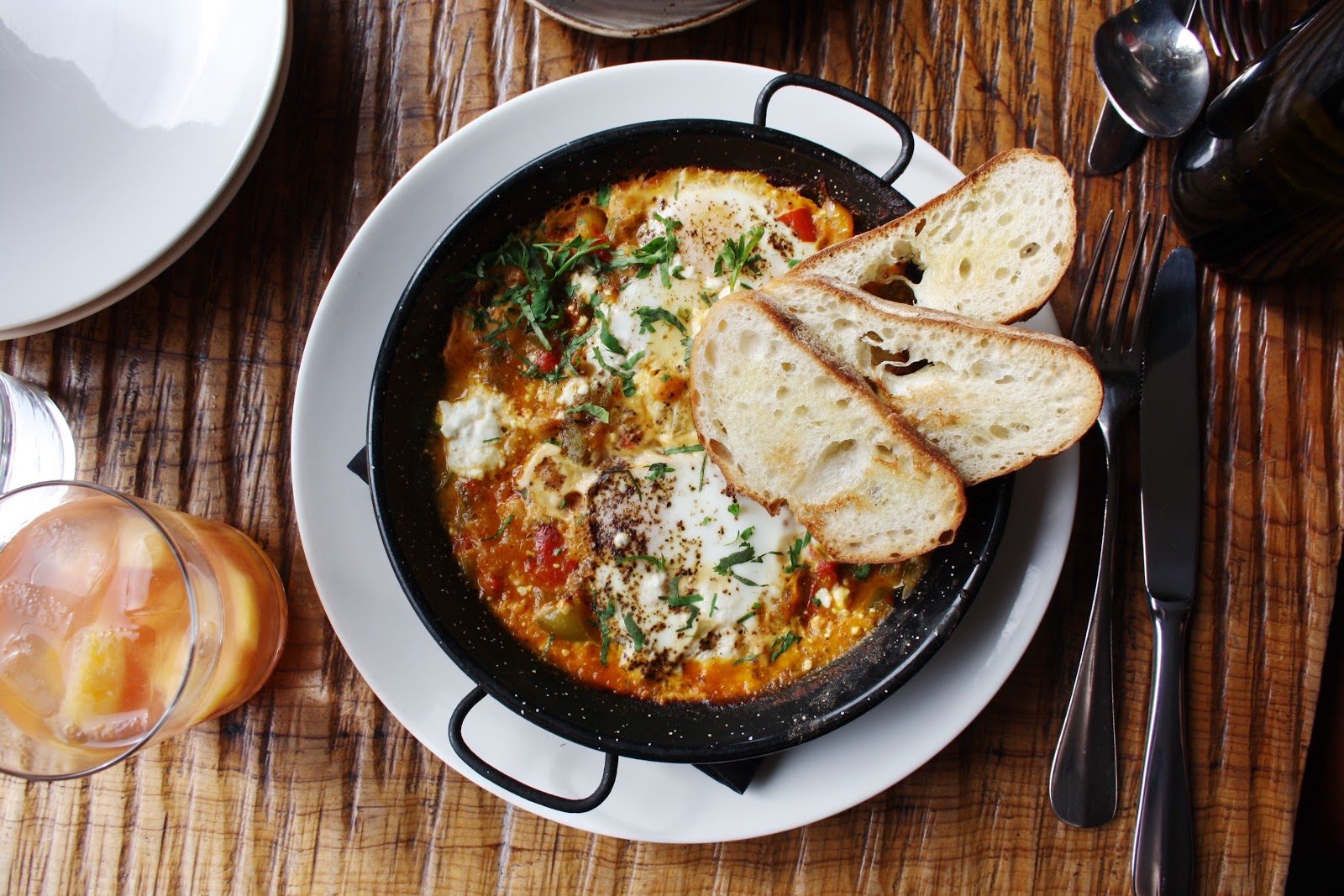 Next, we split the Shakshuka (Moroccan baked eggs, roasted peppers, chickpeas, herbs, french feta, toast). Christina and I are both fans of shakshuka, and when this one arrived we were struck by how beautiful it was. I mean, just look at it! The roasted peppers and Moroccan spices came together with eggs nestled in a light but super flavorful sauce studded with chickpeas. There was a bit of heat to the sauce, which was countered nicely by the feta melted on top. We used the toast on the side to sop up the extra sauce and runny egg yolk. I really liked the heartiness of the chickpeas, but I wish the sauce itself had been thicker so that it would have stuck to the chickpeas, eggs, and toast more. And Christina said her Bloody Mary overpowered this dish, so she couldn't really taste it at first. Next time, she would definitely pair it with wine or a lighter cocktail instead.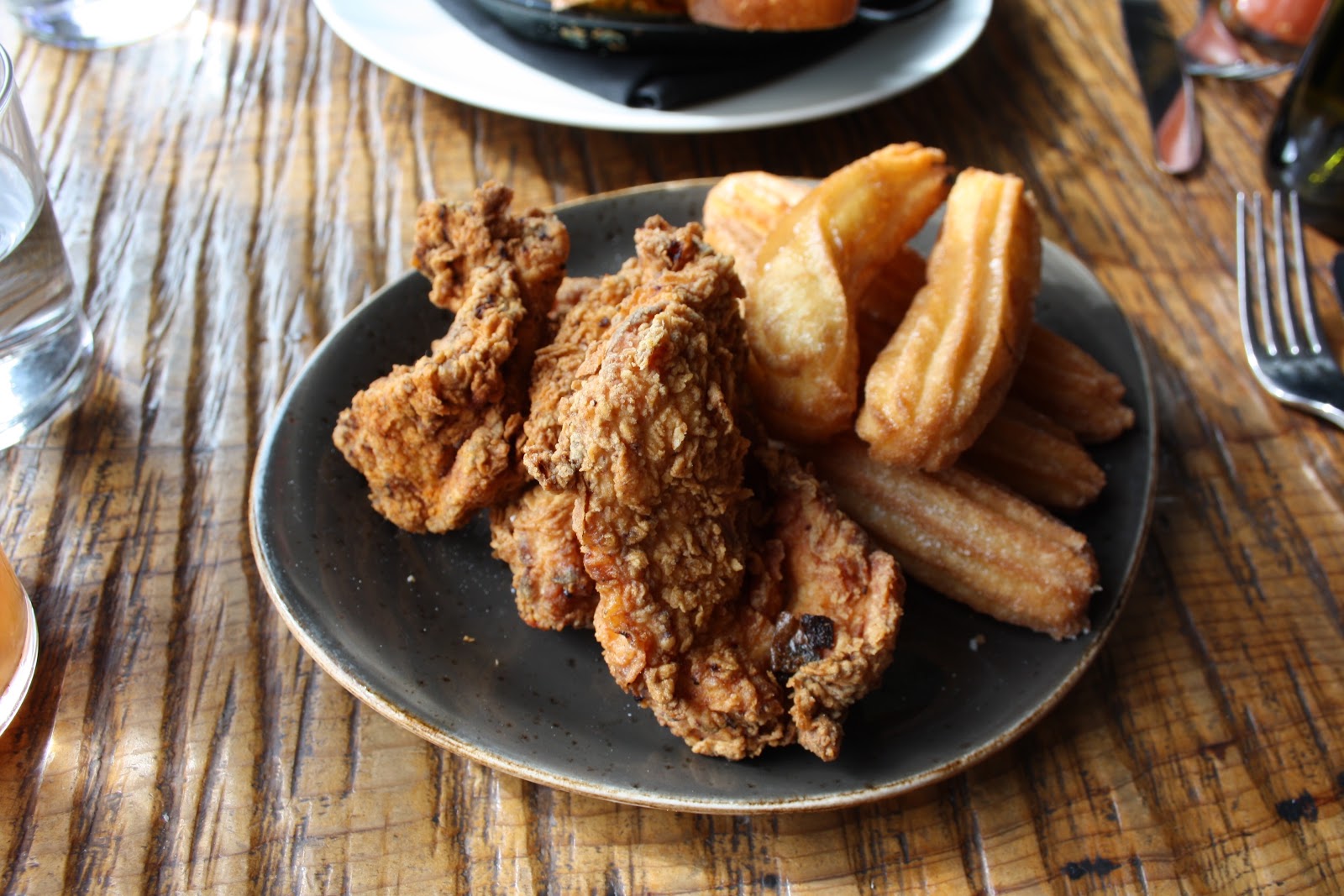 The last item we tried was the "Chicken and Churros" (fried spice-rubbed chicken breast, buttermilk syrup). The churros were fluffy and golden brown, though a little doughy in the middle. And the chicken was spiced really well with an awesome crunchy crust, but a little bit dry inside. Each part separately was pretty good, but it felt like something was missing: moisture, sweetness, and a sauce to bring everything together. Christina ordered an extra side of buttermilk syrup (which had been drizzled very sparingly on the churros) and when our little cup of syrup arrived, it was a total game-changer. It tasted less like buttermilk and more like butterscotch; decadent, caramelly, and buttery. I doused my chicken and churros in it and felt like I was eating a different meal that was sweet, savory, crunchy, moist, and totally cohesive. Moral of the story: order the chicken and churros with EXTRA buttermilk syrup.
Although I wasn't in love with everything we ate, I enjoyed the inventive menu and chill atmosphere and would definitely go back. Check out Shakewell for yourself and let us know what you think!
3407 Lakeshore Ave., Oakland
(510) 251-0329

Becca is a New England native who recently moved to Oakland. She loves cooking and eating and is excited to explore her new home as an assistant at East Bay Dish.

Latest posts by Becca Frost (see all)