Hi there! Allow me to introduce myself. No, this isn't Christina, the East Bay food lover you're used to hearing from on East Bay Dish. My name is Becca and I will be assisting Christina with the blog behind-the-scenes and posting some reviews myself.
Unlike Christina, I am new to the East Bay. I recently moved from Boston to Oakland and I couldn't be happier to be here. I mean, it's 50 degrees and sunny in February. What's not to love?! I am a few years out of college and moving to a new city is giving me the opportunity to push my boundaries and explore my passions, like food. One of my favorite parts of moving to the Bay Area has definitely been exploring a new and vibrant food community.
Belly is one of the first restaurants I went to when I moved to Oakland, and I've been back several times since then. Belly is a casual Korean-Mexican fusion restaurant that serves tacos, burritos, burgers, salads, and specialty fries, which explains why this quickly became one of my go-to spots in Oakland.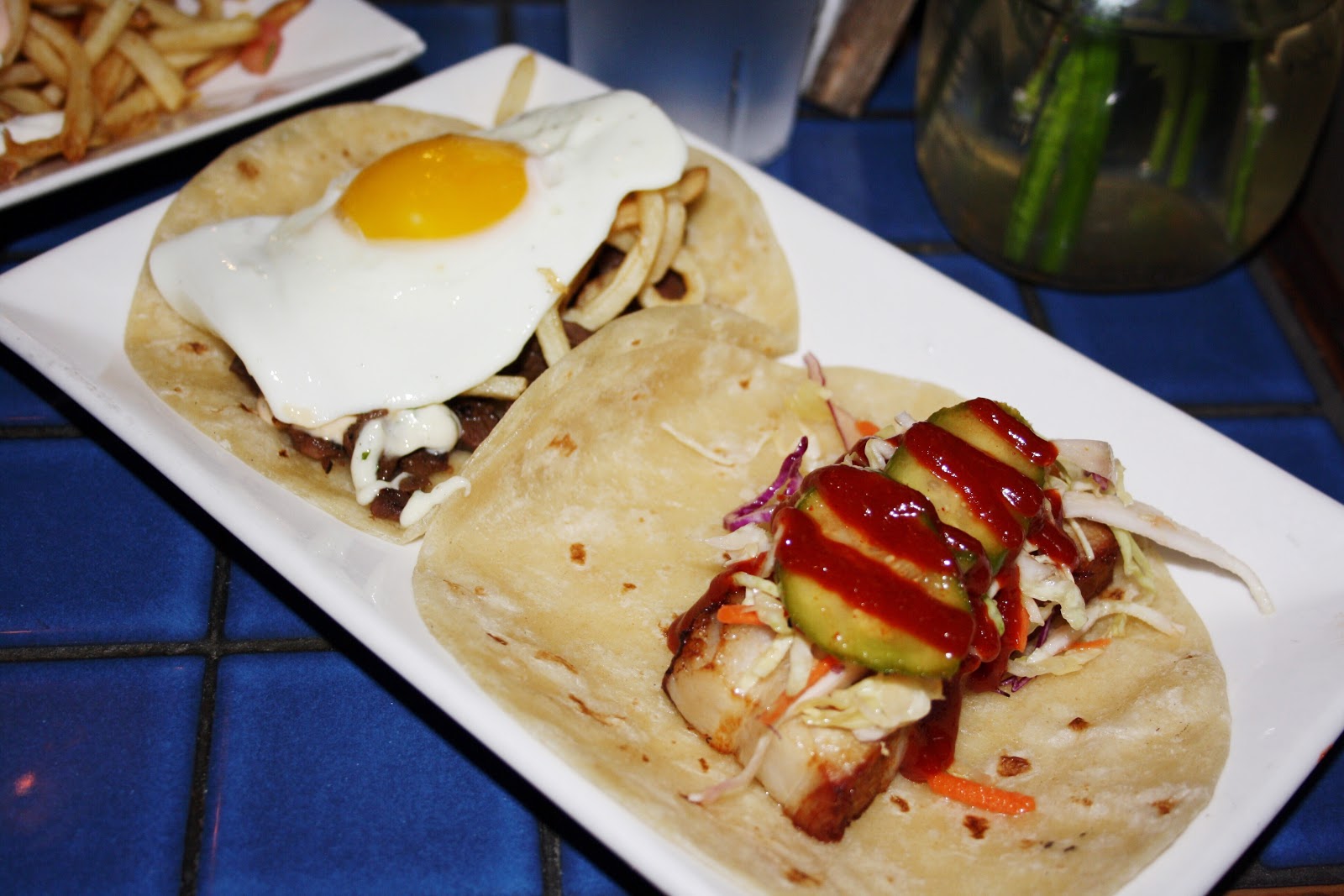 I started with the Pork Belly taco (right – Spicy Honey Glazed Pork Belly, Sesame Slaw, Pickled Cucumbers), and while I was impressed with the generous piece of pork belly, I found the sauce to be a little too spicy. I'm kind of a wimp, though, so if you can handle the heat, this might be the taco for you. Next I tried the Steak + Eggs taco (left – House Marinated Steak, Fries, Fried Egg, Chipotle Aioli, Garlic Aioli). The fried egg was cooked perfectly so that the yolk broke and ran over the crispy shoestring fries underneath. I'm a sucker for a runny yolk and this did not disappoint.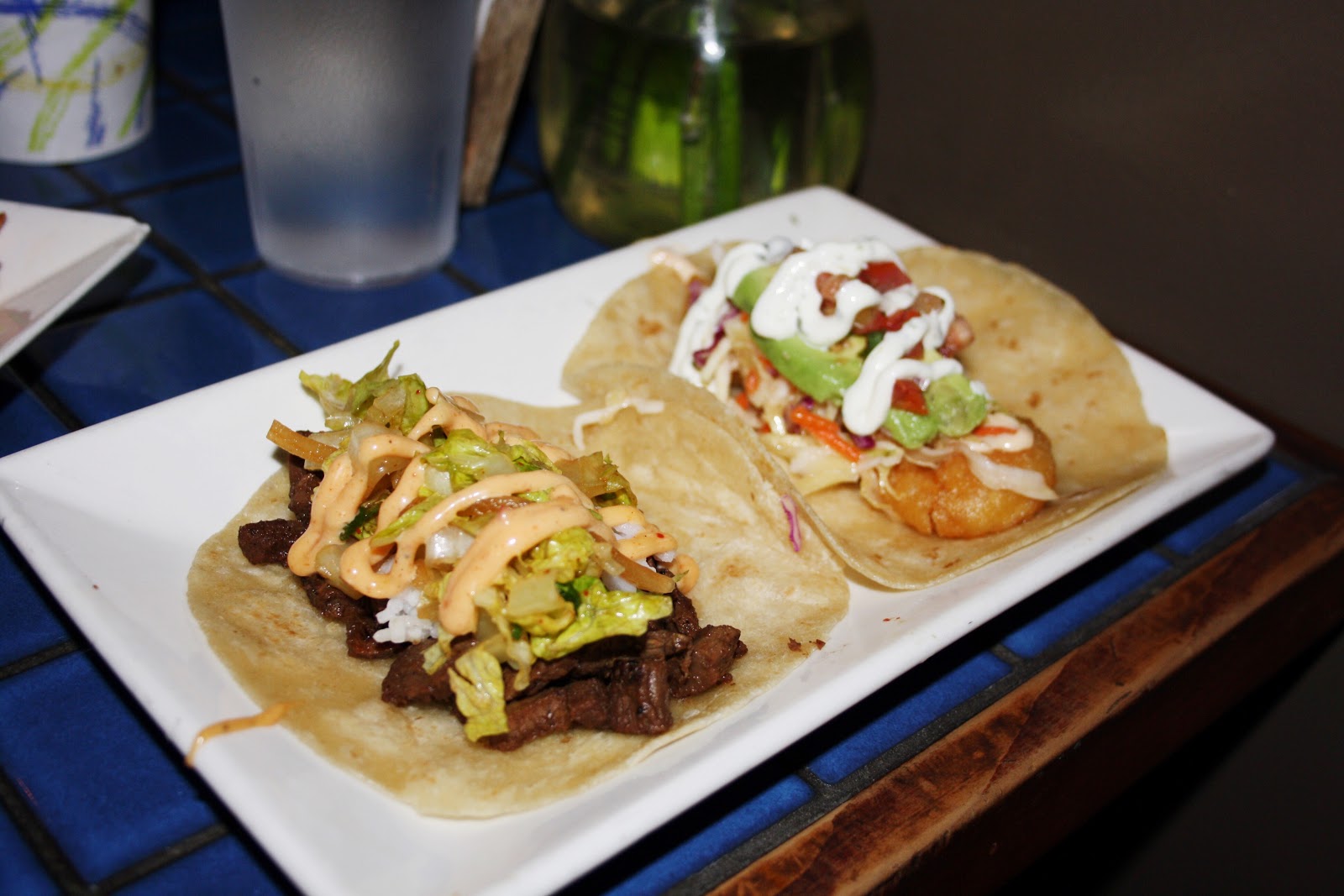 The Shrimp + Avocado taco (right – Shrimp Tempura, Avocado, Sesame Slaw, Sambal Aioli, Pico de Gallo, Lime-Cilantro Sour Cream) had an overall mild and creamy flavor, which contrasted nicely with the crispy fried shrimp. The Belly taco (left – House Marinated Steak, Rice, Korean Slaw, Kimchi Aioli) was my favorite taco of the night. The steak was marinated in a semi-sweet sauce and the Korean flavors came together perfectly in taco format. Placing familiar flavors in an unexpected (but still recognizable) vehicle created a playful and delicious combination.
Side note: all of the tacos are also available as burritos if you find one you love and want a LOT of it.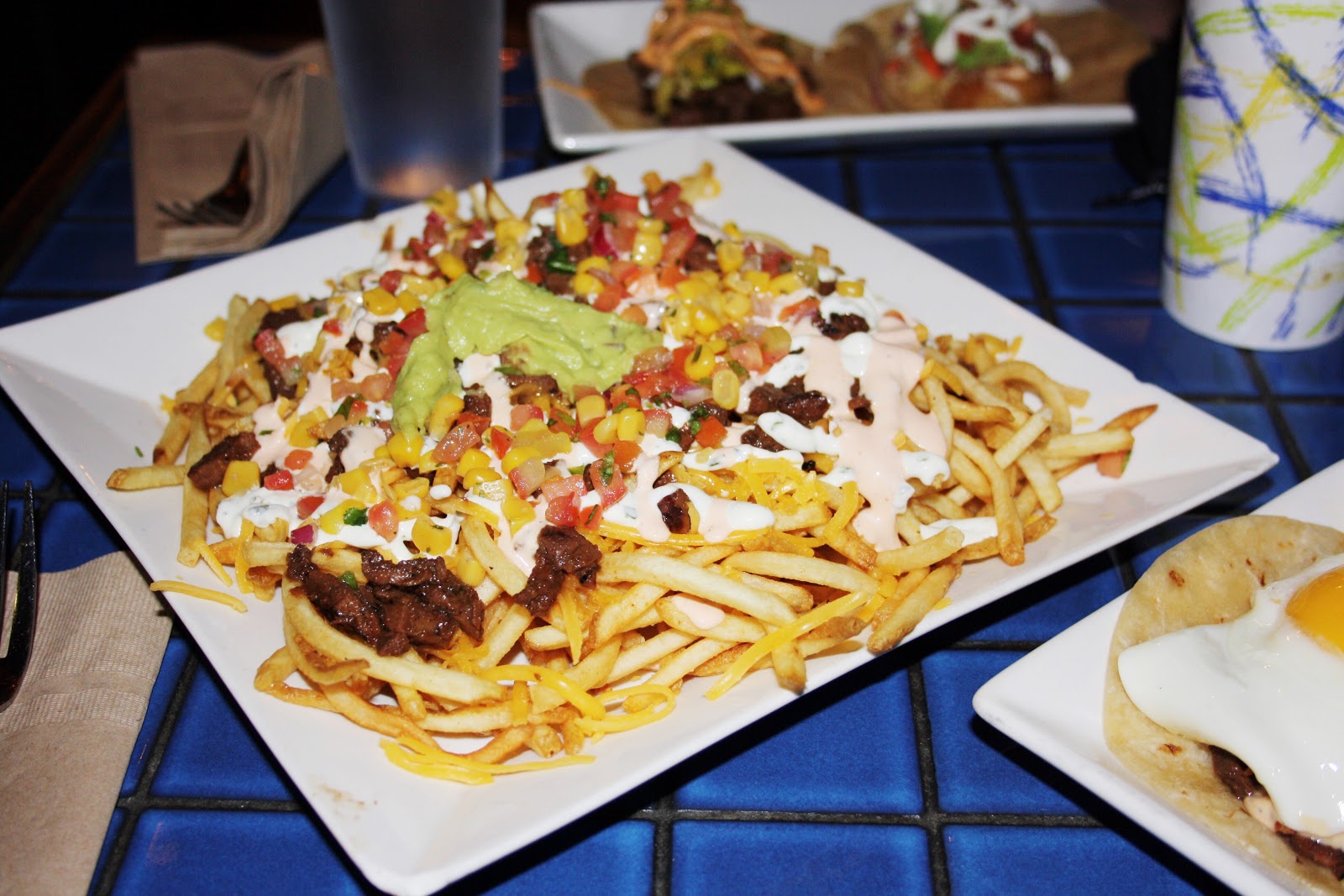 I also ordered the Belly Cali Fries (French Fries, House Marinated Steak, Spicy Sour Cream, Lime Cilantro Sour Cream, Pico de Gallo, Guacamole, Corn Salsa, Cheddar) and wow… these are what loaded fries should be. You know when you're eating fries and there aren't enough toppings so some of the fries are all naked and sad? The Belly Cali Fries were so much more! There was plenty of steak-pico-guacamole goodness to go around and every golden little fry was happy. If you go with friends, order one for the table and you will not regret it.
If Belly is any indication, I know I'm going to keep myself very busy touring the East Bay's food scene. It seems like there are always new bars and restaurants opening, but even spots that have achieved institutional status are brand new to me. I am really excited to taste my way through the East Bay and learn from the vibrant community of food enthusiasts who have made this area such a fun place to eat.
1901 San Pablo Avenue
Oakland, CA 94612
(510) 839-0000

Becca is a New England native who recently moved to Oakland. She loves cooking and eating and is excited to explore her new home as an assistant at East Bay Dish.

Latest posts by Becca Frost (see all)