Christina and I were recently invited to dinner at Duchess, a pub-inspired restaurant on College Ave in Rockridge. We were seated in a booth that gave us a good view of the rest of the space, which was filled with other tables, booths, and a beautiful dark wooden bar in the back corner, accented with delicate floral details. It was full, but the space felt more cozy than crowded.
As soon as I looked at the menu, I got really excited. Literally every single dish was something I wanted to order. Everything was catching my eye. How could I choose from so many options that all sounded amazing? We ordered drinks first to give ourselves more time to consider our server's dinner suggestions.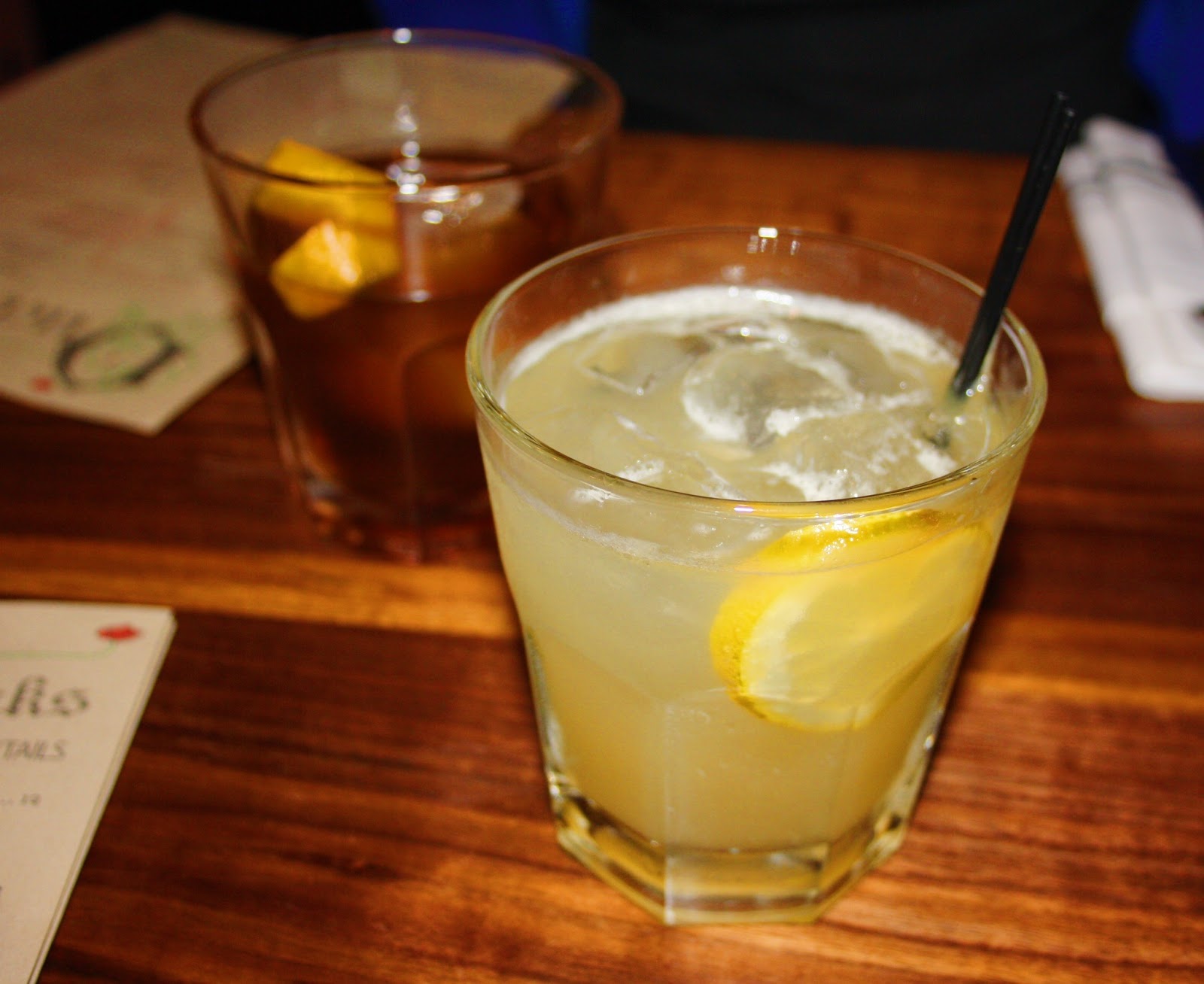 I ordered the namesake Duchess cocktail (front – gin, rancio banyuls, orgeat, lemon) which was citrussy and fresh without being too sweet. Christina went for the Bastogne (back – rye, braulio, nocino, walnut bitters). I tried a sip and while I'm not usually a whiskey person, I loved this cocktail because it was balanced and not overpowering.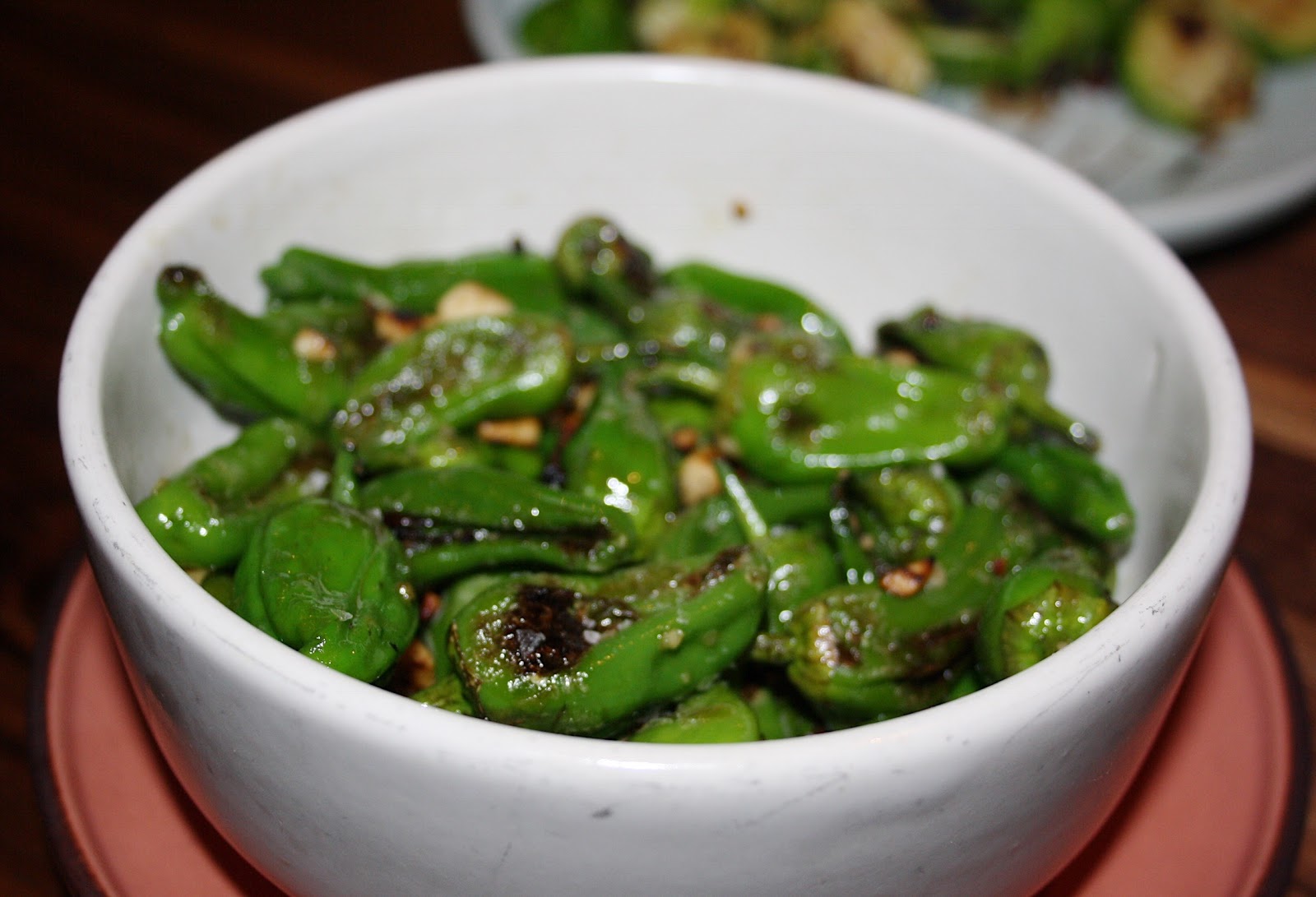 I loved that they had Padron Peppers as a starter, since it is nice to start a meal with something green. They were cooked and seasoned well and the nuts and lemon brought different notes to the mild peppers (well… mostly mild. Like shishito peppers, every once in awhile you get a really hot one. It keeps things interesting!)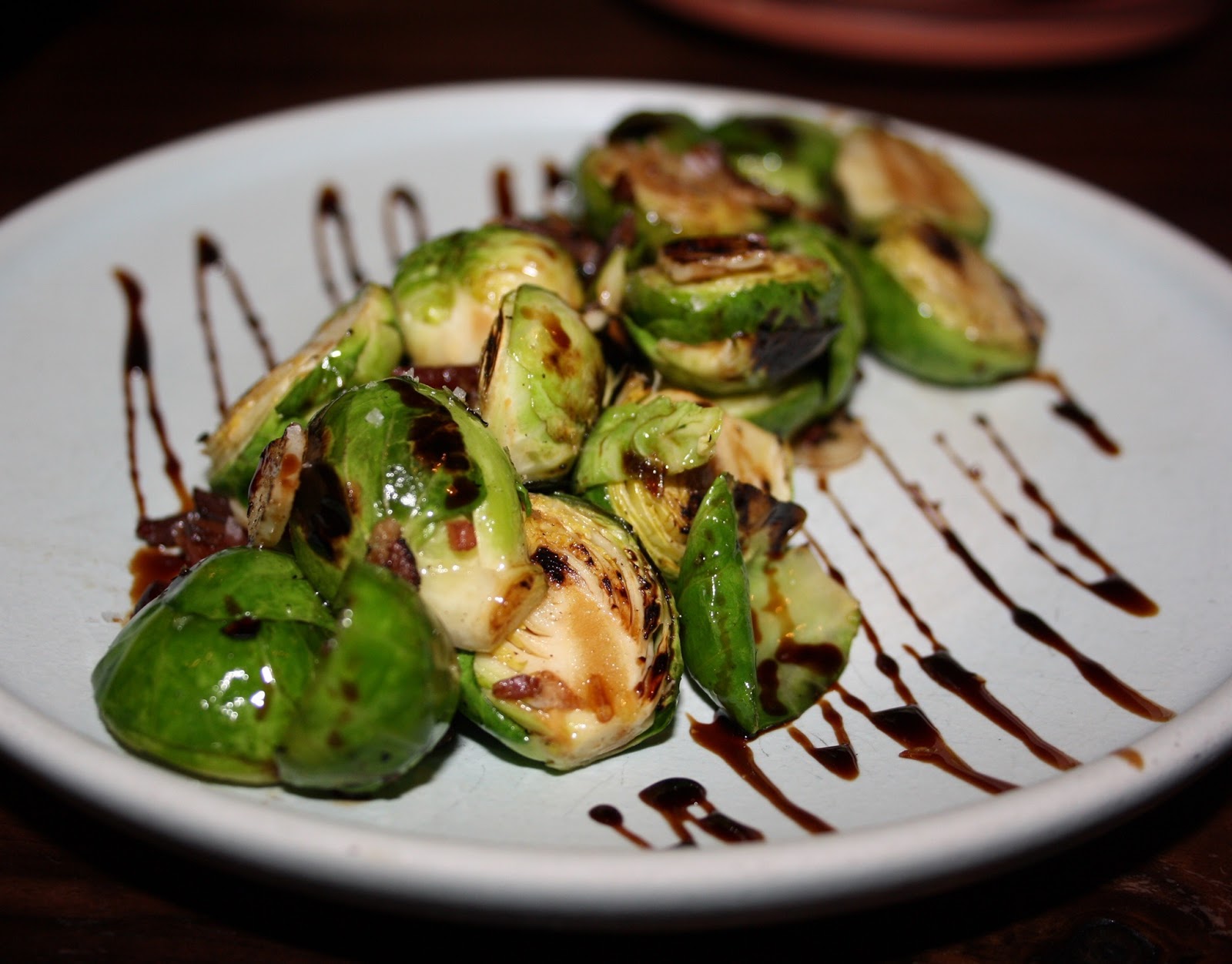 We also tried the Brussels Sprouts, which had great flavor, but unfortunately weren't cooked as much  as Christina and I would have liked. They were pretty crunchy inside, so they required a lot of chewing.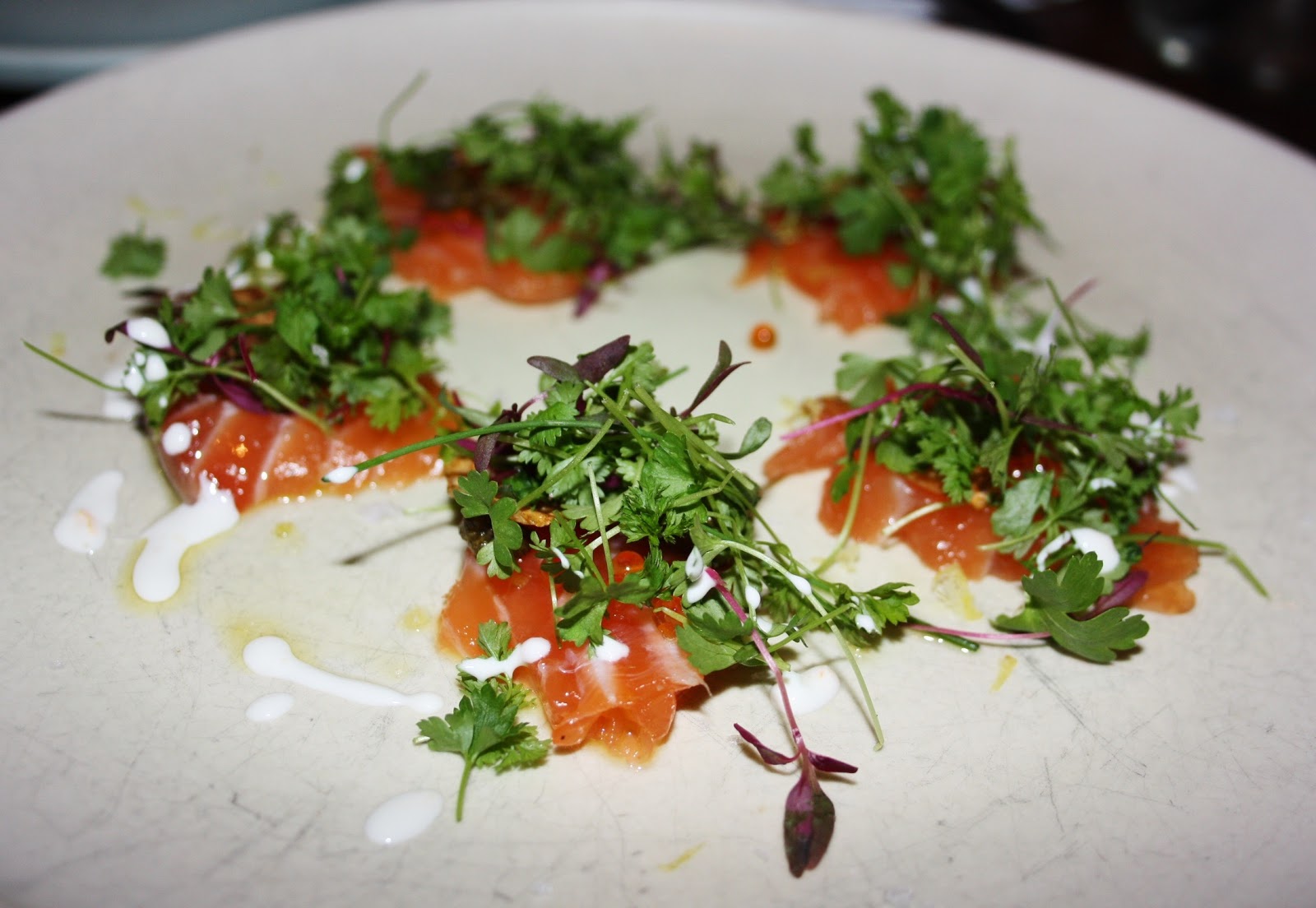 We finished our appetizer course with the Salmon Tartare, which was strikingly gorgeous. The microgreens on top brought fresh herbiness to the rich salmon. I think they could have used a little less salt, and Christina suggested more acid would help round out the flavor.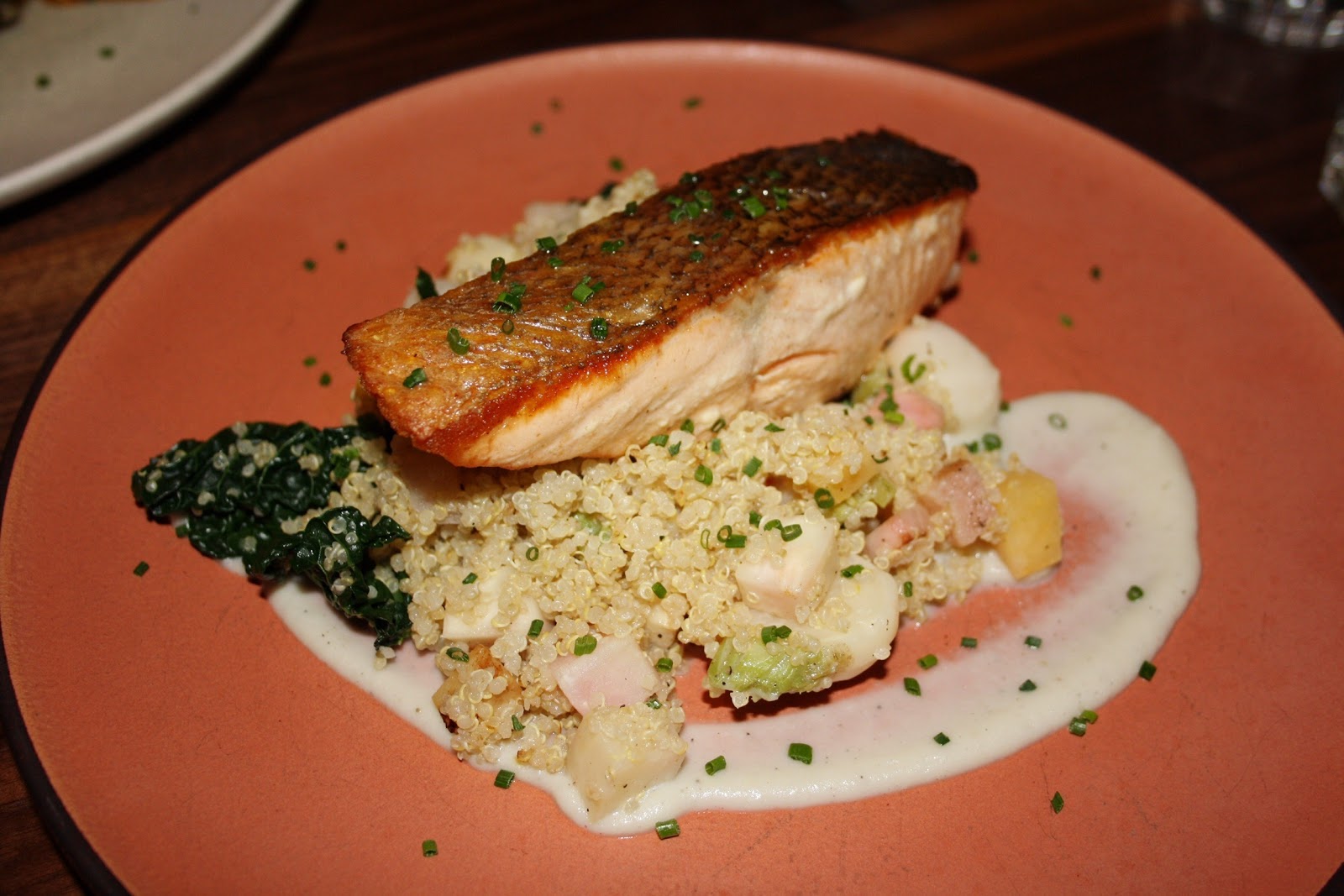 The first entree we tried was the Atlantic Salmon (roasted root vegetables, sunchoke puree, sauteed kale, beurre blanc). When the dish arrived, I was a little surprised to see so much quinoa since it hadn't been mentioned in the description on the menu. The salmon was cooked nicely – moist inside with crispy skin – but otherwise, the dish was noticeably underwhelming. I couldn't really find the sunchoke puree, and the quinoa, vegetables, and beurre blanc were underseasoned and bland. Even some salt and pepper would have helped tremendously.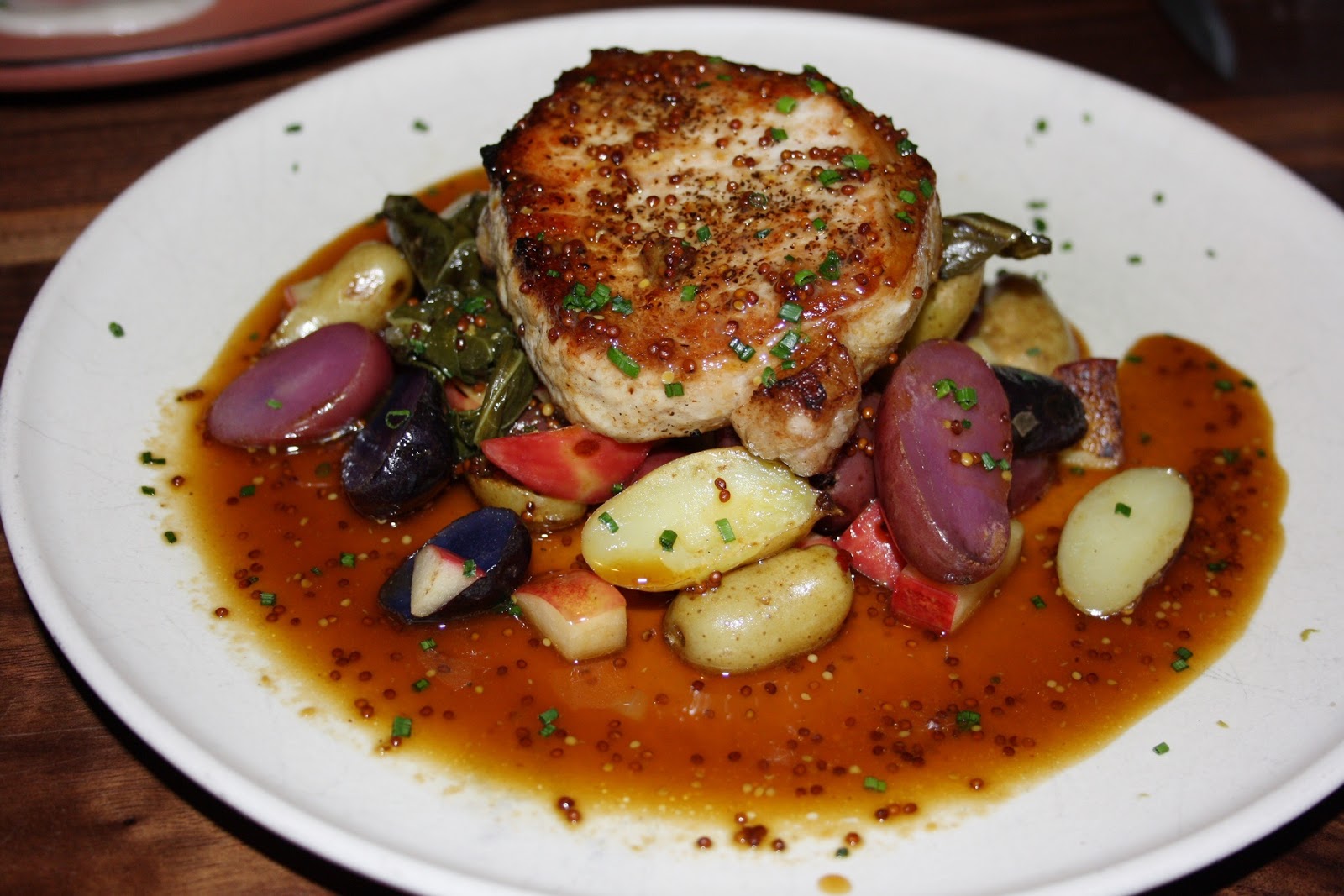 The other entree we ordered was the Berkshire Pork Chop (roasted fingerling potato and apple hash, collard greens, maple mustard pork jus). The pork was cooked perfectly with a bit of a crusty edge, and I loved the colorful purple and blue potatoes. The "hash" was puzzling though. I think of hash as being a mix of cubed, browned ingredients that get a crispy char at the edges, but these potatoes were soft all the way through and around the edges. The apples weren't browned at all either, and were still crunchy and raw on the inside. That said, the flavors of the pork, apple, and maple went really well with the collard greens and potatoes, and the dish reminded me of fall.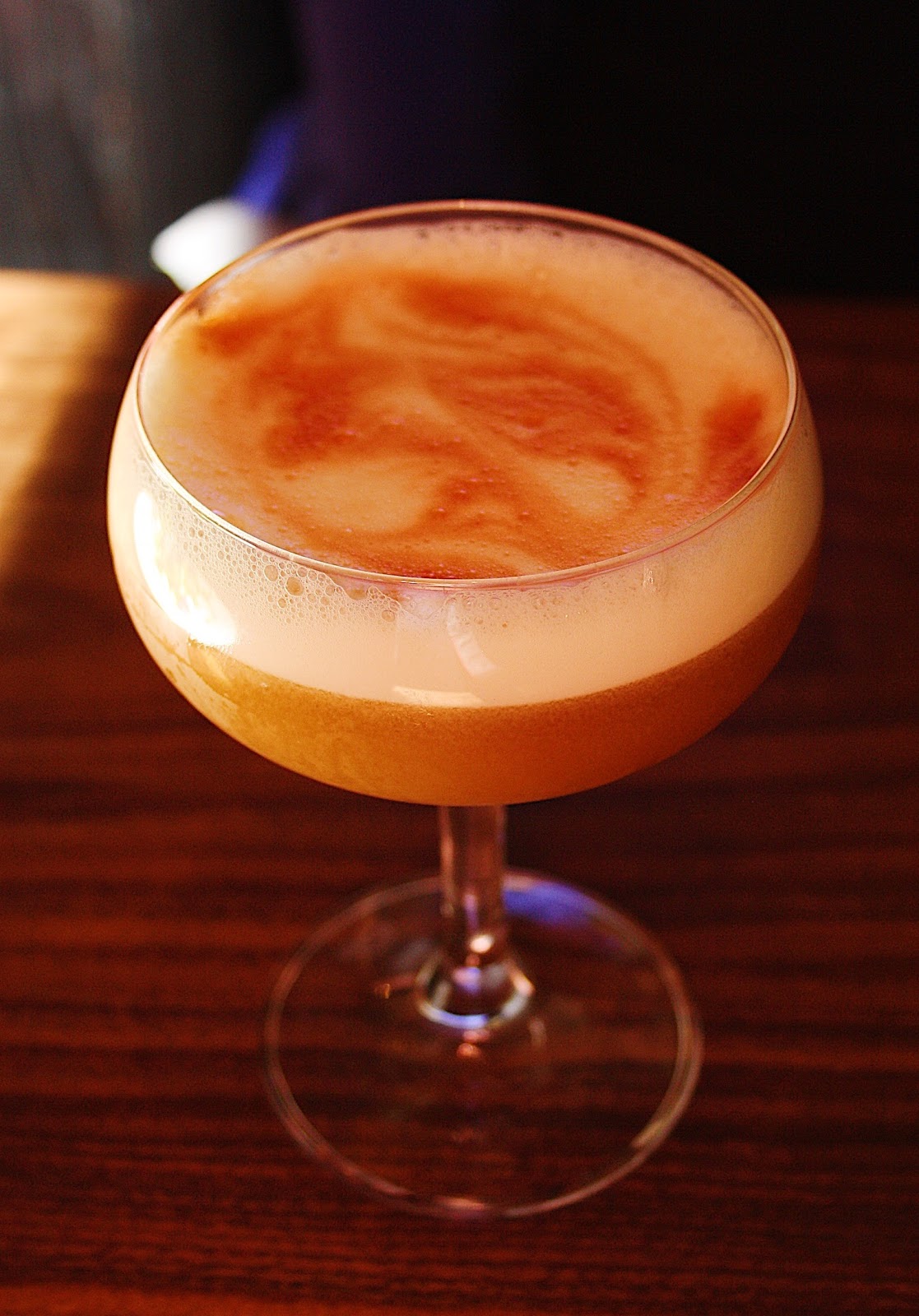 Christina and I had both finished our cocktails at this point, so we went back for one more: Duchess's most popular cocktail, the Everybody Knows (bourbon, lemon, egg white, cynar 70). This drink was incredible. It tasted warm and spicy, like apple pie and Christmas. I think we were both caught off guard by it, and we kept passing it back and forth taking sips and trying to figure out what made this drink so special. We asked our server, who brought the bartender over to chat with us about it. The secret ingredient? Angostura bitters, an ingredient in classic cocktails like the Manhattan and the Old Fashioned! After mixing the cocktail and topping it with whipped egg white, he used Angostura bitters to create the swirly design on top. Something about the egg white really enhanced the cinnamon and nutmeg aromas, and since smell and taste are connected, we experienced this staple ingredient in an exciting new way. The Everybody Knows was fabulous by itself, but it also happened to pair perfectly with dessert…
The desserts were on point. The chocolate chip cookie was large enough to split and had ooey gooey chocolate chunks spread throughout with sea salt sprinkled on top. Why doesn't every chocolate chip cookie have sea salt on top?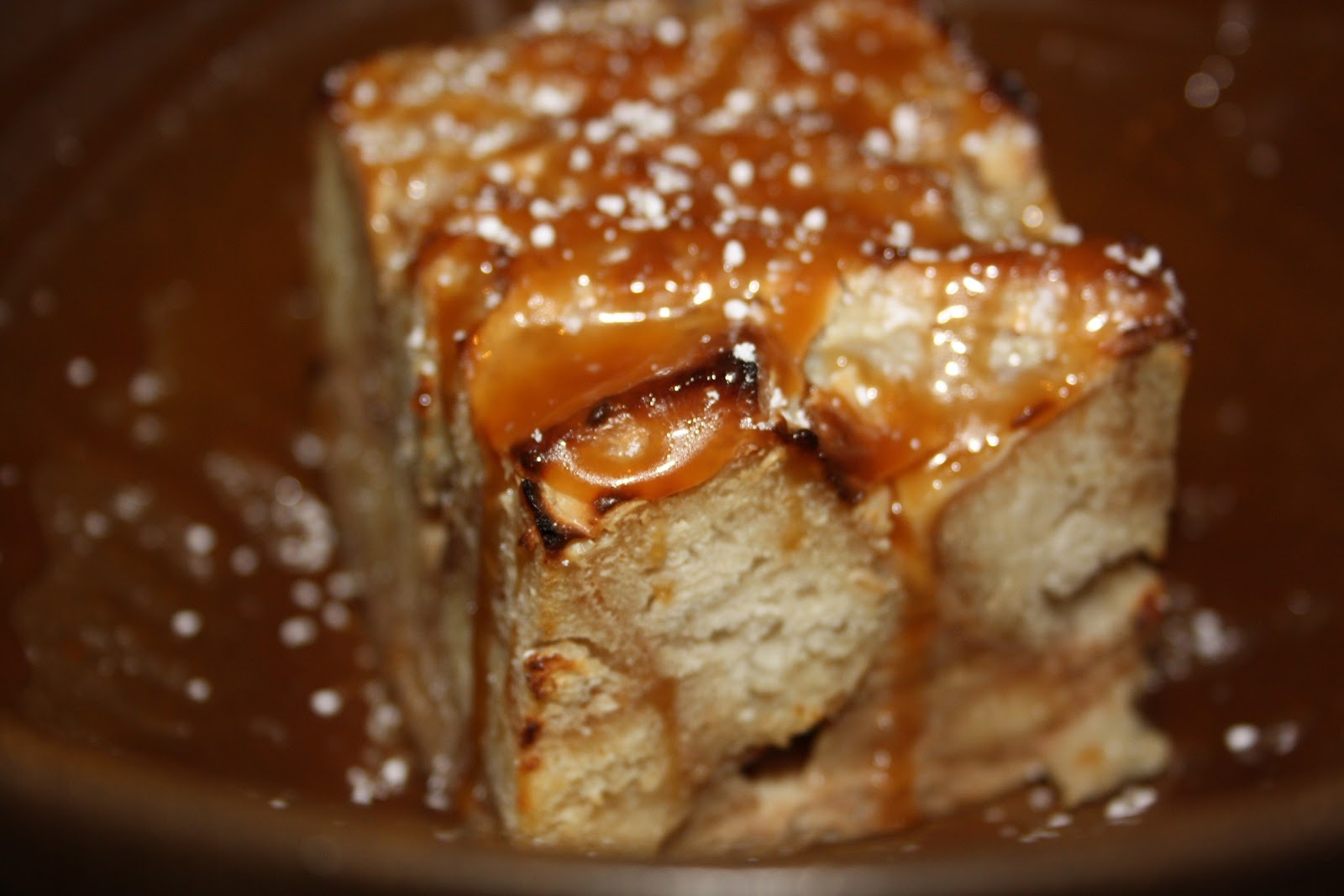 And finally: the Bread Pudding, which was simply divine. The bottom was soft and custardy and the top edges were golden brown and crispy. It was doused in what I think was a bourbon caramel sauce and dusted with powdered sugar. It paired perfectly with the cozy spices of the Everybody Knows cocktail. I think it also would have paired well with a scoop of vanilla ice cream, but I didn't want to be greedy.
There were some mistakes, but all in all, I think there were a lot of things that Duchess did right. I would like to go back in few months to see if the kinks in the kitchen have been worked out. But if you can't wait to go, definitely try the cocktails and desserts since those were our favorites. Let us know what you think when you check it out!
5422 College Avenue, Rockridge
(510) 871-3463

Becca is a New England native who recently moved to Oakland. She loves cooking and eating and is excited to explore her new home as an assistant at East Bay Dish.

Latest posts by Becca Frost (see all)