Aisle 5 is a casual craft pub and eatery that opened recently on Grand Avenue. They boast a curated selection of 20 craft beers, ciders, and sours on draft, plus a menu of elevated pub-inspired bites, woodfired pizzas, and more.
Christina and I were invited to dinner a few weeks ago and since I don't love beer, I was a little concerned I would miss out on the full Aisle 5 experience. But the food was delicious, and I really enjoyed the bar manager's beer pairing suggestions, which he provided for each dish Christina and I tried. Plus, many of the dishes feature beer as an ingredient, so even if you're not sipping, you'll still experience Aisle 5's beer-centric cuisine.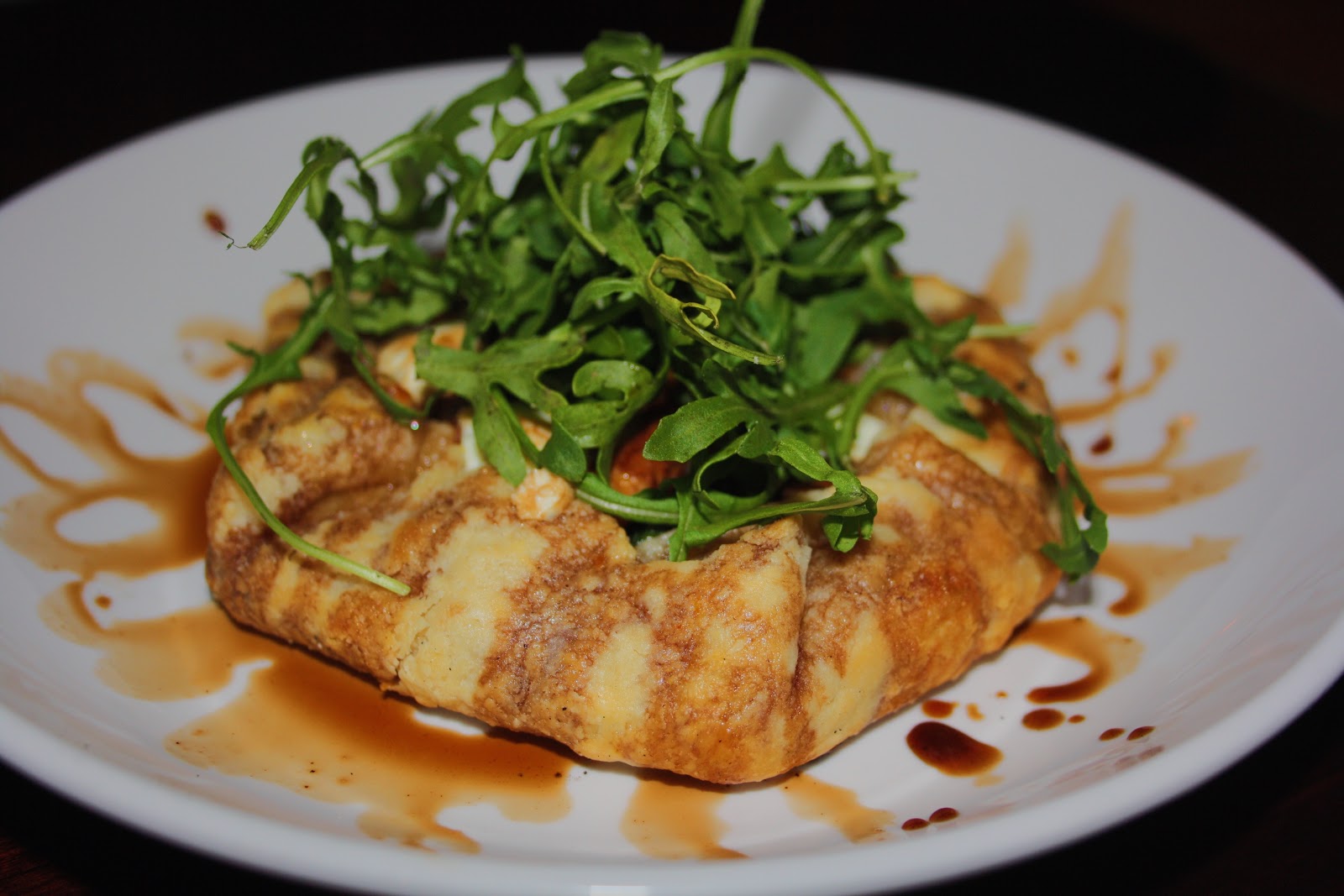 We started with one of the specials, the Chanterelle Crostada (fresh chanterelle mushrooms, spinach, and chevre, with honey porter balsamic reduction). This crust of this savory tart was buttery and crumbly, and I loved the focus on using seasonal produce. This dish managed to feel light but substantial at the same time. It would be perfect to split between a few people during that time between lunch and dinner when you just want a little something to hold you over. Pair it with the Eight Bridges Golden Pilsner.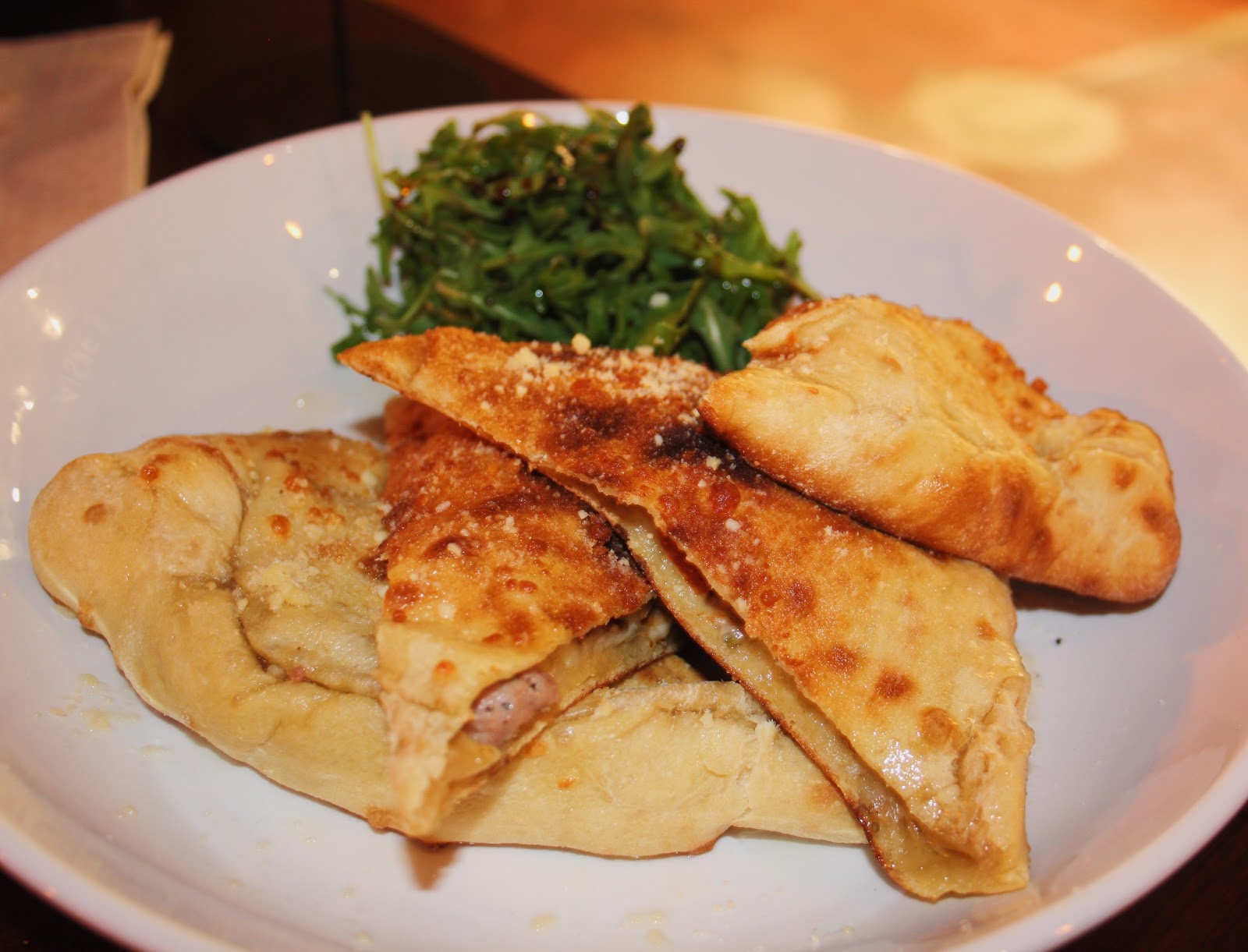 Chanterelles were also highlighted in another special, the Chanterelle Calzone (fresh chanterelle mushrooms, roasted garlic, Line 51 IPA Italian sausage, and fresh mozzarella). This time, the standout ingredients for me were the sausage, which was made in-house, and the soft, chewy calzone dough.
Aisle 5's Executive Chef Mark Scott was the owner and operator at Authentic Bagel Company in Oakland, and he used the bagel starter in the pizza and calzone dough, which was delicious and cozy. No wonder the dough was amazing! Pair the calzone with the Six Rivers Pale Ale.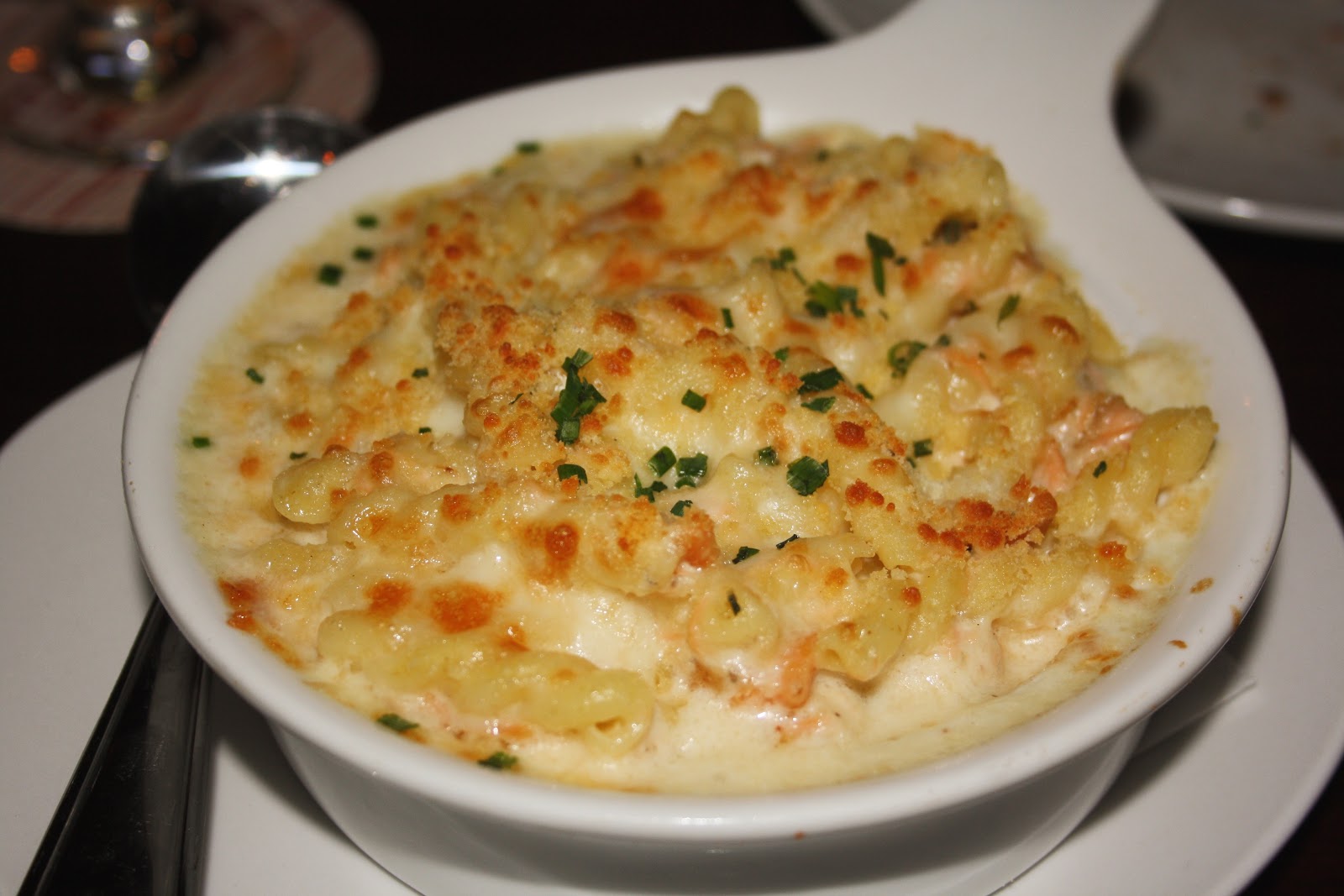 Next, we tried the Smoked Salmon Mac & Cheese (house smoked salmon, 3 cheese blend, with garlic cream sauce). This was another special – yep, we tried three out of three specials – but it gave us a look into Aisle 5's classic Mac & Cheese as well, because both feature a similar cheesy sauce as the base. The smoked salmon made this extremely rich and flavorful, with a creamy sauce and crispy bits on top. I think the classic version would be great as well. Pair it with Drake's Aroma Coma IPA.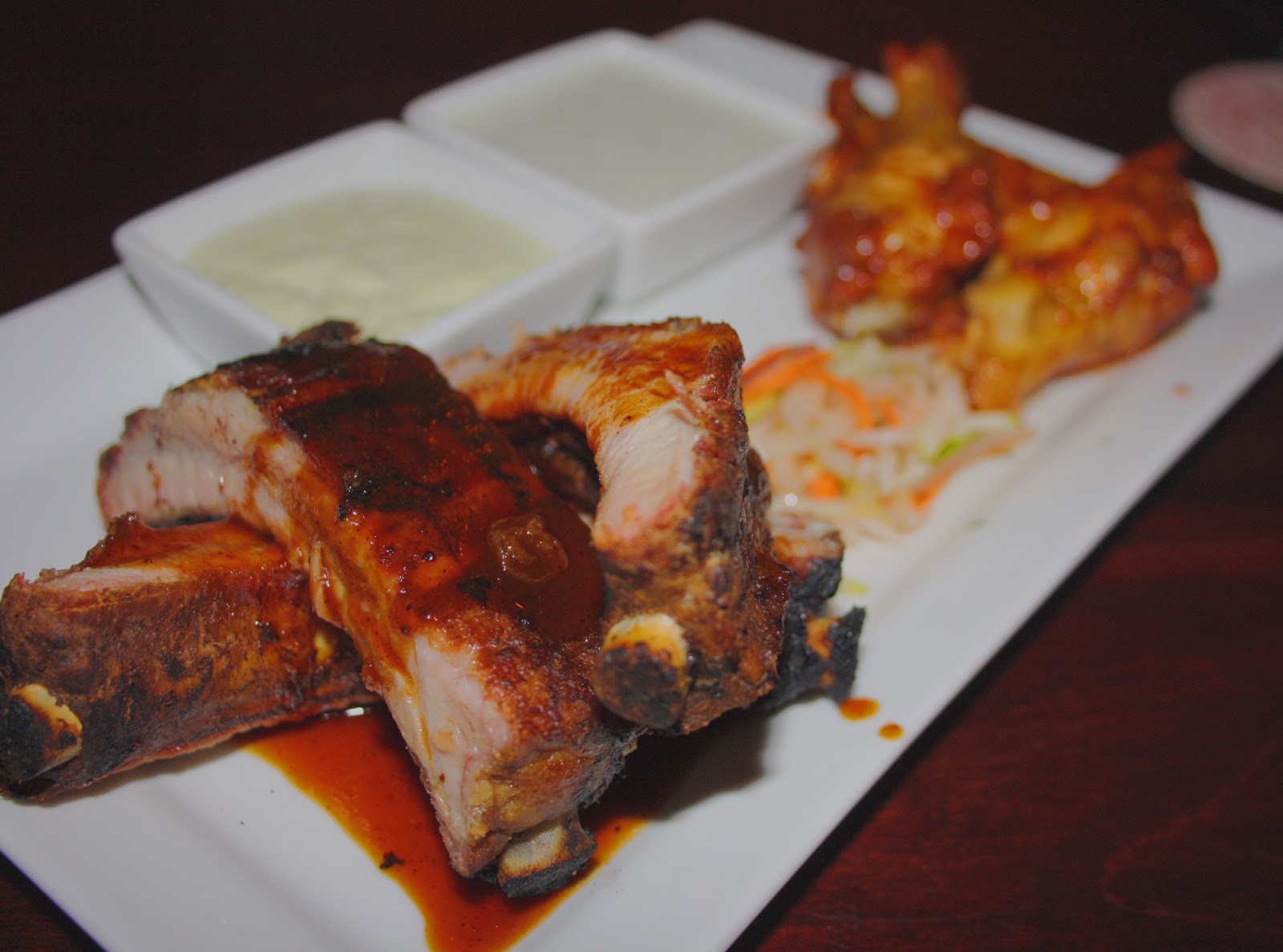 When we couldn't decide between the Baby Back Ribs, and the Smoked Chicken Wings, we went with both and ordered the Smoking Duo (smoked chicken wings, baby back ribs with apple jicama slaw, avocado lime ranch, honey blue cheese dressing). The ribs were super tender and smoky, and I liked the subtle heat of their sweet and tangy sauce. The wings came with buffalo sauce that was spicy, but didn't compromise flavor for heat. I liked the mild dipping sauces as an interesting alternative to regular ranch and bleu cheese. Pair these with the Altamont Rich Mahogany Ale.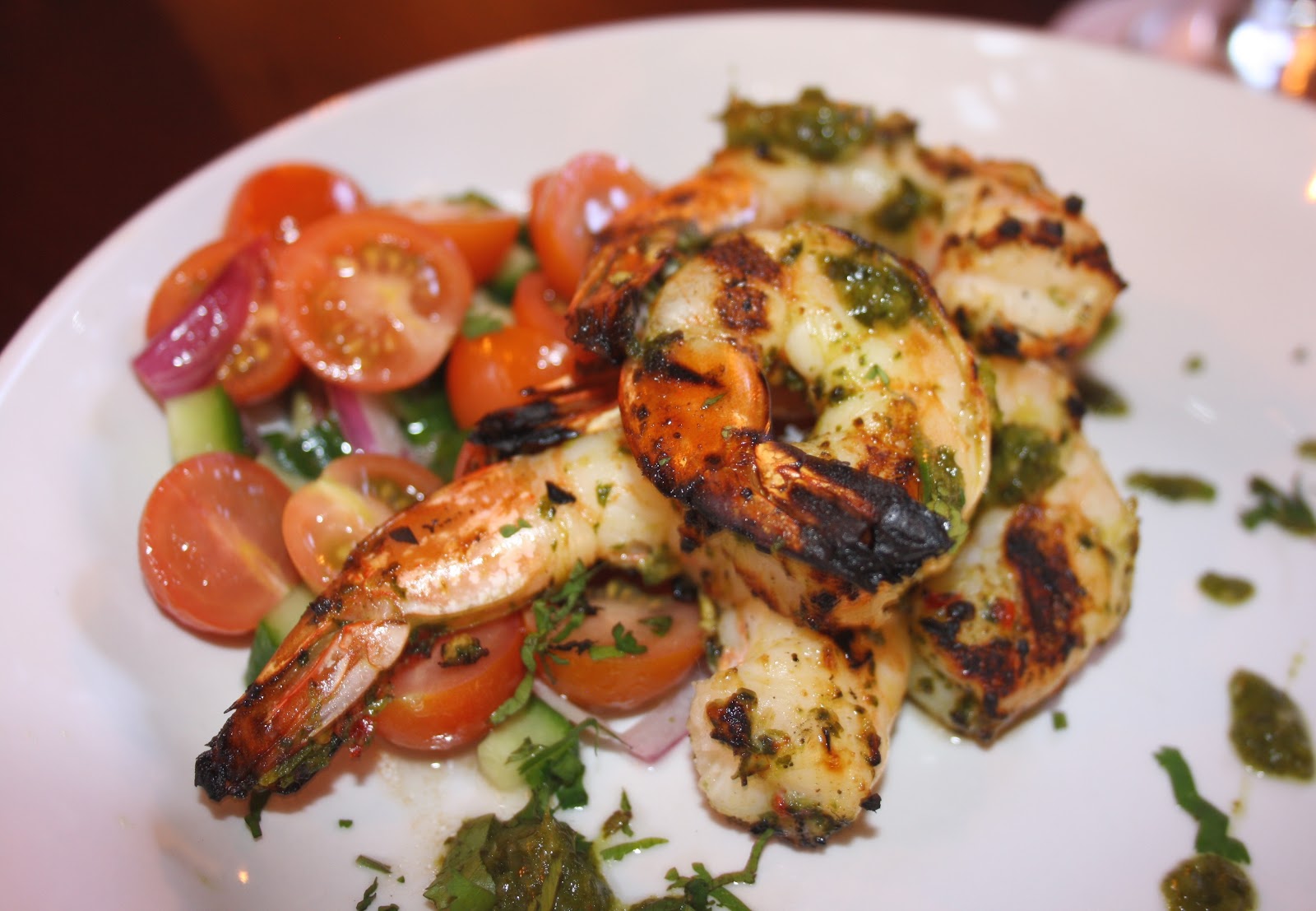 One of my favorite dishes was the Chimichurri Shrimp (grilled marinated shrimp atop a fresh tomato and cucumber salad). Chimichurri is traditionally served with meat, but the herby sauce complemented the shrimp's flavorful char perfectly without overwhelming it. This dish tasted fresh, bright, and summery. I pictured eating this at Aisle 5's outdoor tables on a sunny summer day, and Christina said she wanted a glass of Sauvignon Blanc to go with it. I can't wait to order this again. Pair it with… honestly, I forget. The table was getting pretty crowded with plates and glasses at this point in the meal. Pair it with whatever beer your server suggests, or take Christina's suggestion and go with Sauvignon Blanc!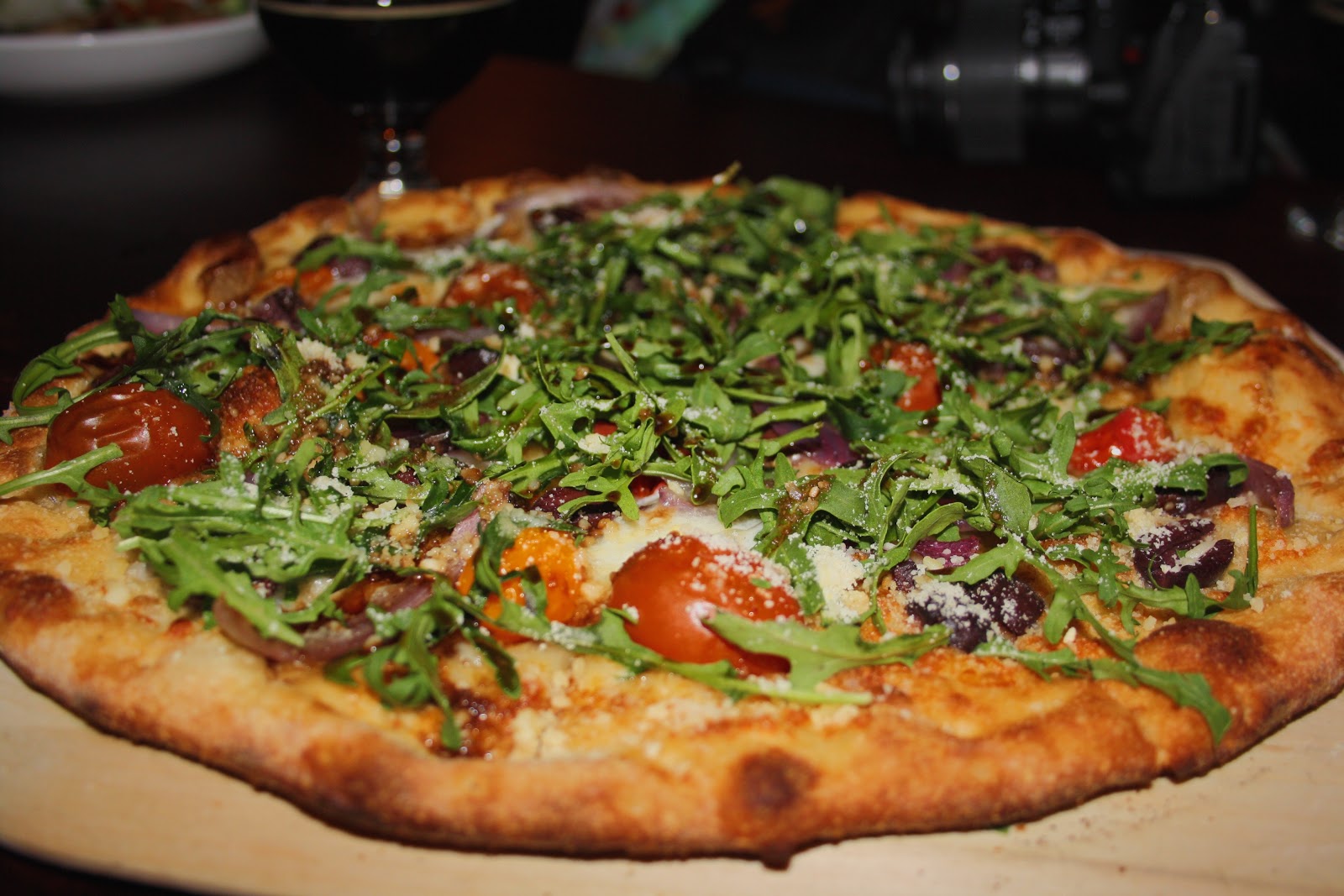 We wrapped up the meal with one of Aisle 5's signature wood-fired pizzas, the O.B.T. (kalamata olives, burrata, cherry tomatoes, caramelized red onion, basil, arugula, finished with garlic oil and a honey porter balsamic reduction). Once again, the dough was really yummy. It was crisp on the bottom and crunchy at the edges from the wood-fired oven. The honey porter balsamic reduction drizzled over the top was sweet and complex, and complemented the salty olives and creamy burrata really well. Pair it with the Six Rivers Macadamia Porter, which is used in the reduction.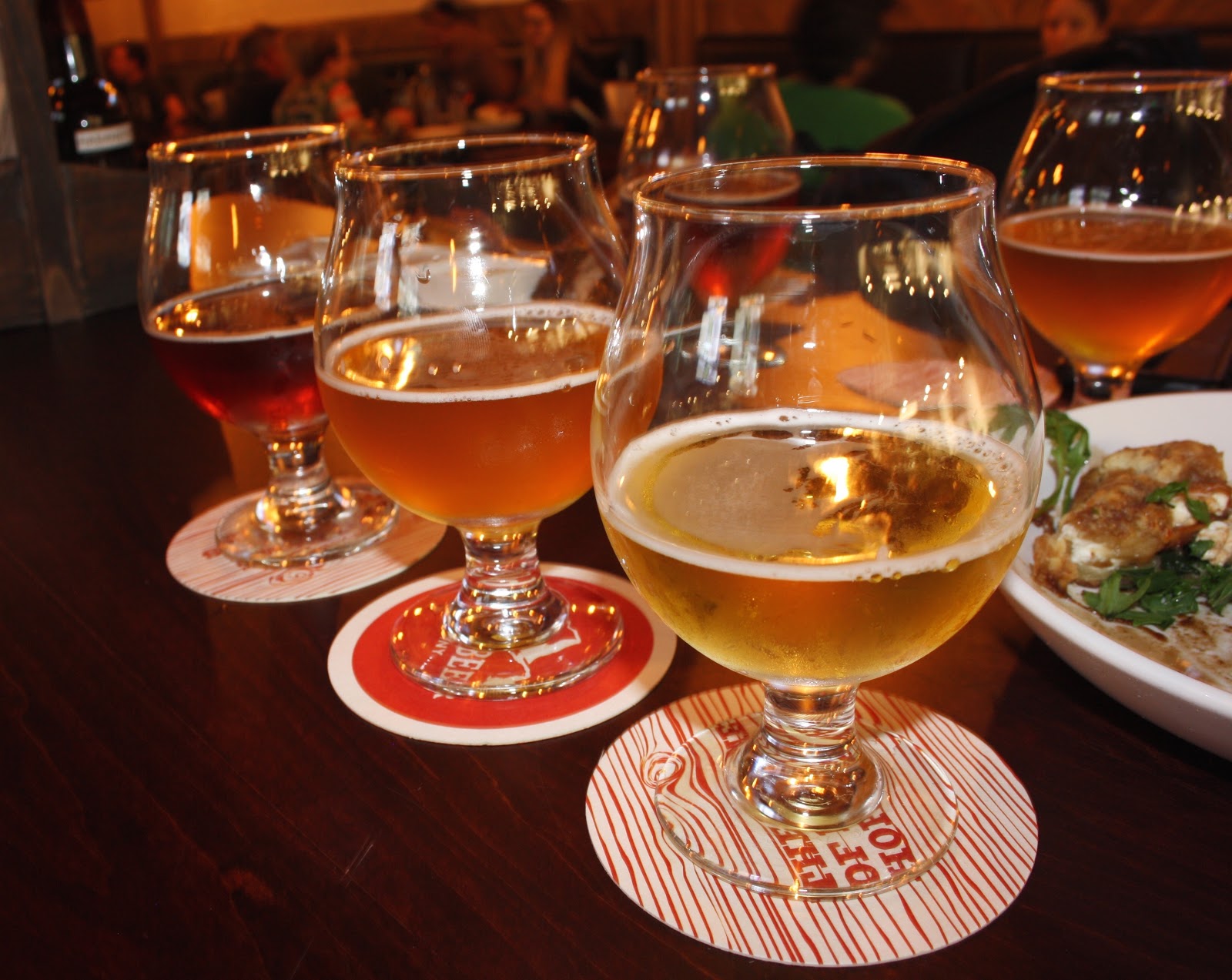 Overall, I was really impressed with Aisle 5's inventive menu and their delicious execution. There was something for everyone – whether you want to munch on pizza and wings with your beer, or experiment a little more with their creative takes on seasonal ingredients. I also really liked that beer was incorporated into so much of the menu because it made the complex world of beer a little more accessible to my non-beer loving self. I will absolutely be going back to Aisle 5.
I hope you'll try it too and let us know what you think!
3320 Grand Avenue, Oakland
(510) 879-7053

Becca is a New England native who recently moved to Oakland. She loves cooking and eating and is excited to explore her new home as an assistant at East Bay Dish.

Latest posts by Becca Frost (see all)