I had read in East Bay Dish's Local Links a few weeks ago about a new lunch pop-up called Kured opening downtown and was really excited to try it since my office is downtown and I always keep an eye out for interesting new lunch options. Chef Paul Canales of Duende has opened Kured in Duende's bodega space on 19th Street to serve cured meat-focused sandwiches and salads Wednesday through Friday from 11am – 2pm. I met up with my boyfriend there last week to try it out.
He knew immediately that he was going to order the Pork Betta sandwich (crispy cured pork shoulder and belly, shaved fennel, greens – $10). The saucy pork and soft, airy bun made this sandwich feel like a spin on pulled pork. I really liked the subtly sweet notes of the fennel with the pork.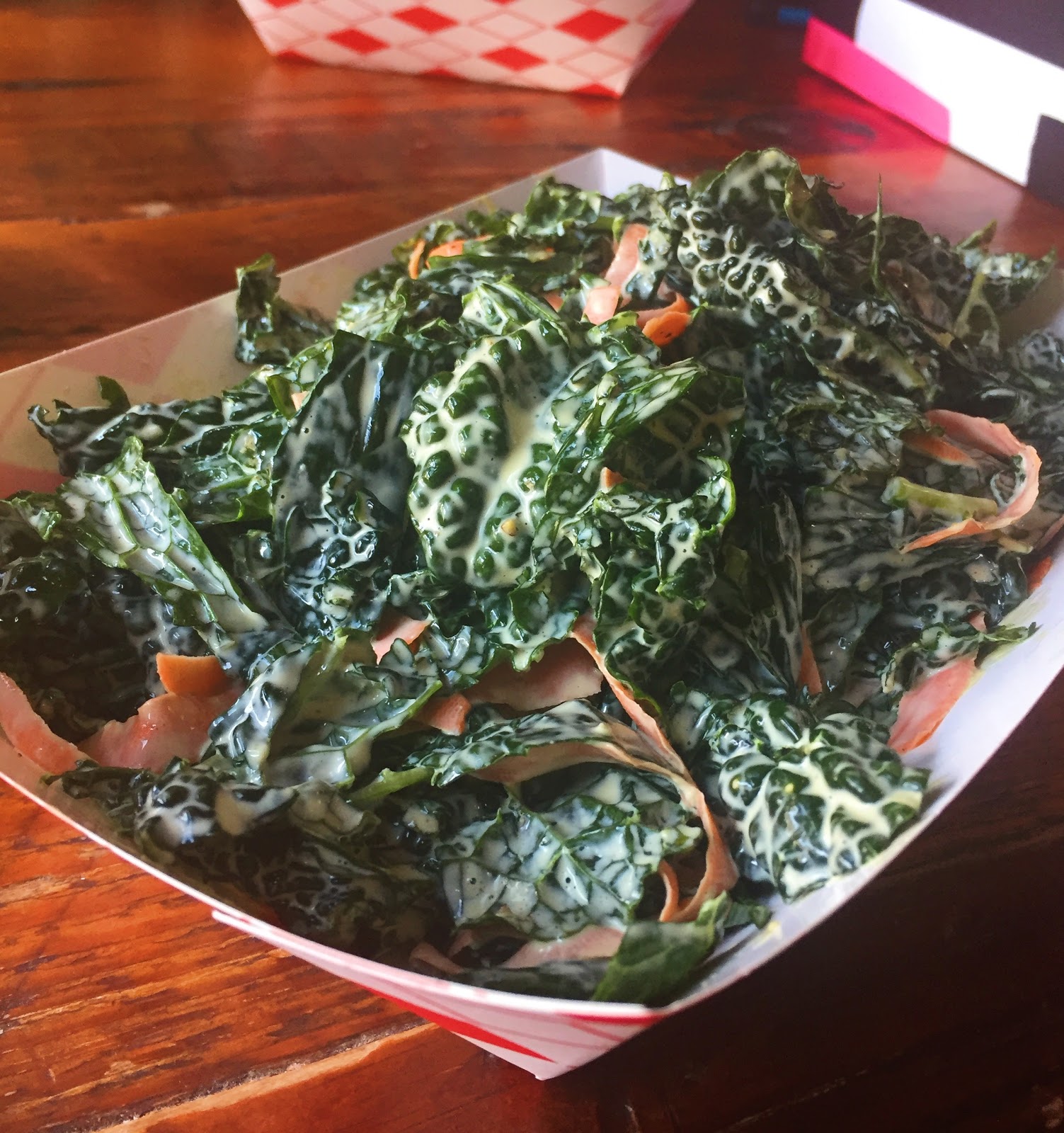 We wanted to split a salad and decided on the Kale (dino kale and grannie's dressing – $4 for a half order or $8 for a full order). The full order was more than enough for sides for two people. Despite the fact that this salad was incredibly simple with only kale and shaved carrots, it was super delicious. The dressing was creamy and garlicky and really held onto the texture of the kale. I would love to know grannie's recipe! They also had the option to add chicken, pork shoulder, pork sausage, or merguez sausage for an extra $6-8 to make your salad even more substantial.
I went with the cashier's recommendation and ordered the Merguez (lamb sausage and bread & butter pickle relish – $15). I really enjoyed the Mediterranean spice blend in the sausage, but I felt it was a little dry and I would have loved another sauce… maybe some grannie's dressing.
I think Kured makes a great addition to the neighborhood's already awesome lunch options. I hope you'll try it and let us know what you think!
468 19th St, Oakland
(510) 893-0174

Becca is a New England native who recently moved to Oakland. She loves cooking and eating and is excited to explore her new home as an assistant at East Bay Dish.

Latest posts by Becca Frost (see all)