When I became lactose intolerant a few years ago, I discovered Mr. Dewie's almond milk ice cream at a friend's house and it was so creamy and flavorful, I ended up visiting the factory.  Since then, they've switched to cashew milk and opened shops in Albany last year and Emeryville Public Market earlier this year.
Becca, Ben and I stopped by after the opening party at Paradita Eatery and tasted most of the flavors at the shop that day, including Banana Nut, Coconut, Roasted Cashew and Turmeric Spice. While they have ice cream cookie sandwiches, ice cream bon bons, vegan hot fudge and hot caramel sundaes, I ordered a sugar cone and paired two flavors.  The Caramel Almond wasn't too sweet and it contrasted nicely with the Chocolate Orange, which was intense and bittersweet with some bright citrus notes.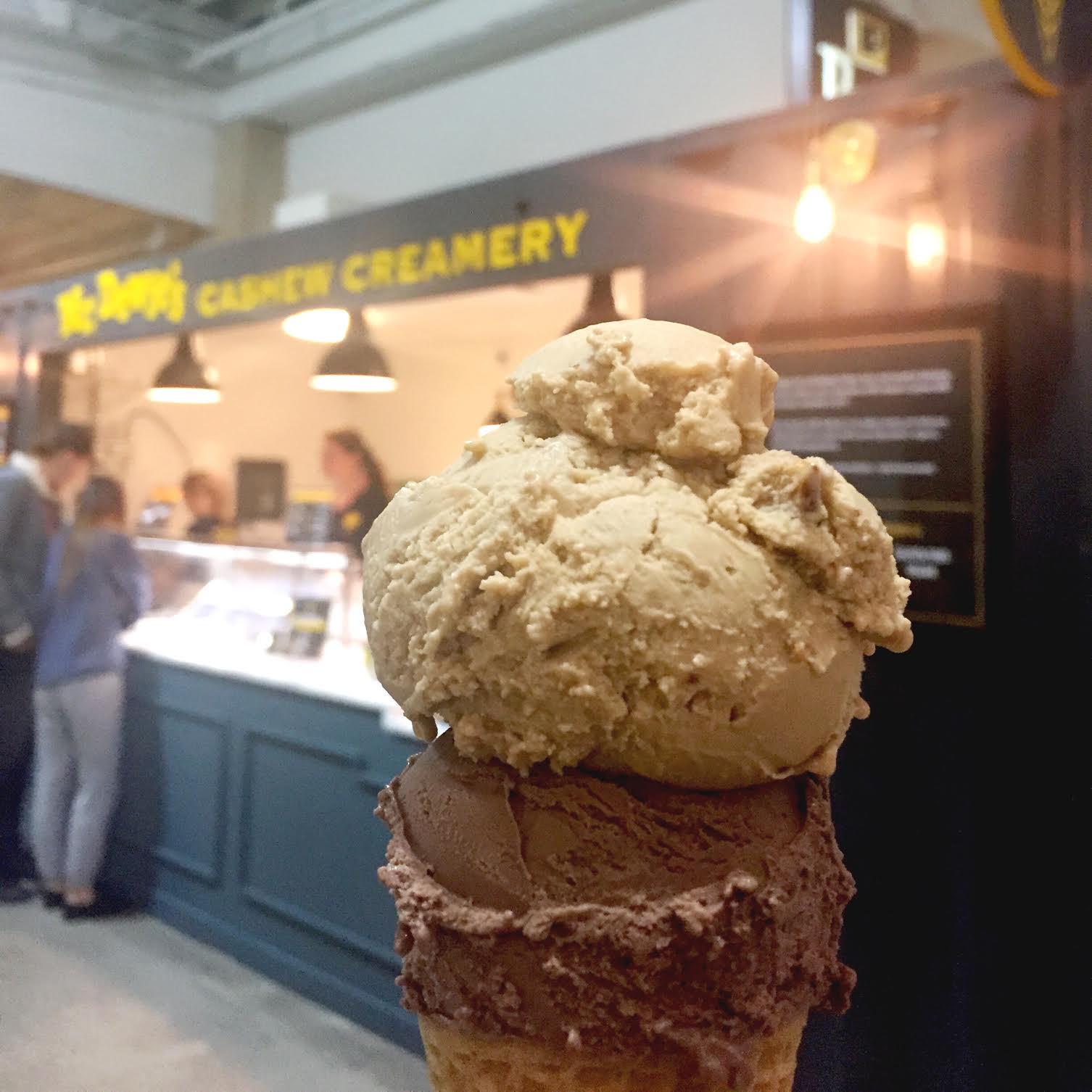 After that visit, I reached out to owners (and brothers) Ari and Andrew Cohen to find out more about their interesting flavors.  They told me that they have four categories:
Classic:

 chocolate, vanilla, strawberry, mint chip

Fun

: chocolate orange, caramel almond, turmeric spice (which are three of their best sellers)

Requested by Friends and Customers:

 green tea, honey lavender

Seasonal:

 rum raisin, pumpkin pie, chocolate peppermint (and summer fruit is coming!)
In addition to the two locations, they're also working on a partnership with Paulista, a Brazilian restaurant and taproom coming to the Glenview, where Ari also lives. They'll be bringing ice cream cones to the neighborhood with an 8-flavor "dipping station" inside the restaurant.  I love it when local businesses work together and this sounds like a win for everybody!
You should try Mr. Dewie's if you're vegan, lactose intolerant or an ice cream lover interested in new flavors.  That's pretty much everybody, right?

Christina is the founder of East Bay Dish and a social media marketing consultant. If you want to attract more customers with social media, click on my picture 🙂

Latest posts by Christina Mitchell (see all)