Paradita Eatery is the newest vendor in Public Market Emeryville, offering traditional Peruvian dishes and drinks in a fast-casual setting. It's chef-owner Carlos Altamirano's latest addition to the Altamirano Restaurant Group, a series of Peruvian restaurants and food trucks with locations across the Bay Area: from Mochica and Piqueos in San Francisco, to Michelin-star winning La Costanera in Half Moon Bay, multiple Sanguchon food trucks, and Parada in Walnut Creek, which Christina wrote about when it opened in 2015.
Christina and I attended Paradita's grand opening in April and sampled a bunch of their food and beverage offerings. The bar carries a few beers on draft and more in bottles, plus sangria and several variations of Pisco Sour (a traditional drink of Peru made of pisco, fresh lime juice, simple syrup and egg whites, topped with cinnamon; $9). We tried all three Pisco sours: Traditional, Chicha, and Maracuya.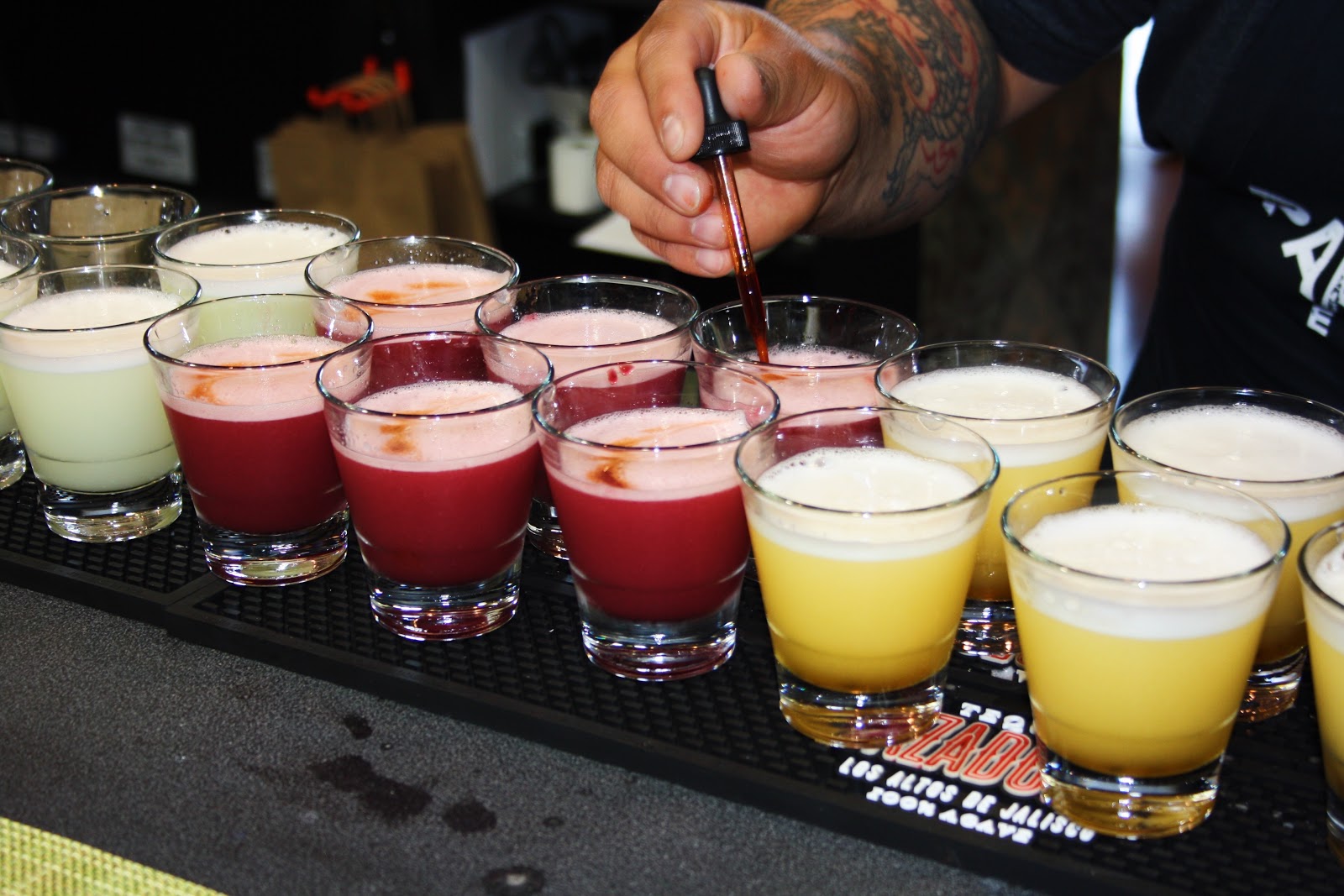 The Traditional Pisco (left) was bright and citrusy, with sour lime as the prominent flavor. The Chicha Pisco (center) got its deep magenta color and savory-bordering-on-salty flavor from a house-made reduction of chicha, a Latin American beverage made from purple corn. The Maracuya Pisco (right) featured house-made passionfruit reduction and was really fruity and sweet. I have a major sweet tooth so the Maracuya was my favorite, and I think it went especially well with the spicy items on the menu, but I could see it being too sugary for some people. If you check out Paradita with a friend, I recommend trying several Pisco Sour variations, since it was fun to compare the different flavors.
Now, onto the food: Paradita's menu mainly consists of empanadas, anticuchos (skewers), sandwiches, and bowls.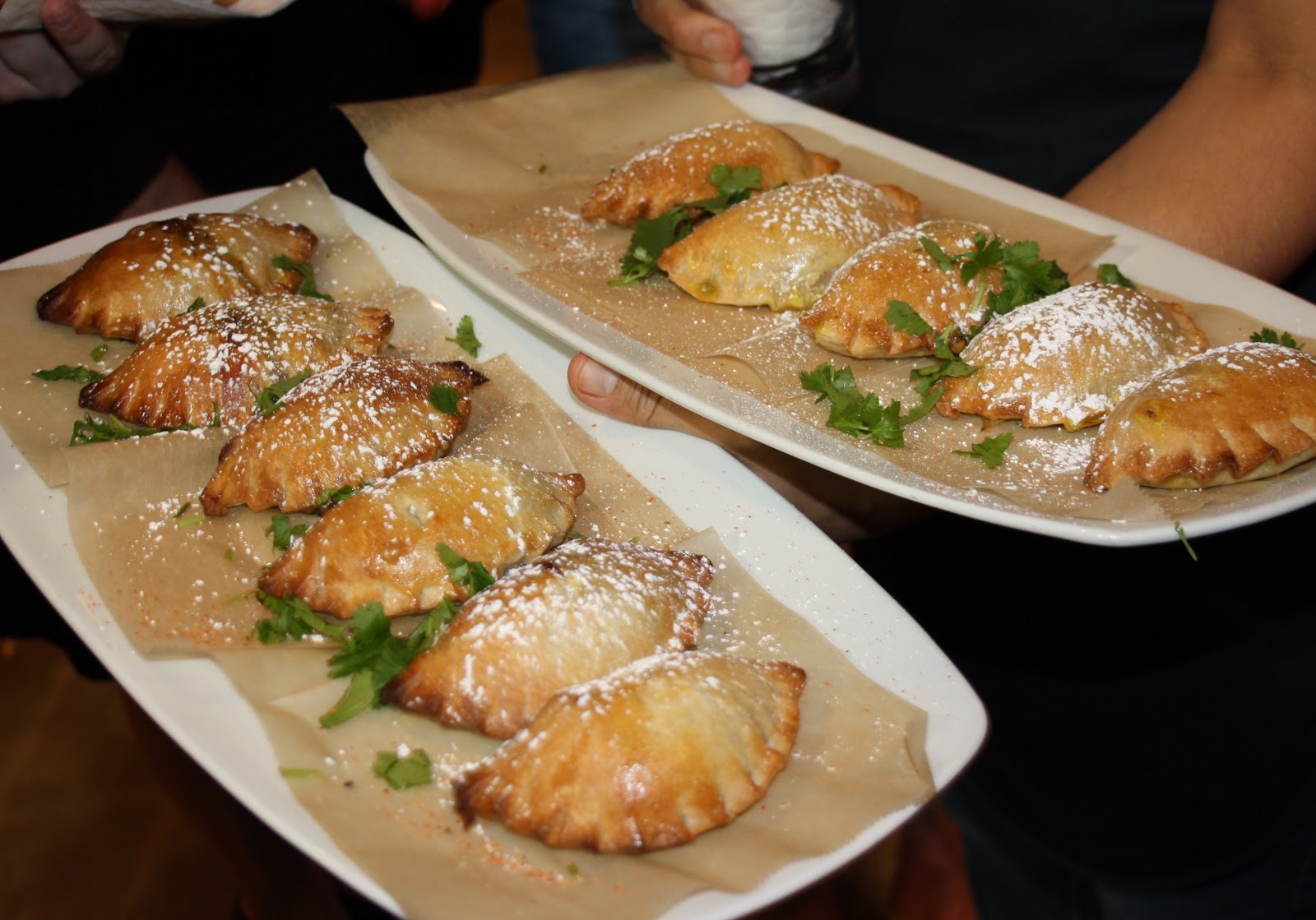 On the lighter end of the menu were the empanadas, which came in two types: Aji de Gallina (chicken in Peruvian aji Amarillo pepper & cheese sauce; $5.25) and Hongos (mushroom; $6.25). I liked that the empanadas were baked rather than fried, and the dough was dense and chewy at the folded edge. Check out the inside of the Aji de Gallina empanada: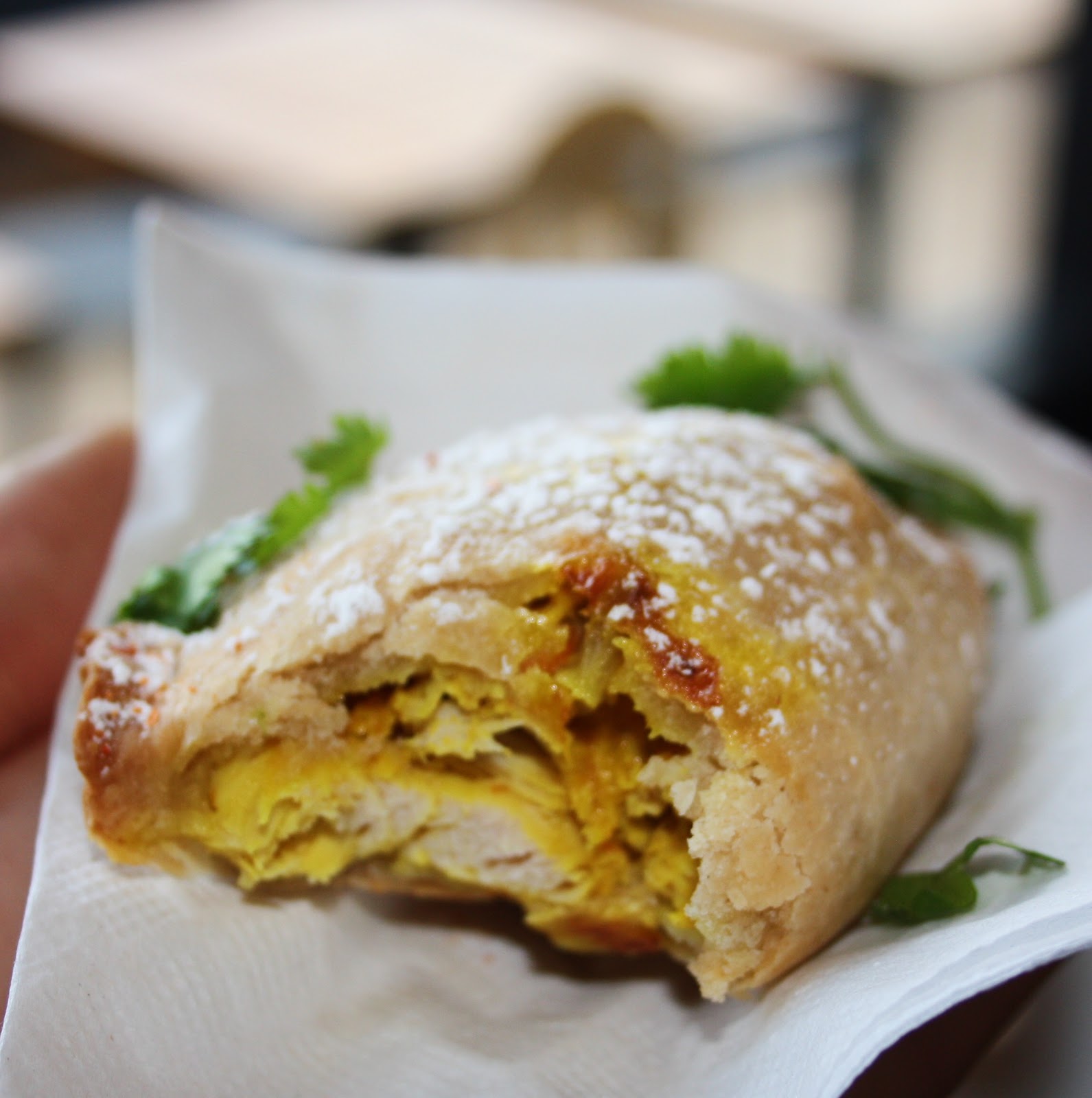 I was a little thrown off by the sweetness of the powdered sugar shaken on top. It was a pretty garnish but if I ordered these again, I would ask for no sugar. And the Hongos empanada had a surprising amount of spinach; maybe more spinach than mushroom, actually.
We also tried two of the Anticuchos (grilled skewers, marinated in panca paste and Peruvian spices).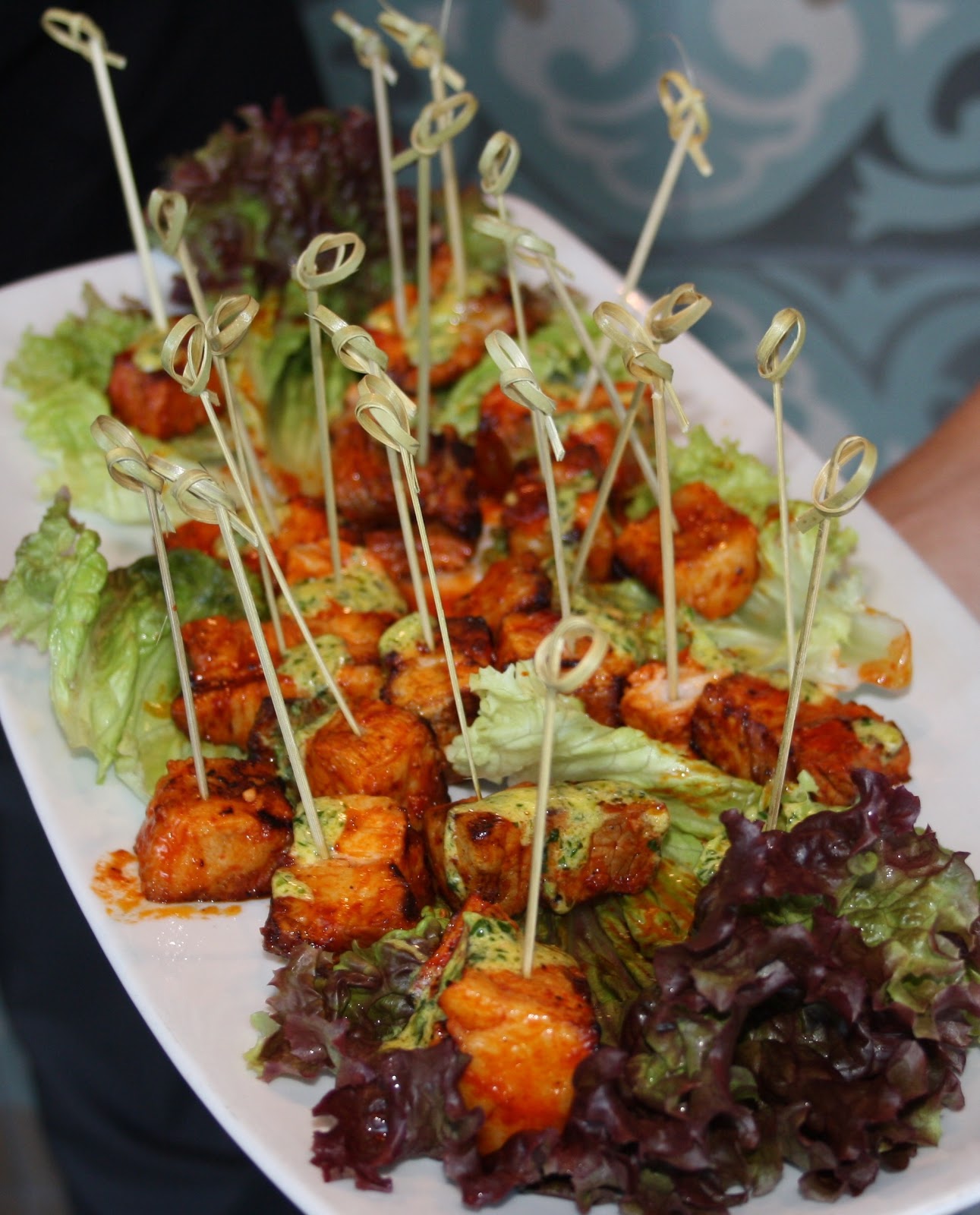 The Pork Belly ($12.50) was cooked really nicely, and the richness of the meat was countered well with a spicy rub and green sauce drizzled over the top.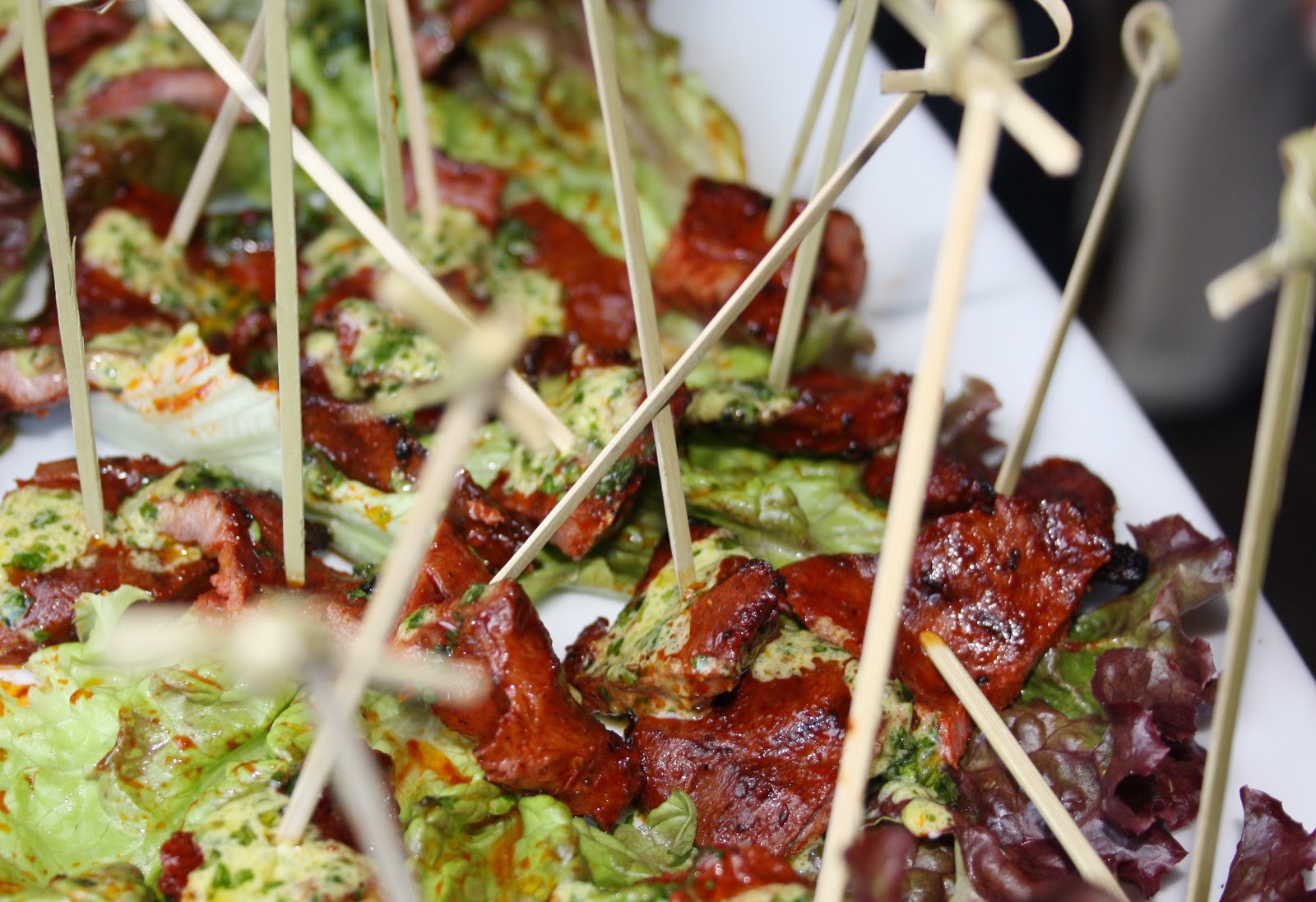 The Chicken ($10.50) was also delicious and similarly spicy. Remember when I said the sweetness of the passionfruit Pisco Sour went well with the spicy food? It would pair nicely with this.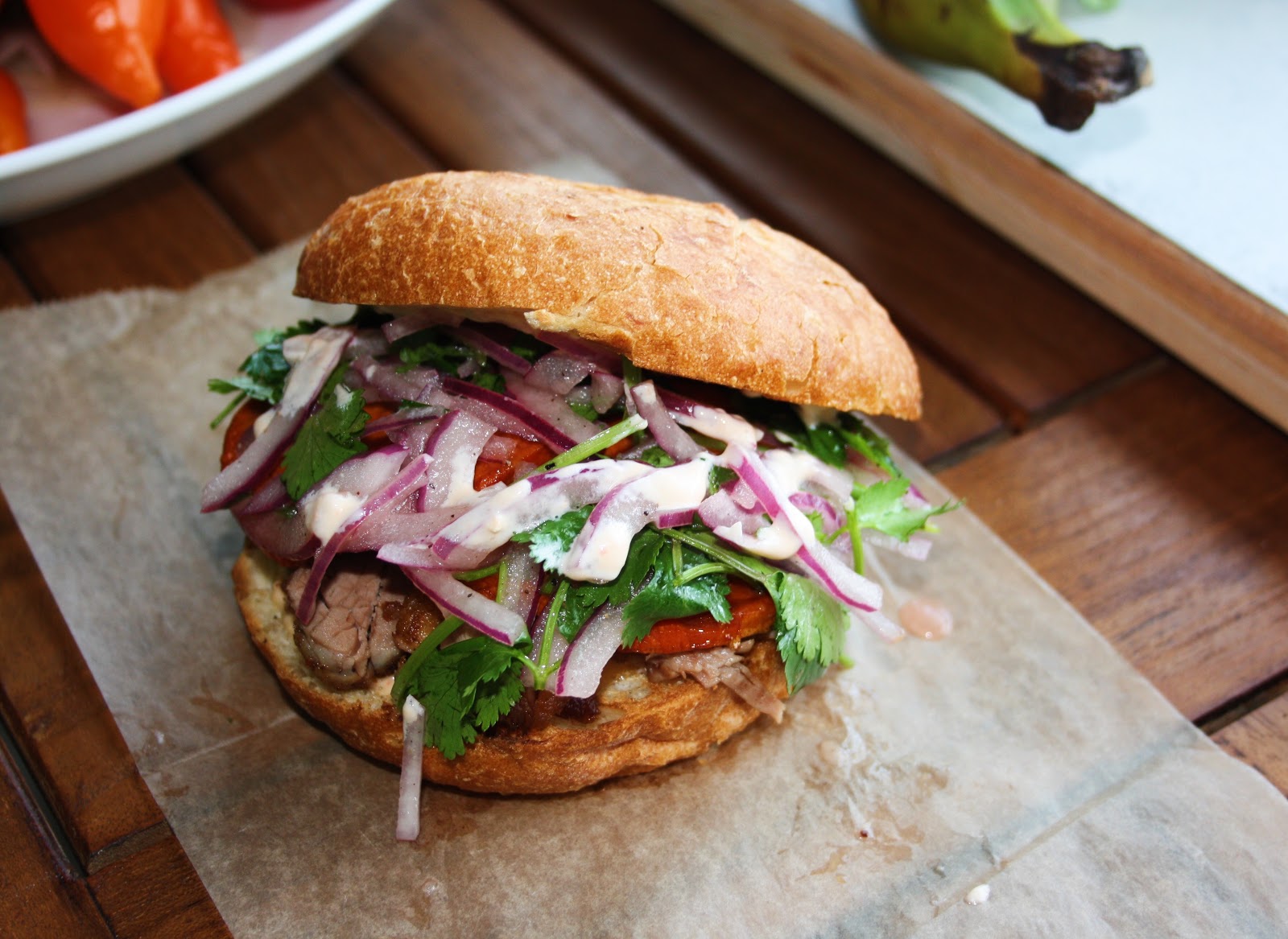 Moving to the sandwich portion of the menu, we sampled the Pan con Chicharron (sliced roasted pork loin, fried yams, marinated onions in lime juice & cream de rocoto; $9.75). The pork was really tender and the red onions, cilantro, and lime kept the flavors fresh and vibrant.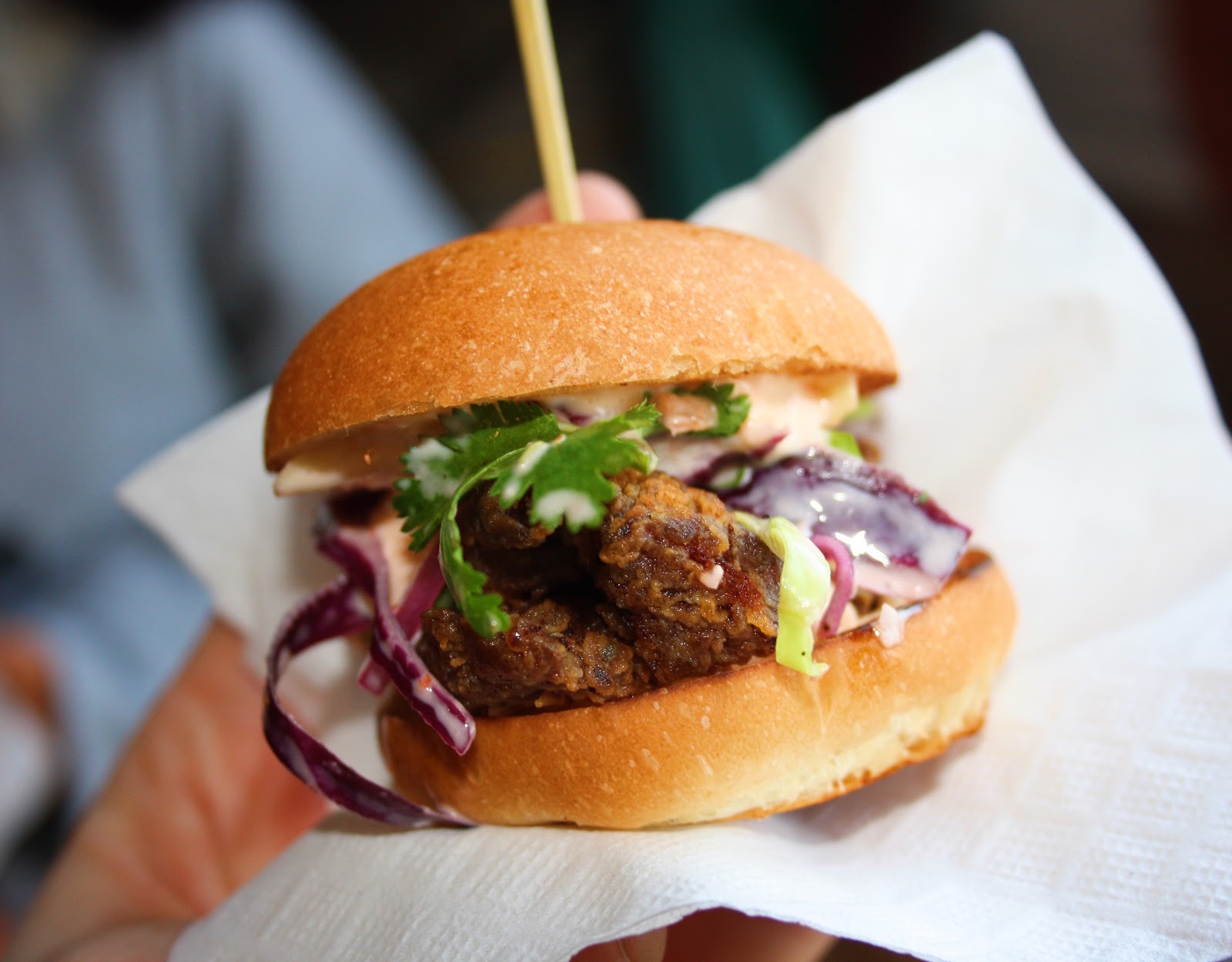 The Fried Crispy Chicken sandwich (crispy chicken marinated in aji amarillo, lemon & sea salt, coleslaw, rocoto crema & cilantro; $9.25) brought interesting Peruvian spices to a familiar combination of fried chicken and coleslaw.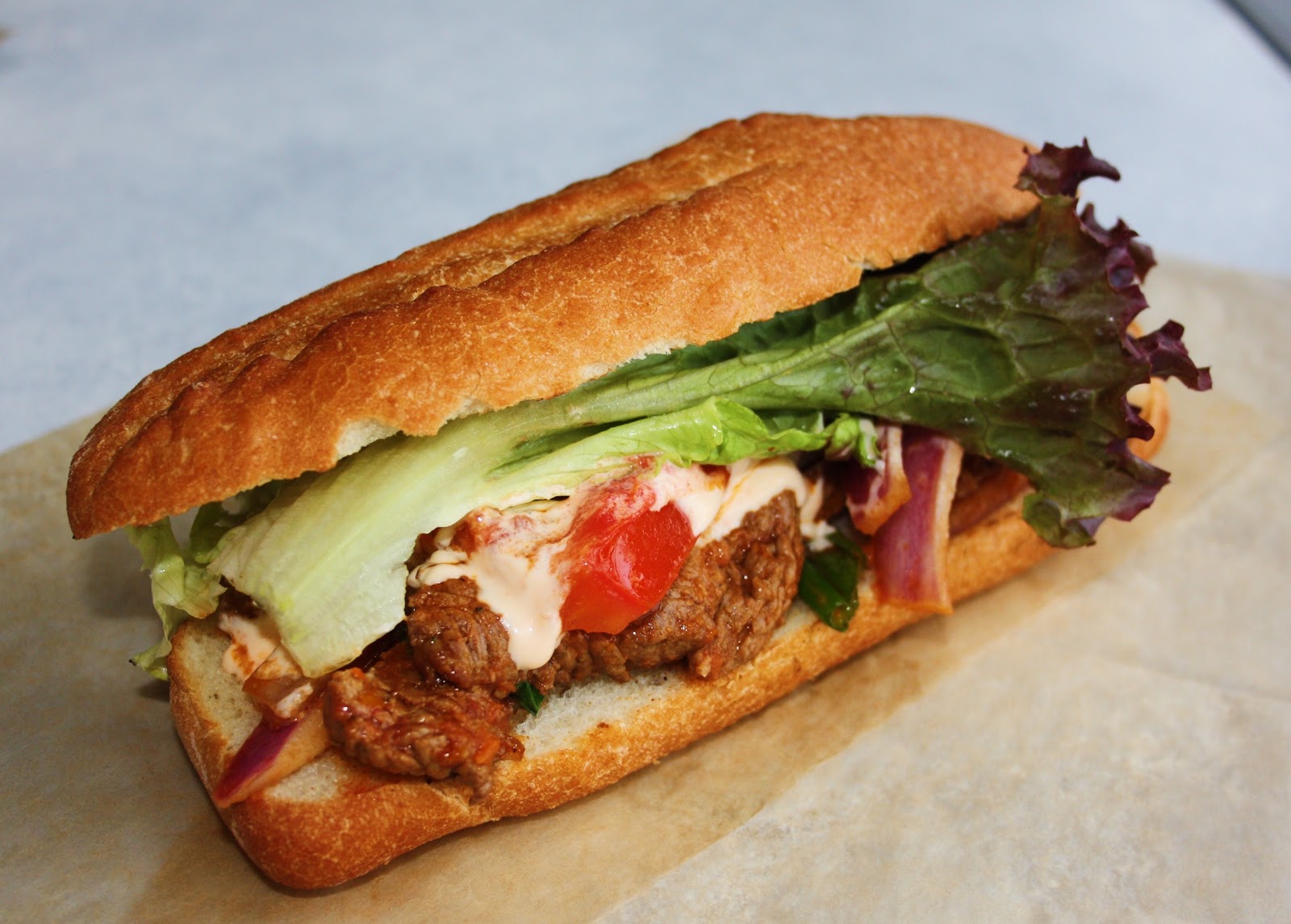 We also tried the Lomo Saltado sandwich (stir-fried beef tenderloin with tomatoes & onions in pisco-soy reduction, topped with fries and crema de rocoto; $10.55). I've had lomo saltado before but never on a sandwich, so this was a cool way to mix it up.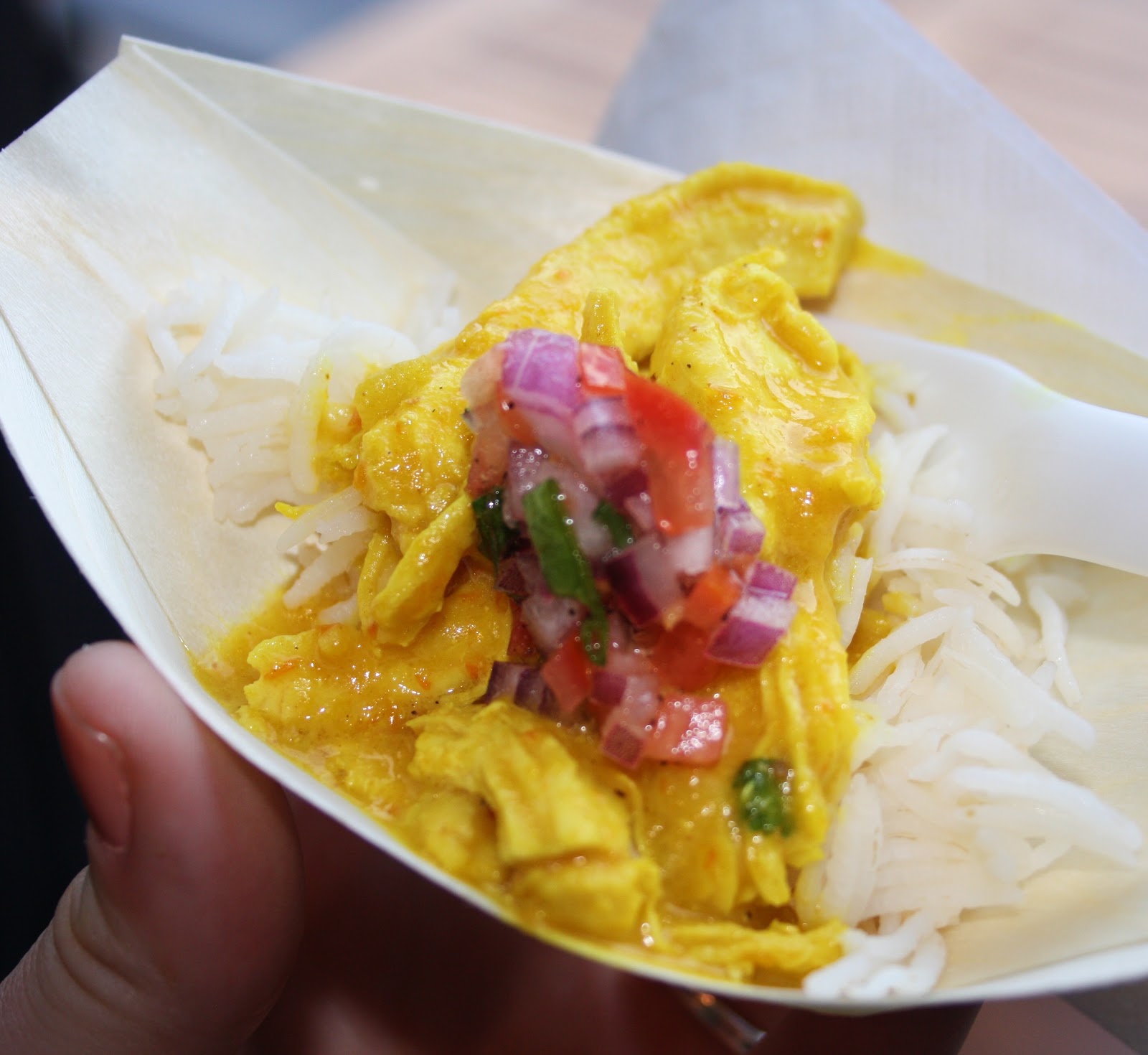 The first of the bowls we sampled was the Aji de Gallina (stewed chicken in Peruvian aji Amarillo pepper & cheese sauce with potato, Botija olive & egg; $12.75). The chicken was almost a shredded consistency and covered in a creamy, slightly spicy, bright yellow sauce.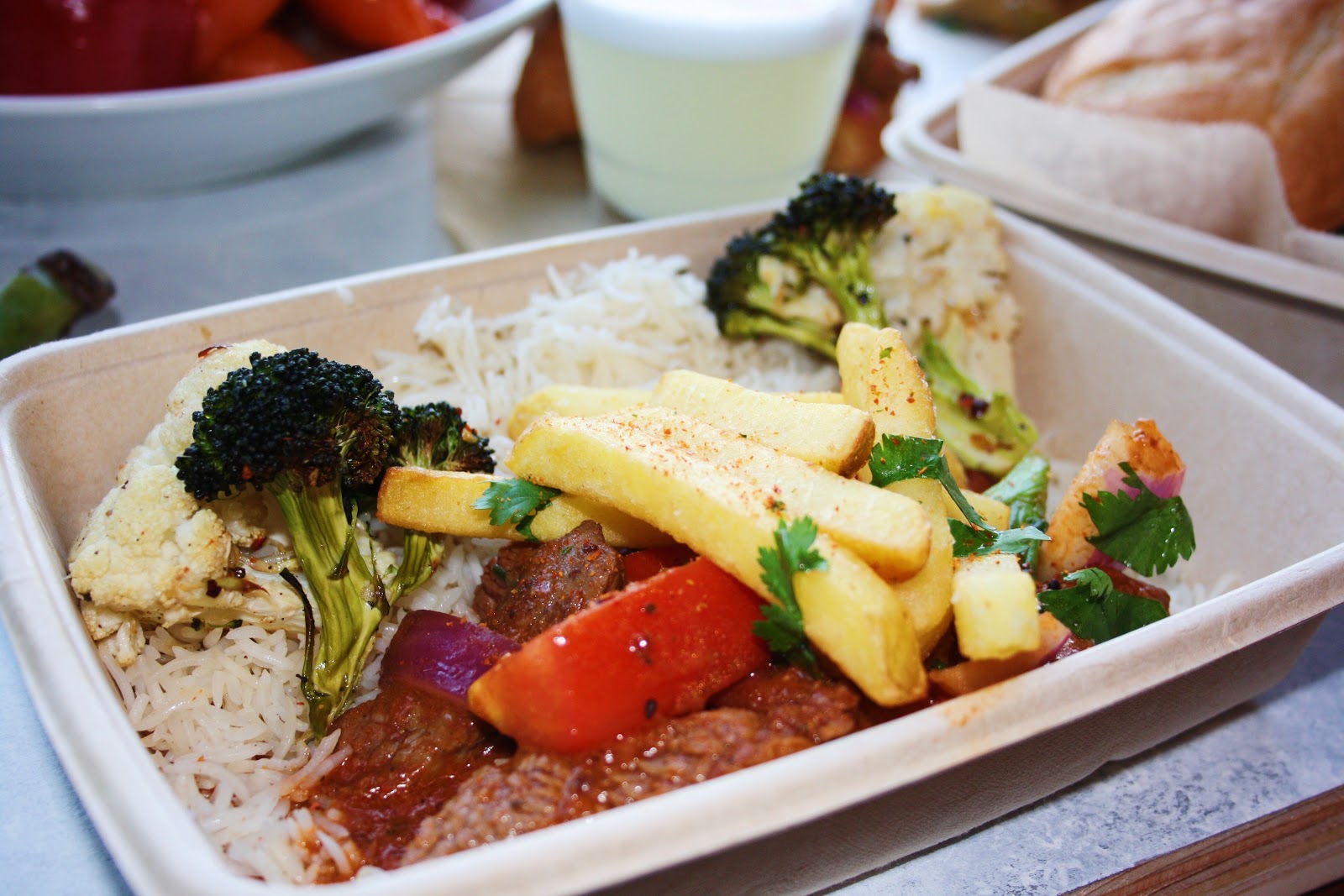 The Lomito al Jugo bowl (stir-fried beef tenderloin with tomatoes, onions, cilantro & soy sauce, topped with fries; $13.50) reminded me of a traditional lomo saltado: the beef was super tender and the onions and tomato were cooked only enough to soften up a little bit, while the fries were a perfect vehicle to soak up every bit of the mild savory sauce.
The Adobo bowl (slow cooked pork shoulder in aderezo & Cusqueña beer sauce, $12.75) was another colorful, spicy, smothered-in-sauce dish. I began to sense a delicious theme here…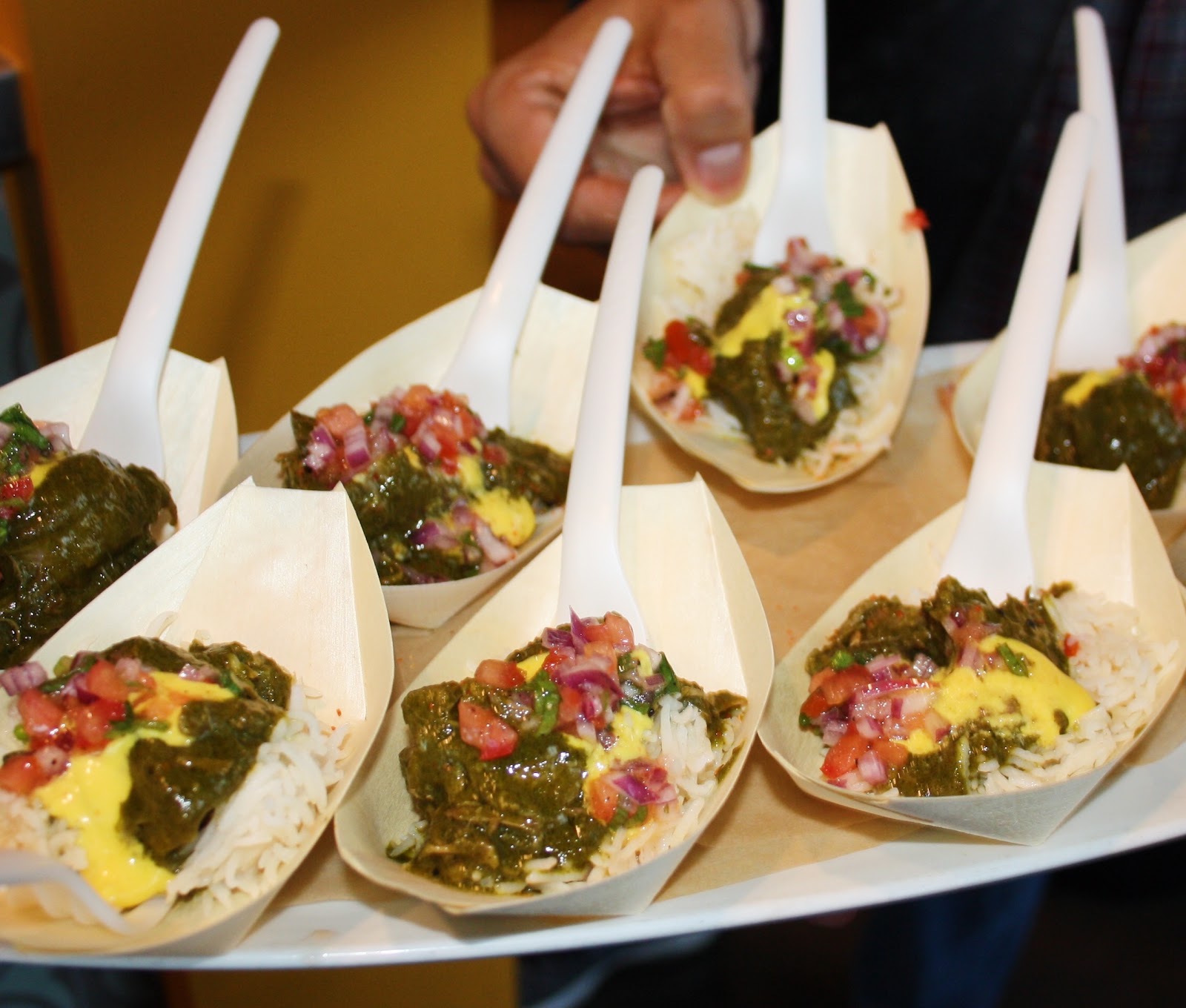 Though it was hard to narrow it down, my favorite bowl of the night was the Seco de Cordero (lamb shoulder slow braised in cilantro & Cusqueña beer sauce; $15.50). I hadn't read the menu description before digging into my little sample bowl, so the herby sauce surprised and delighted me. Even after sampling so many yummy dishes, the lamb really stood out because the flavor of the cooked cilantro was so unique.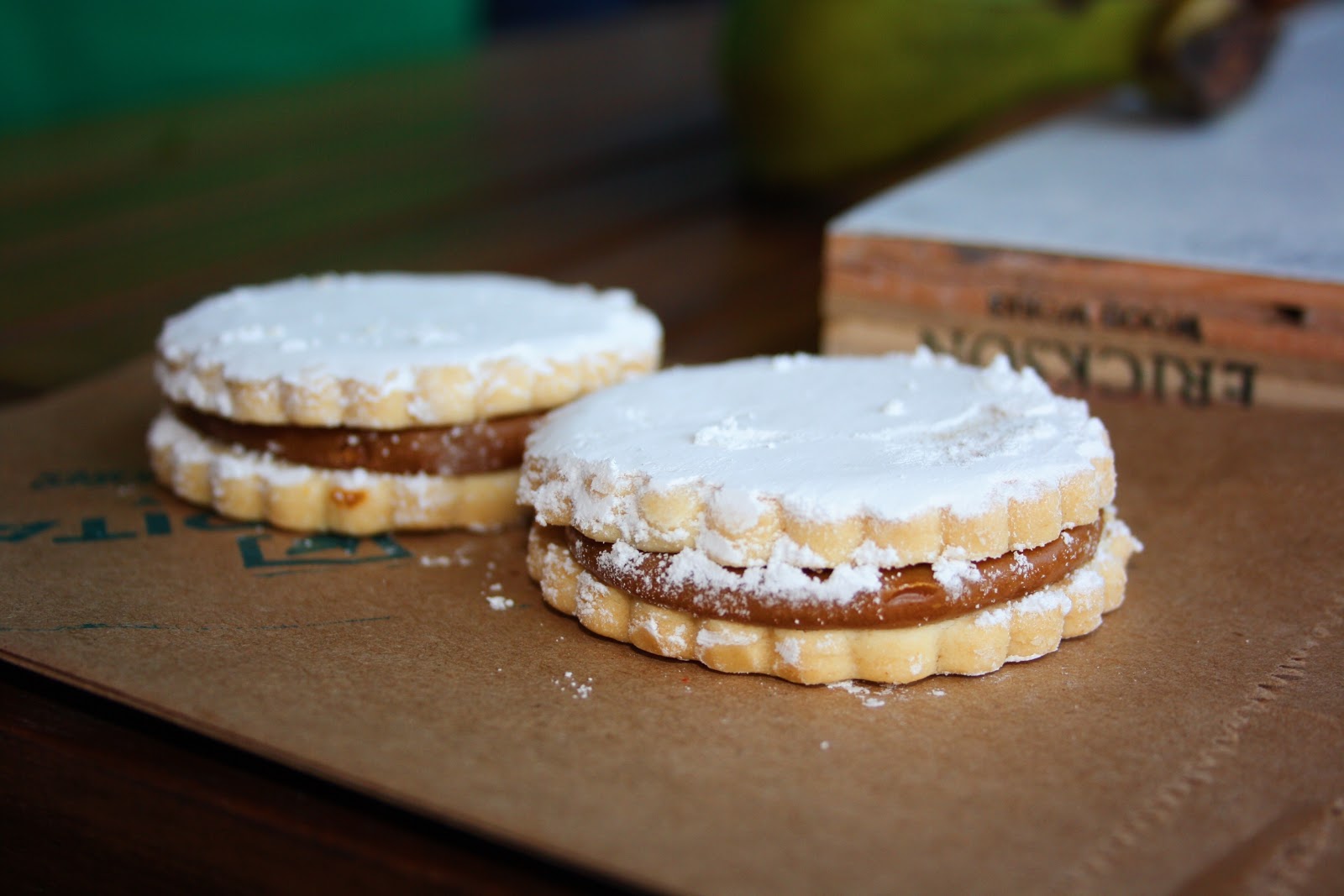 We finished off the night with one of my favorite Latin American desserts: Alfajores (dulce de leche filled sandwich cookies with powdered sugar; $2.25). Paradita's alfajores were absolutely perfect. There was a healthy serving of dulce de leche and the shortbread cookies were rich and buttery, but also surprisingly light and tender. Just be careful when eating them or you might end up covered in powdered sugar, like I did.
As if the restaurant options at Public Market Emeryville weren't exciting enough already, Paradita Eatery makes a great addition by serving up delicious and vibrant Peruvian dishes. I will certainly be back soon. If you go, I would love to hear what you think – have you visited Paradita or any of Chef Altamirano's other restaurants?
Public Market Emeryville, 5959 Shellmound Street, Emeryville
(510) 808-5073

Becca is a New England native who recently moved to Oakland. She loves cooking and eating and is excited to explore her new home as an assistant at East Bay Dish.

Latest posts by Becca Frost (see all)