After running the Oakland half marathon a few weeks ago, I was in the mood for fried chicken.  My awesome parents were in town to support me so we went to Southern Cafe.  It was busy with the after-church crowd when we arrived, and they were doing a buffet brunch.
My hunger was steadily increasing during the 15 minute wait, so I ate a protein bar and tried not to stare at the happy people eating.  I did take a closer look at the buffet and confirmed that they were serving fried chicken, along with fried catfish, red beans and rice, yams, greens, cornbread and black eyed peas.
When we were finally seated, there was no menu and after about 5 minutes of waiting for the server, I decided to just get in the buffet line.  This was my plate: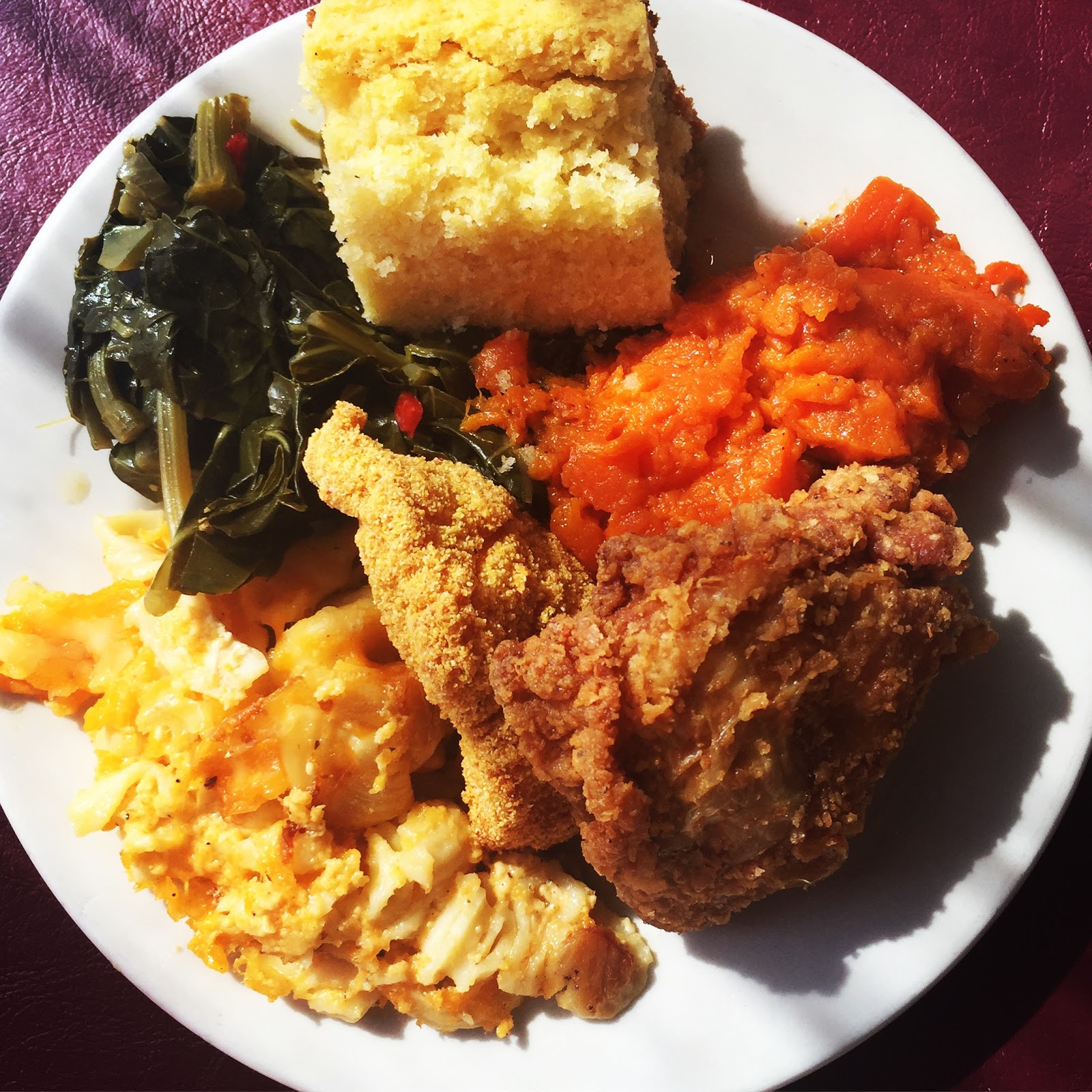 The fried chicken turned out to be crispy and juicy, but I ended up liking the fried catfish even more!  It was crispy on the outside, almost fluffy inside and flavorful throughout.  My parents tried a few of the other side dishes, but we all decided that the sweet yams and savory greens were our favorites.
The server checked on us and said that brunch included unlimited drinks and dessert, but I could only focus on water and food at the moment. When he came back a few minutes later to drop the check, we realized brunch was $30 per person and all of us took him up on his offer.  I was kind of delirious, but I'm pretty sure the mimosas were bottomless.  Unfortunately, I could only drink one.
And I didn't have a lactose pill on me, so I couldn't really indulge in dessert, but my mom liked the carrot cake more than the banana pudding.
The brunch buffet was a good opportunity to try all of Southern Cafe's dishes, but now that I know my favorites, I would probably go back for dinner next time.
2000 MacArthur Blvd, Oakland
510-336-2013

Christina is the founder of East Bay Dish and a social media marketing consultant. If you want to attract more customers with social media, click on my picture 🙂

Latest posts by Christina Mitchell (see all)