Becca and I were invited to a dinner at The Claremont's Limewood Bar & Restaurant a few weeks ago. It was an incredibly delicious four-course dinner with tequila pairings from Pueblo Viejo Tequila and the first in the Dining on the Deck series.  We decided to write this post together because there was a lot to say! The meal was so complex and delicious that we needed a conversation to process everything. Hopefully this joint post will capture that experience.
We started with a jalapeño cocktail.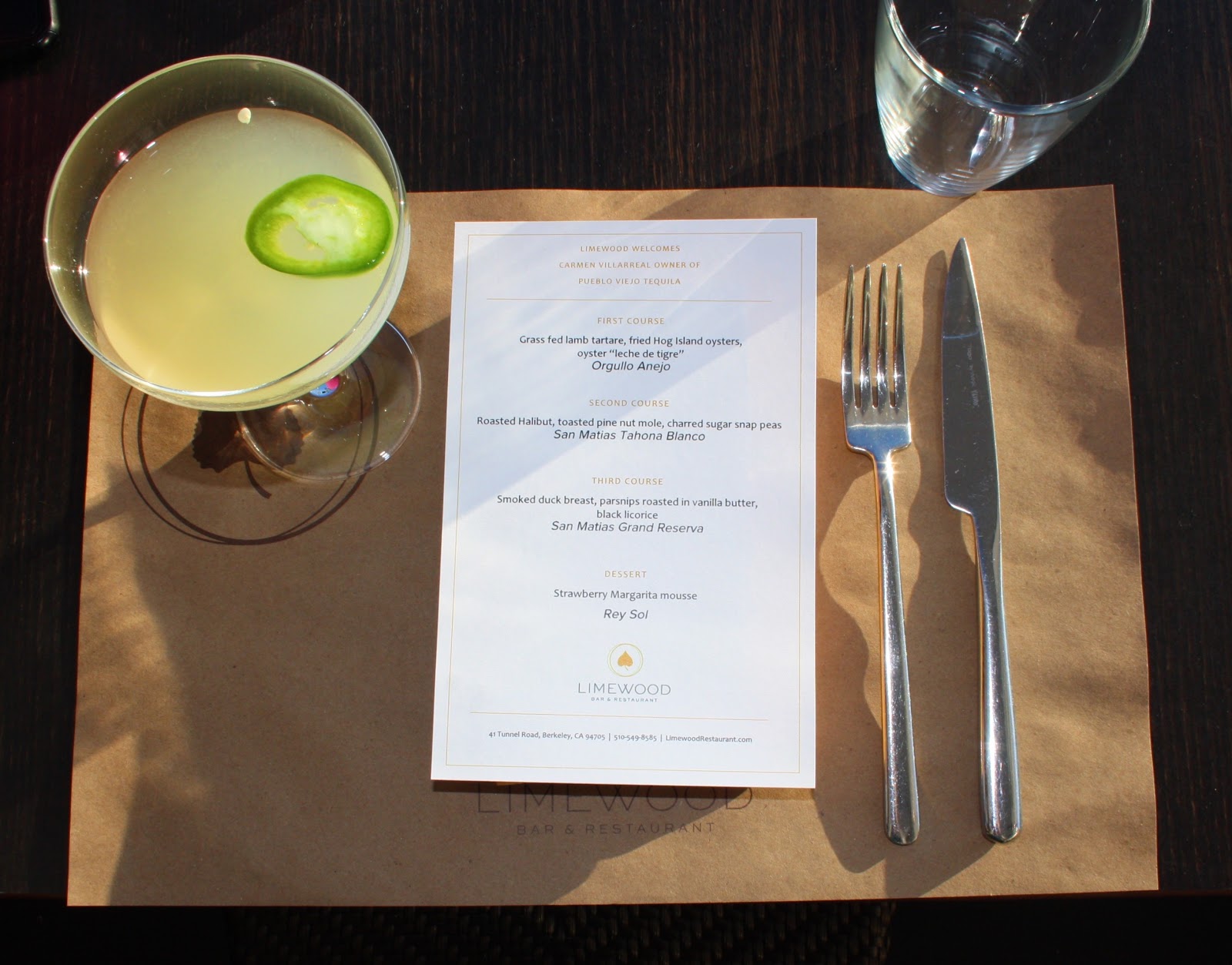 Christina: I liked that it seemed to get spicier with every sip.
Becca: Yeah, it tasted like a spicy margarita. It was good, but nothing spectacular.
Then Carmen Villarreal, one of the owners of Pueblo Viejo, introduced all of the tequilas and talked about the family business.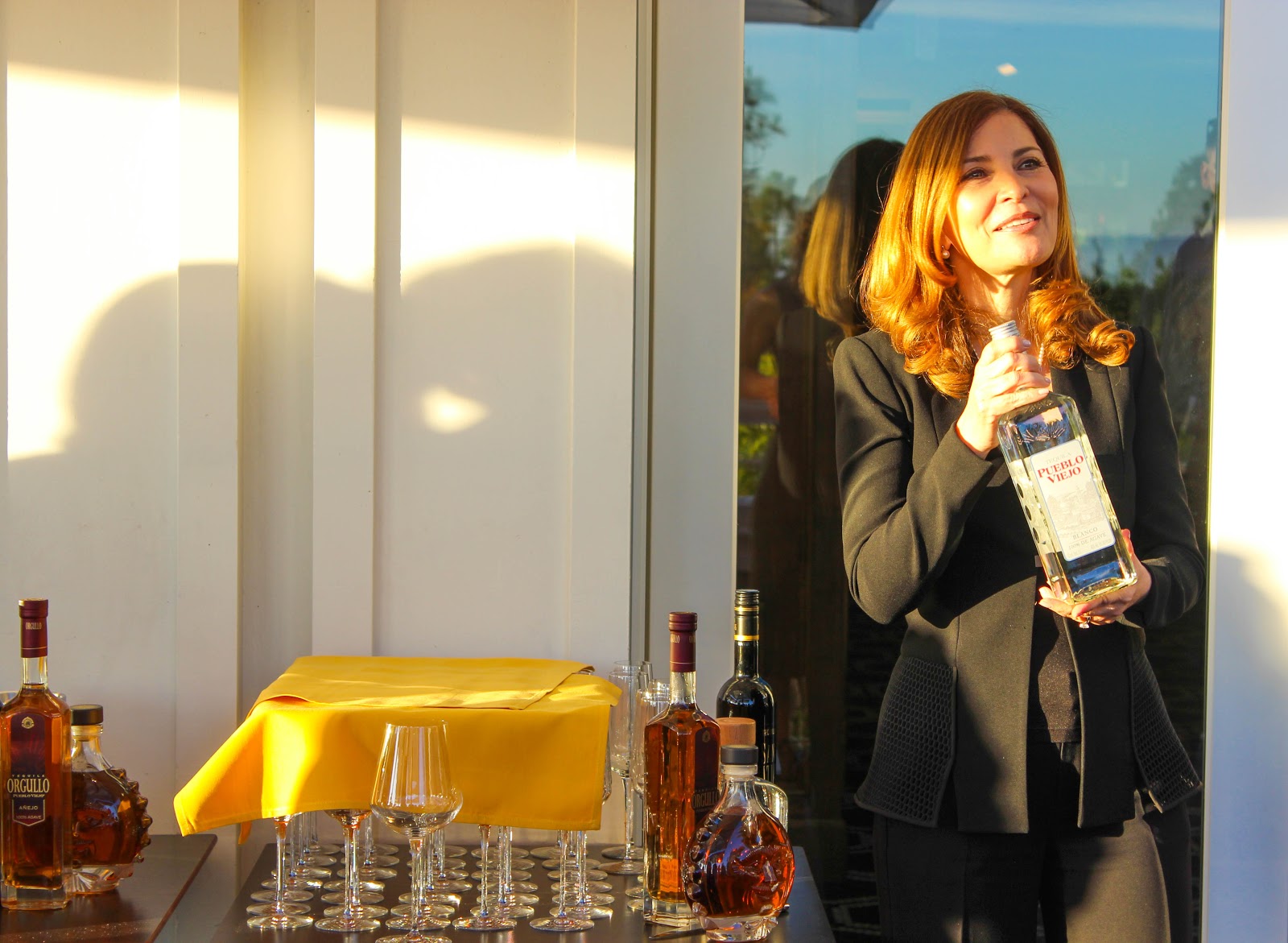 The first course was Grass fed Lamb Tartare, Fried Hog Island Oysters and "leche de tigre" and it was paired with Orgullo Anejo.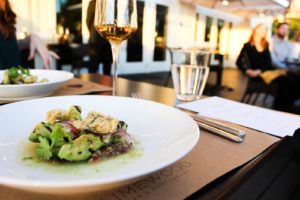 Becca: I'm not usually one for tartare (I think about it too much and get a little weirded out), but with a fixed menu, what was I going to do? Not eat this beautiful dish? No way. I actually loved it! The lamb tartare was new to me but the classic ceviche flavors of lime, avocado, and red onion in the leche de tigre drew me in. I realized later that this dish definitely set the tone for the rest of the meal: playful, inventive riffs on familiar combinations, which ended up being incredibly delicious!
Christina: I completely agree! I doubted this dish when I first saw it on the menu because I've never had lamb tartare before and who ever heard of lamb and oysters together?  It sounded like some kind of weird surf n' turf, but it totally worked!  The grilled avocado, cilantro and red onion reminded me of a deconstructed guacamole, but the silky tartare took it to the next level.  The smokiness paired perfectly with the tequila too! After this dish, my doubts disappeared and I started to get REALLY excited about what the chef would send out next.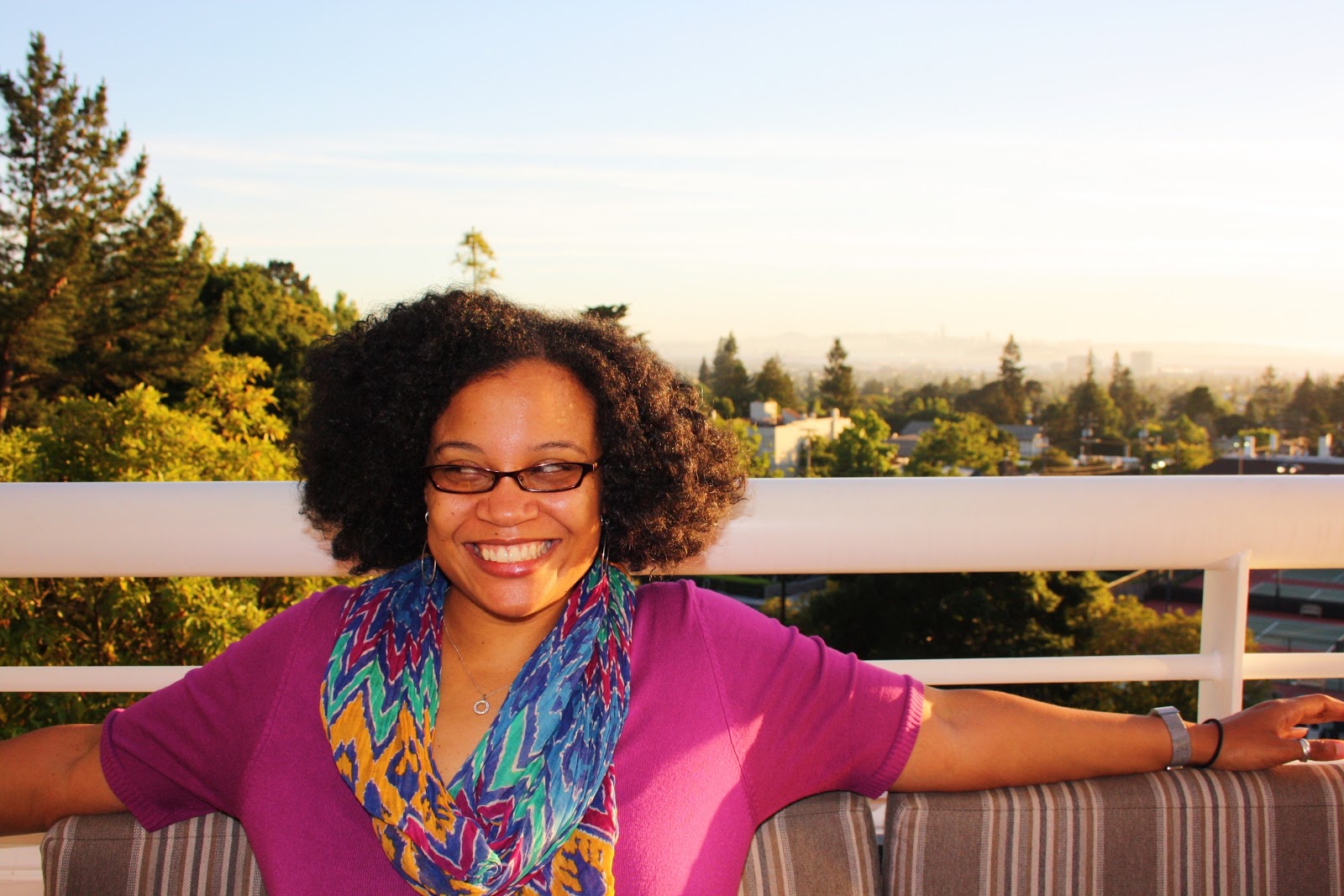 Oh and the view was stunning and it was an awesome place to watch the sunset as we ate each dish.
The second course was Roasted Halibut with Toasted Pine Nut Mole, Charred Sugar Snap Peas and it was paired with San Matias Tahona Blanco.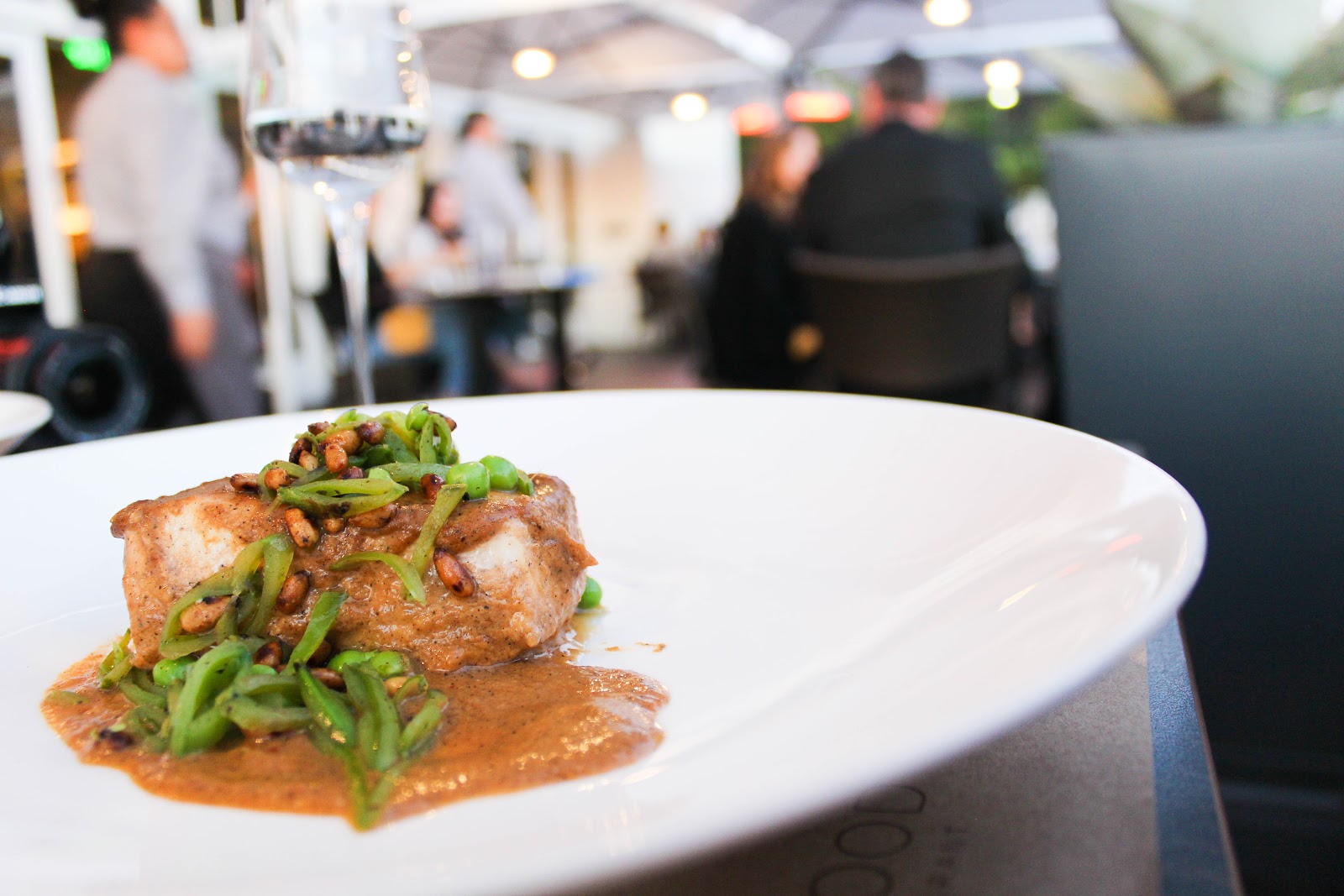 Christina: The halibut was tender and delicate, but also hearty enough to stand up to the mole.  And there were some grassy notes in the tequila that paired with the freshness of the sugar snap peas.
Becca: The mole ended up with an almost peanutty quality, and the sugar snap peas were the perfect fresh complement. Even though the mole was so flavorful, the fish was rich enough to stand up to it. The components came together in a way that was complex, balanced, and delightful.
At this point, the sun started to set and everyone started to get tipsy…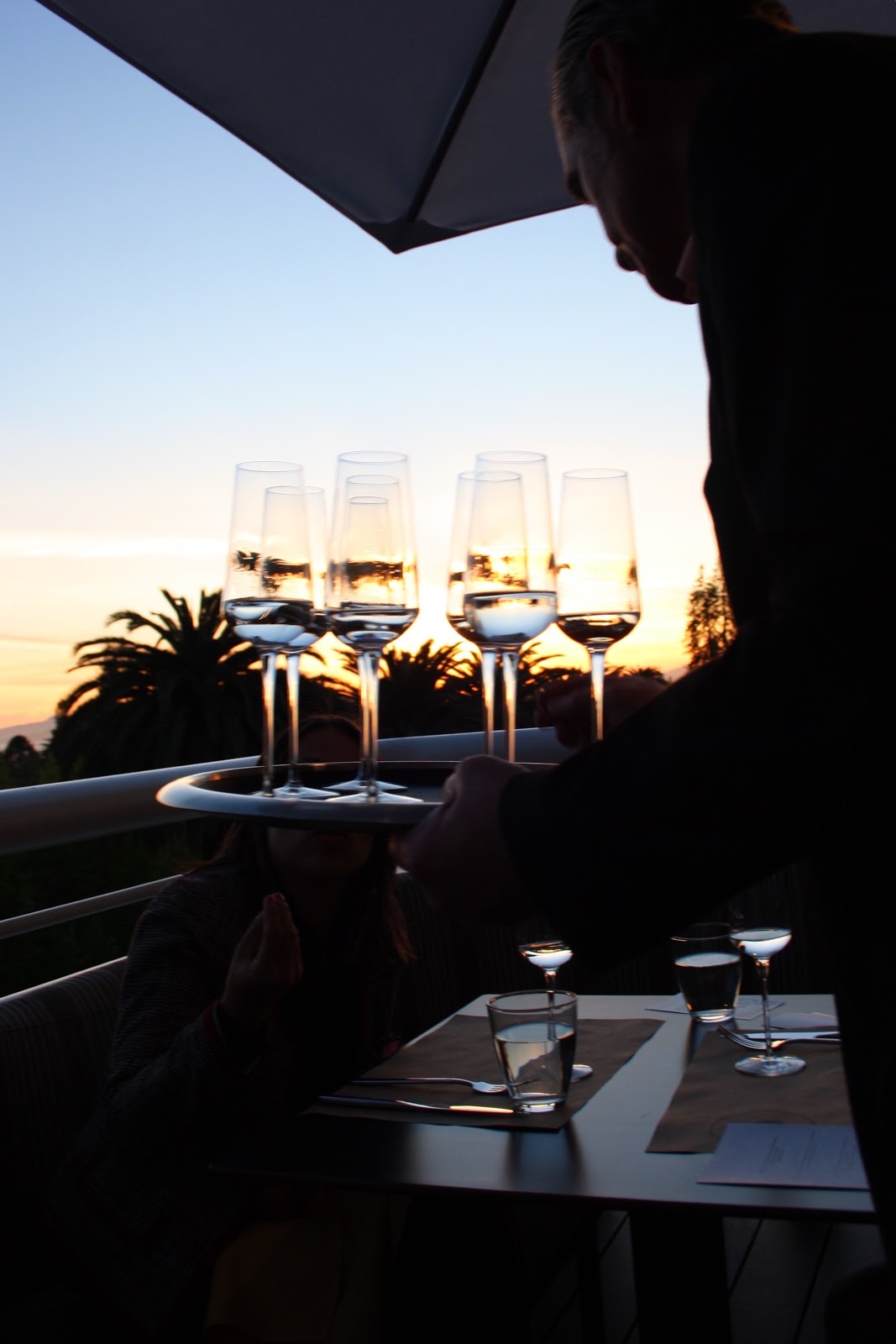 The third course was Smoked Duck Breast, Parsnips roasted in Vanilla Butter and Black Licorice and it was paired with San Matias Grand Reserva.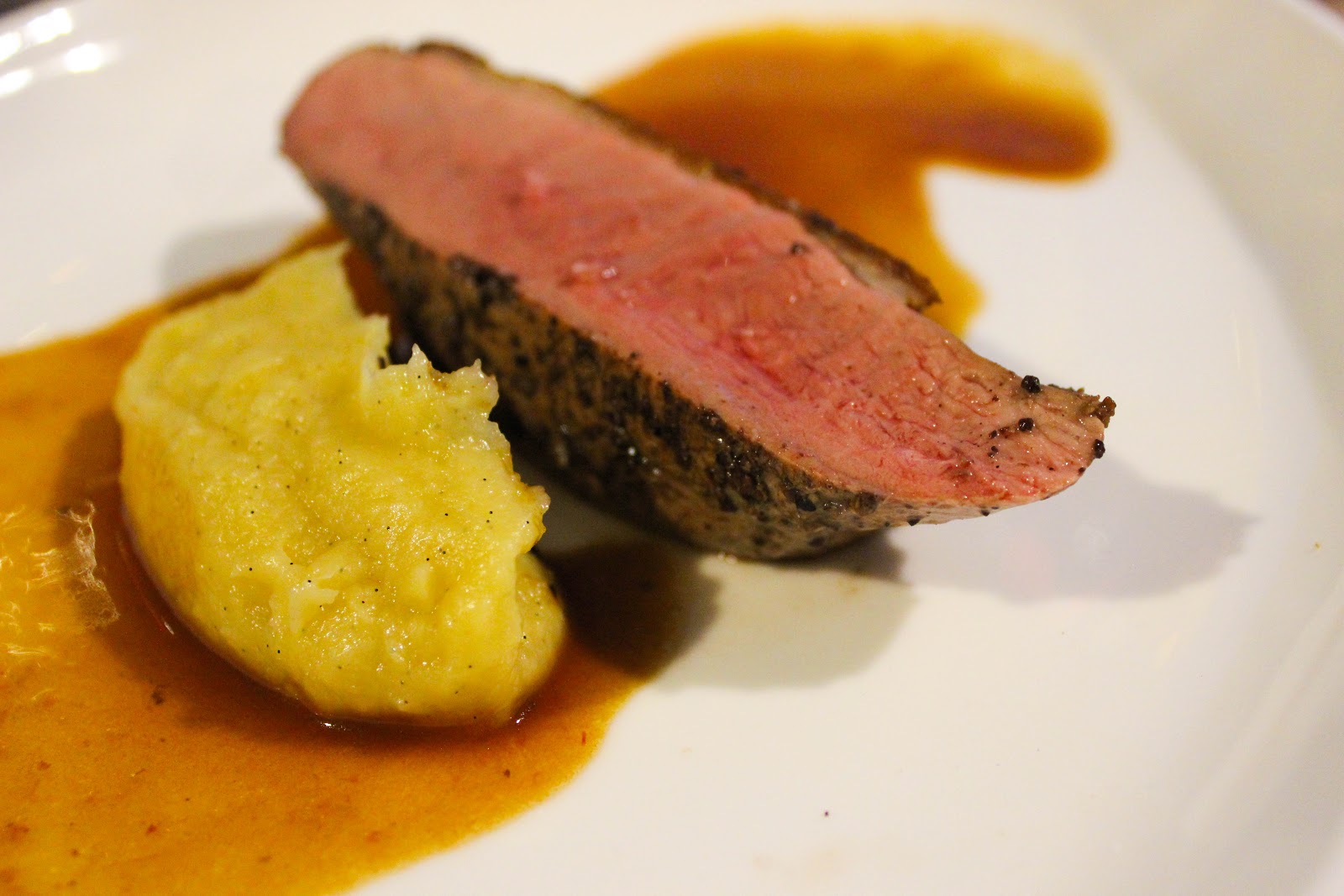 Becca: This dish blew my mind. I'm still in disbelief over how the chef made each element taste comforting and familiar, and at the same time, totally unique. The duck was cooked perfectly, and was super tender and moist. The thin layer of fat around the outside was so smokey it tasted like duck wrapped in bacon. The parsnips were pureed to a smooth, creamy consistency and the addition of vanilla was just unbelievable. If you put it in a pie shell, I would have thought it was dessert. Somehow the flavor of the parsnips still shone through the sweetness in a way I hadn't experienced before. Though I couldn't really taste black licorice in the salty, caramelly, buttery sauce, I wouldn't change a single thing.
Christina: Yeah, this dish blew my mind too.  I agree with everything except the parsnips didn't remind me of dessert – they were like candied sweet potatoes!  And they paired perfectly with the smokey duck breast and the aged tequila. This dish was so luxurious and decadent, it made me grateful for my tastebuds.
The fourth course was a Strawberry Margarita Mousse and it was paired with Rey Sol.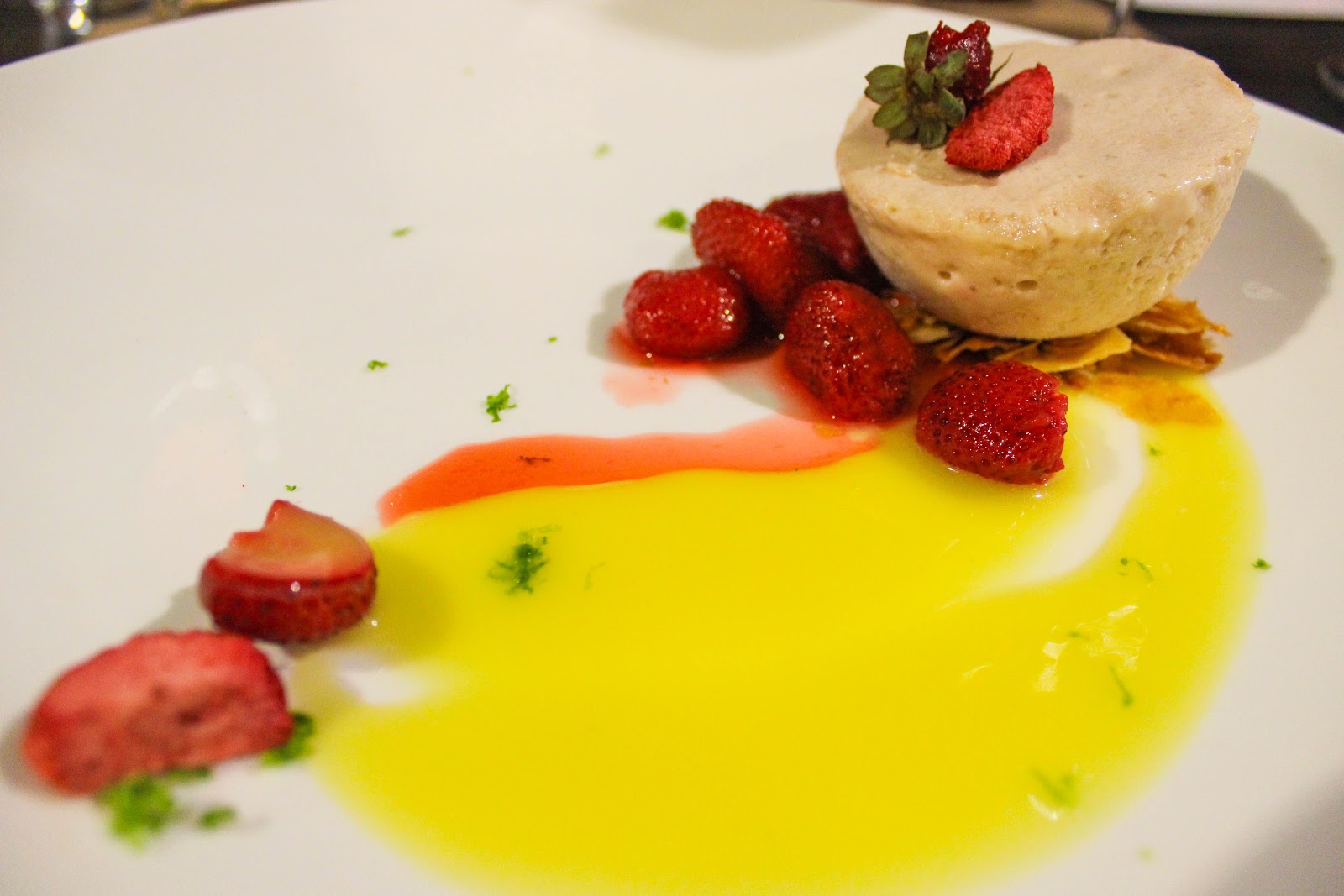 Christina: I wondered how the pastry chef would be able to follow three delicious dishes, but this was such a smart dessert!  It was sweet and tart and reminded me of a deconstructed margarita pie with both macerated and dehydrated strawberries.  There were so many different textures, every bite was different.
Becca: I loved how playful the dessert was! The mousse was airy and the different strawberry elements throughout the dish built on each other really nicely. This was the perfect light finish to a series of decadent courses.
The combination of the breathtaking views, beautiful sunset and amazing menu made this experience unforgettable. This would be an incredible date, especially if you go with someone who's a big fan of the alcohol that's featured.
The Dining on the Deck series continues in the Fall:
41 Tunnel Road, Berkeley
510-549-8585

Christina is the founder of East Bay Dish and a social media marketing consultant. If you want to attract more customers with social media, click on my picture 🙂

Latest posts by Christina Mitchell (see all)