Christina and I were recently invited to Saha, a Middle Eastern restaurant in Berkeley, and when we arrived for dinner, we were greeted with a large open dining room with Middle Eastern-inspired details that set the scene for the meal.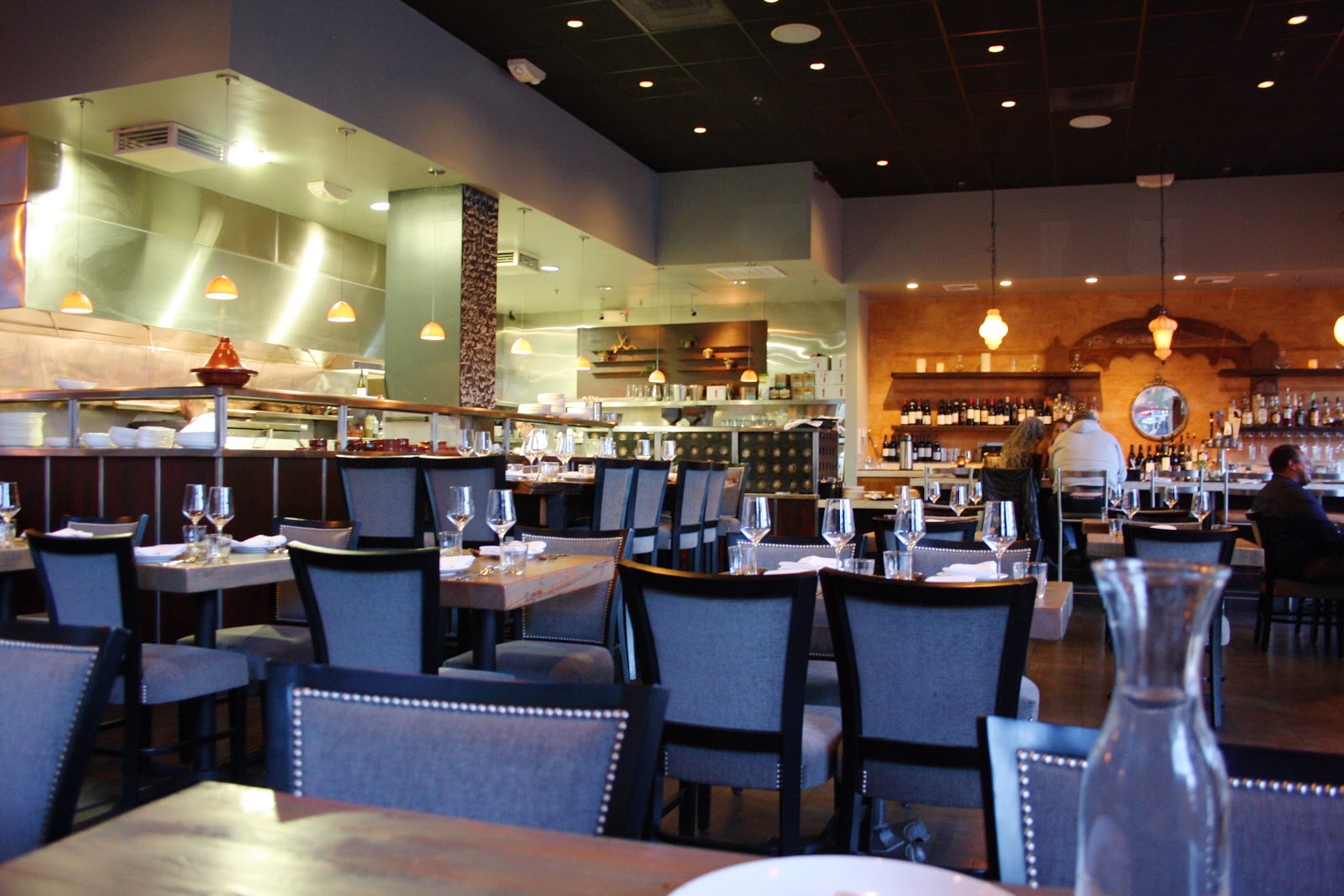 We sat down and opened the menu. I was struck by the mix of dishes – a few I recognized, some I had never heard of, and several combinations that perplexed me a bit. Salmon Baklava? Ultimately, Christina and I asked Chef Mohammed Aboghanem to choose for us. After all, who knows the food better than the chef?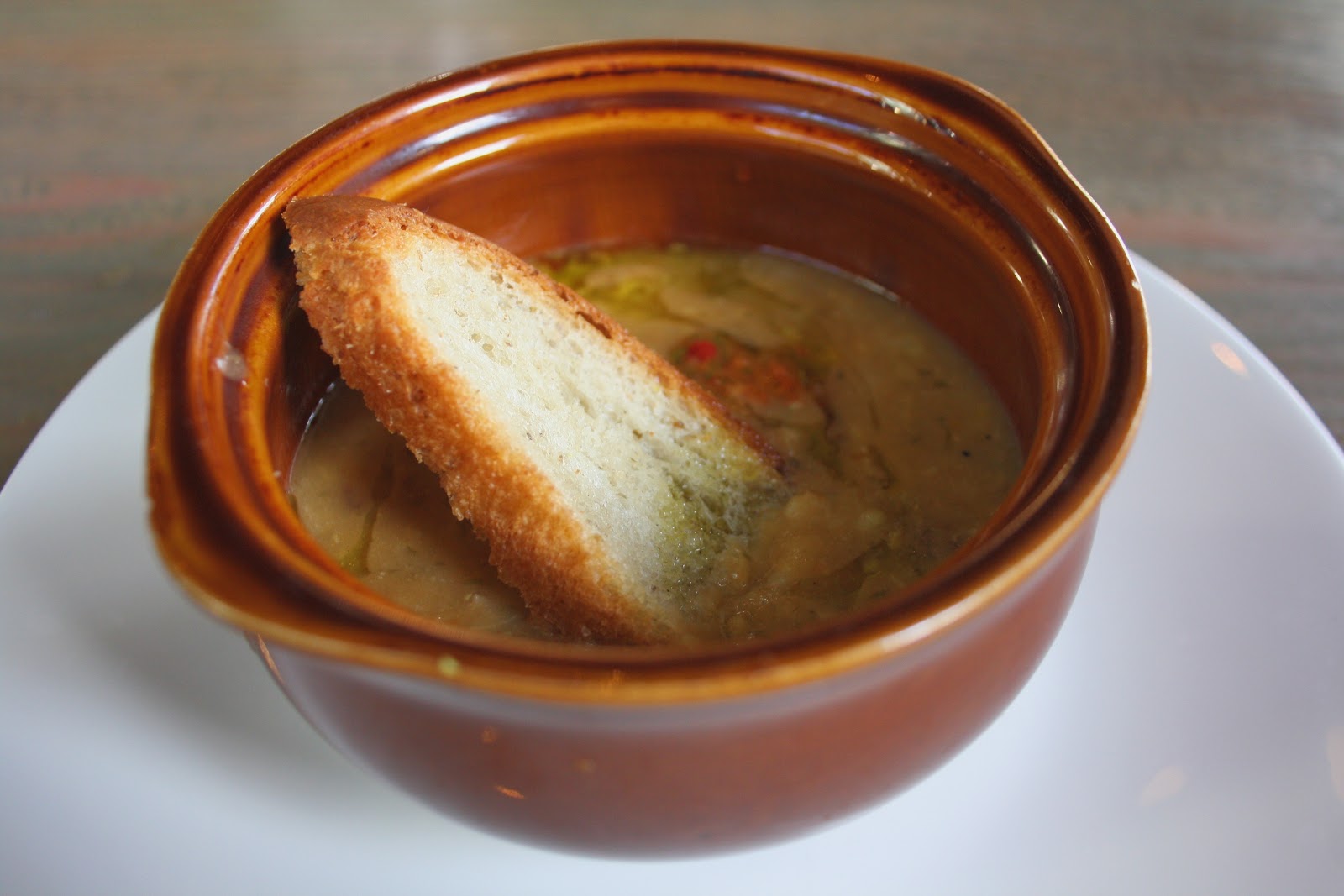 We started with the Soup of the Day ($7), a vegetarian chickpea soup with a drizzle of olive oil on top. It was smooth and garlicky, but Christina and I would have liked something to brighten it up a bit, like some lemon juice.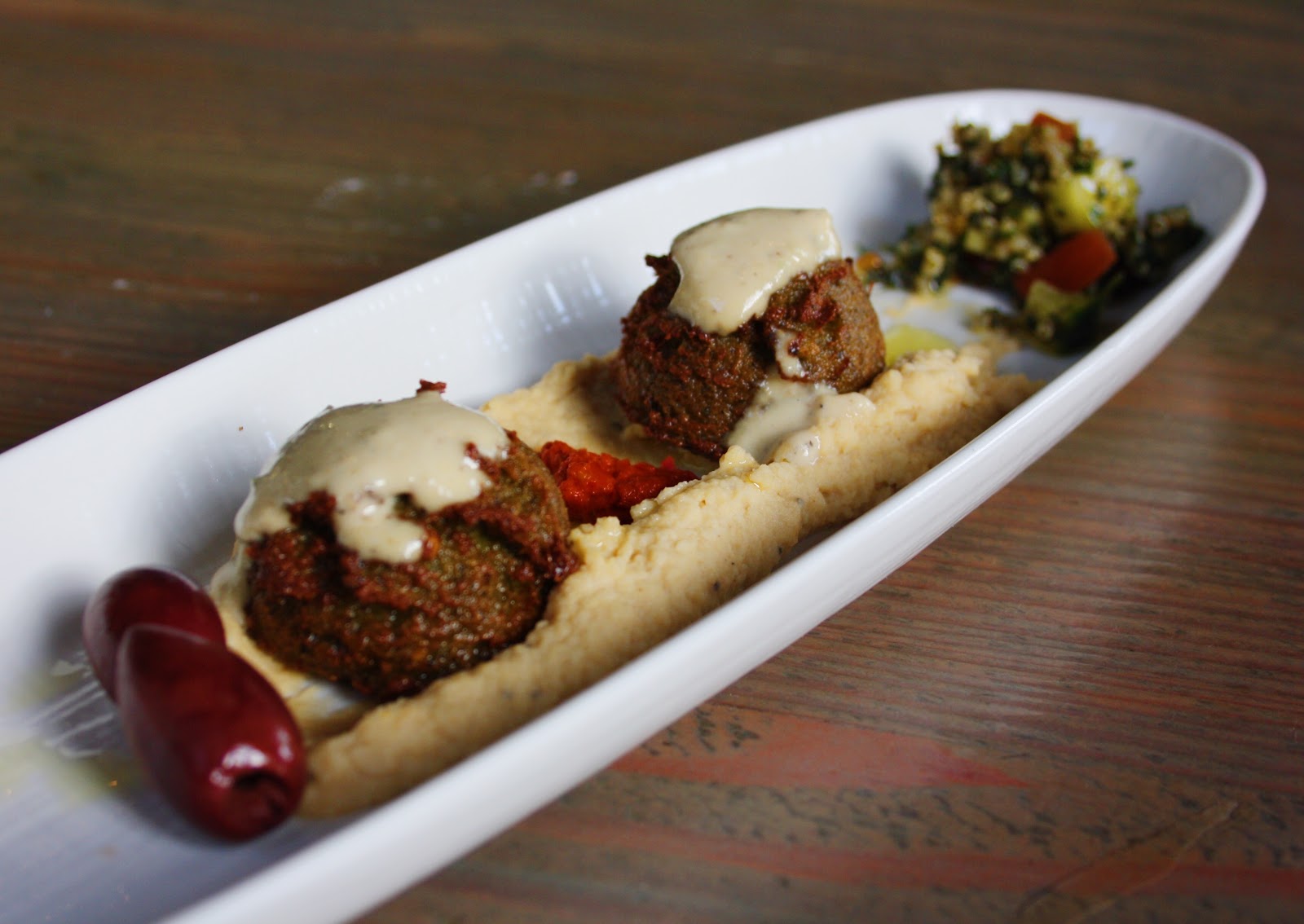 Next we tried an appetizer special, a sampler of eggplant falafel, hummus, olives, and tabbouleh. The falafel was made with traditional chickpea flour blended with eggplant, and the texture was lighter and moister than most falafel I've had.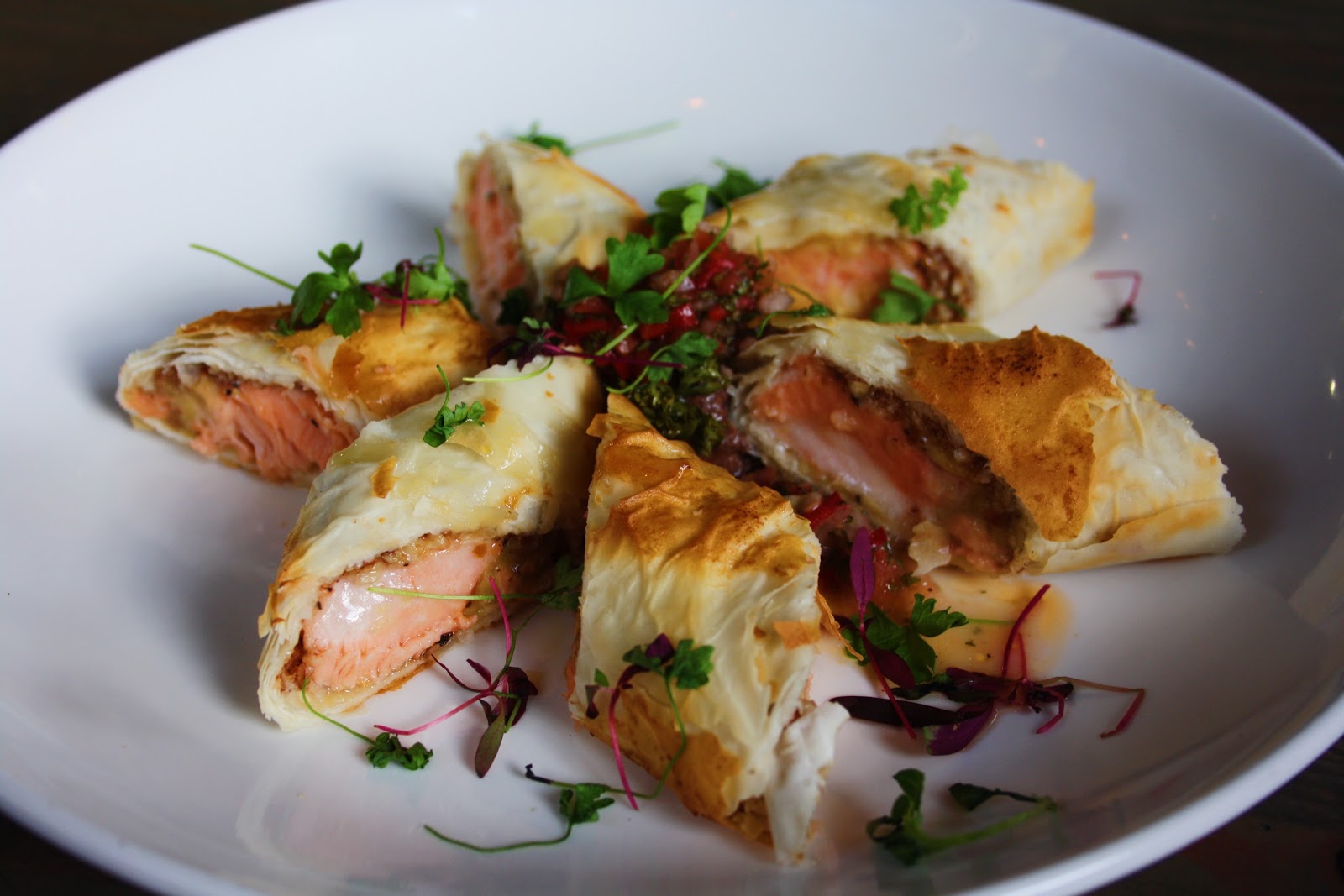 As the next dish came out of the kitchen, we got really excited – first, because it was presented so beautifully, and second, because we realized it was the Saha Salmon Baklava (fresh wild salmon, baked in layers of phyllo dough with chopped almonds, honey and rose water, served with olive tapenade, $16), which we had been wondering about since seeing it on the menu. Salmon and baklava sounded like such a strange combination, I had a hard time imagining what it would taste like (sweet fish?) but as I took my first bite, the ingenuity hit me. For me, the magic ingredient that tied the baklava's honey and almonds together with the salmon was mustard, which tempered the sweetness with sour notes and a little bite. Suddenly all the flavors made sense together, and Christina and I were "mmmm"-ing our way through the rest of the plate. It was really delicious and such a fun and inventive way to experience those flavors.
At one point, Chef Mohammed stopped by our table to see how we liked the meal so far, and we couldn't help but ask what inspired the unique combination of salmon and baklava. He said he's been cooking for so long that these ideas just come to him. He made it sound easy, but I was still impressed with the risk he took and how well it paid off.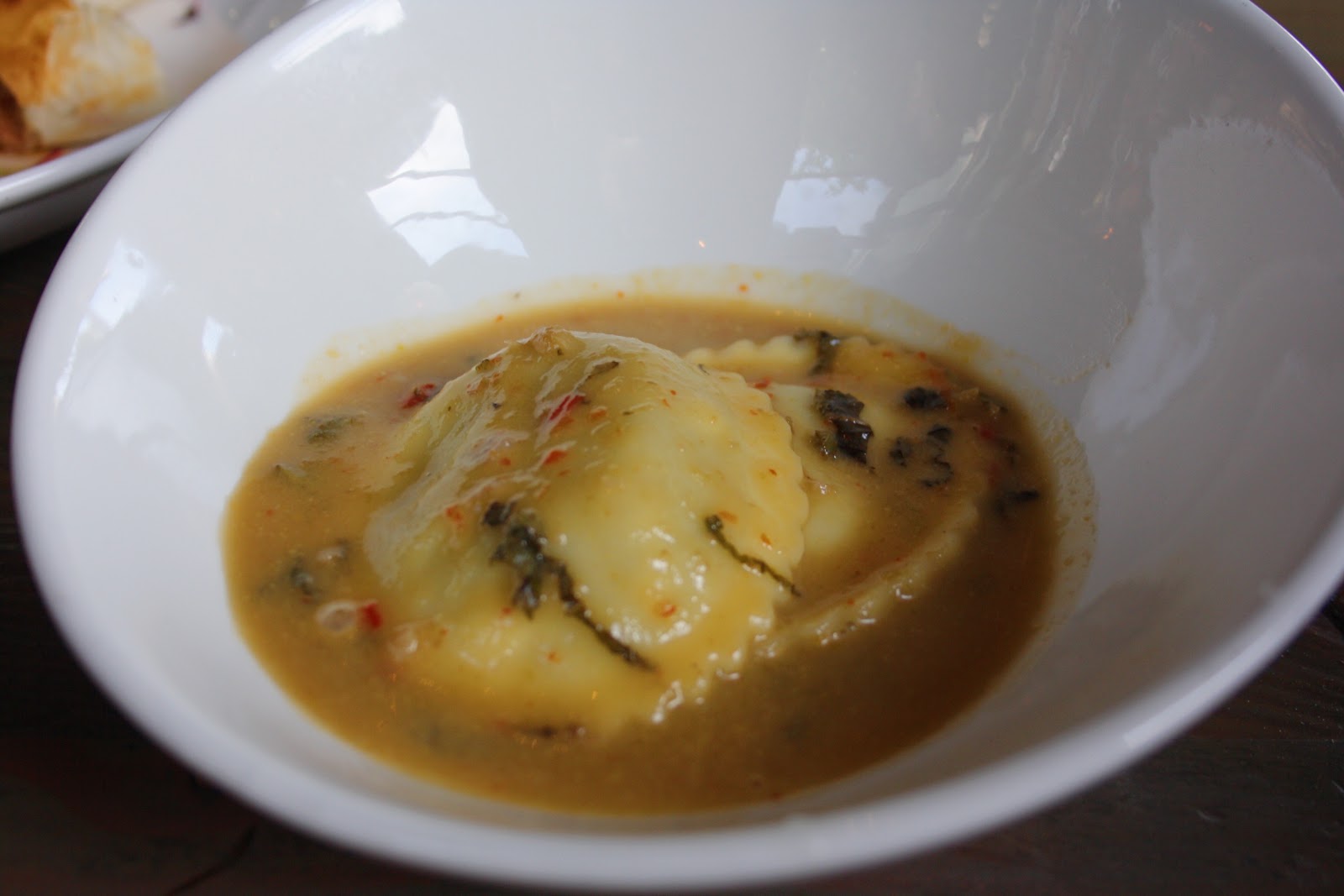 Another combination of unexpected flavors came in the Saha Ravioli (shiitake mushroom ravioli in a sauce of fresh mango, red pepper flakes, mint, and a touch of cream or coconut milk, $24). The mushrooms inside the ravioli were very earthy, while the minty mango sauce was very sweet. Christina and I agreed that we appreciated the experiment, but the sauce was just too sweet for me and read more as a dessert.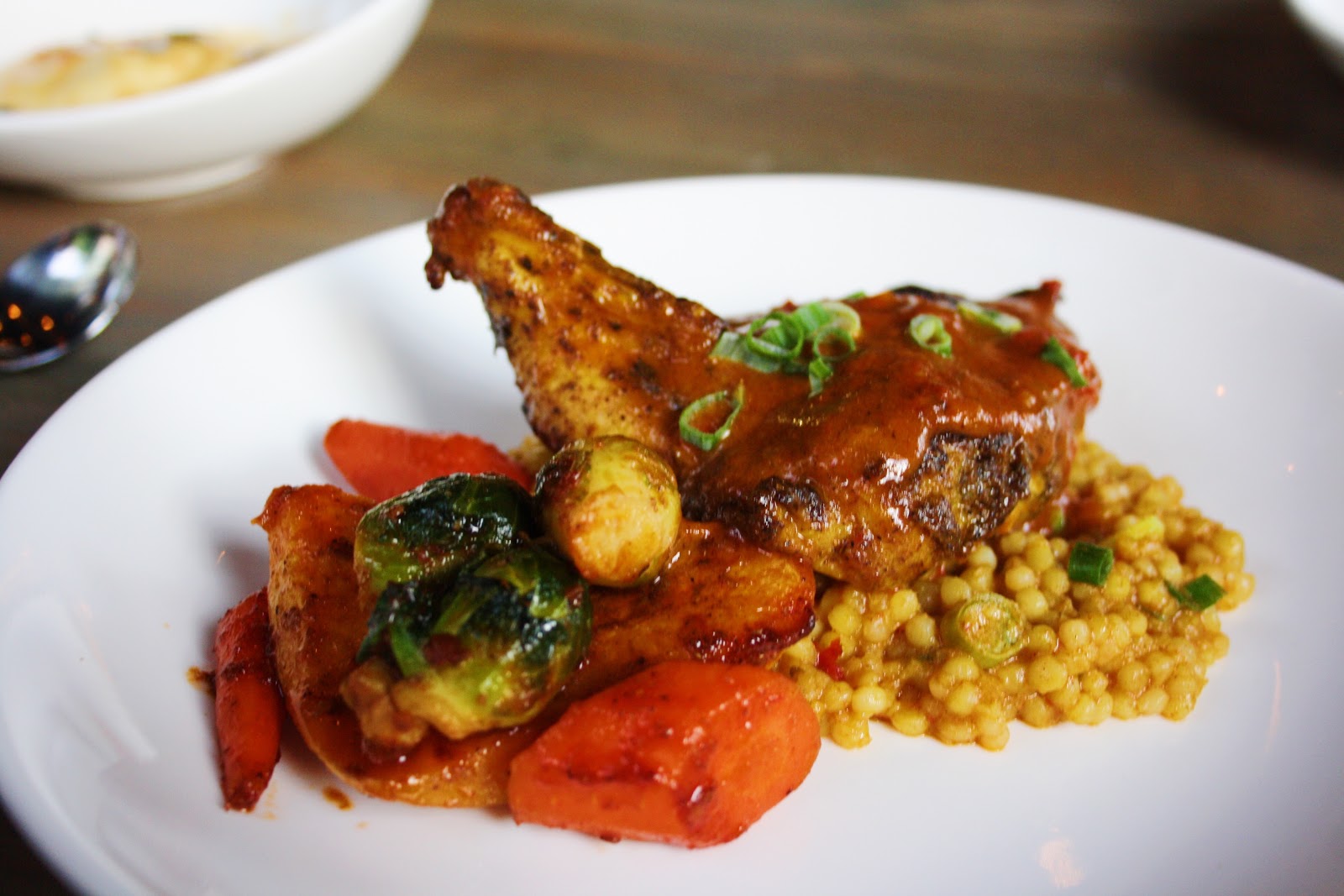 We also tried the Saha Red Curry (butternut squash, wild mushrooms, seasonal veggies & maftoul with chicken, $27). The vegetables were a little undercooked for my liking, but the chicken, sauce, and maftoul (Palestinian couscous) were well spiced and flavorful.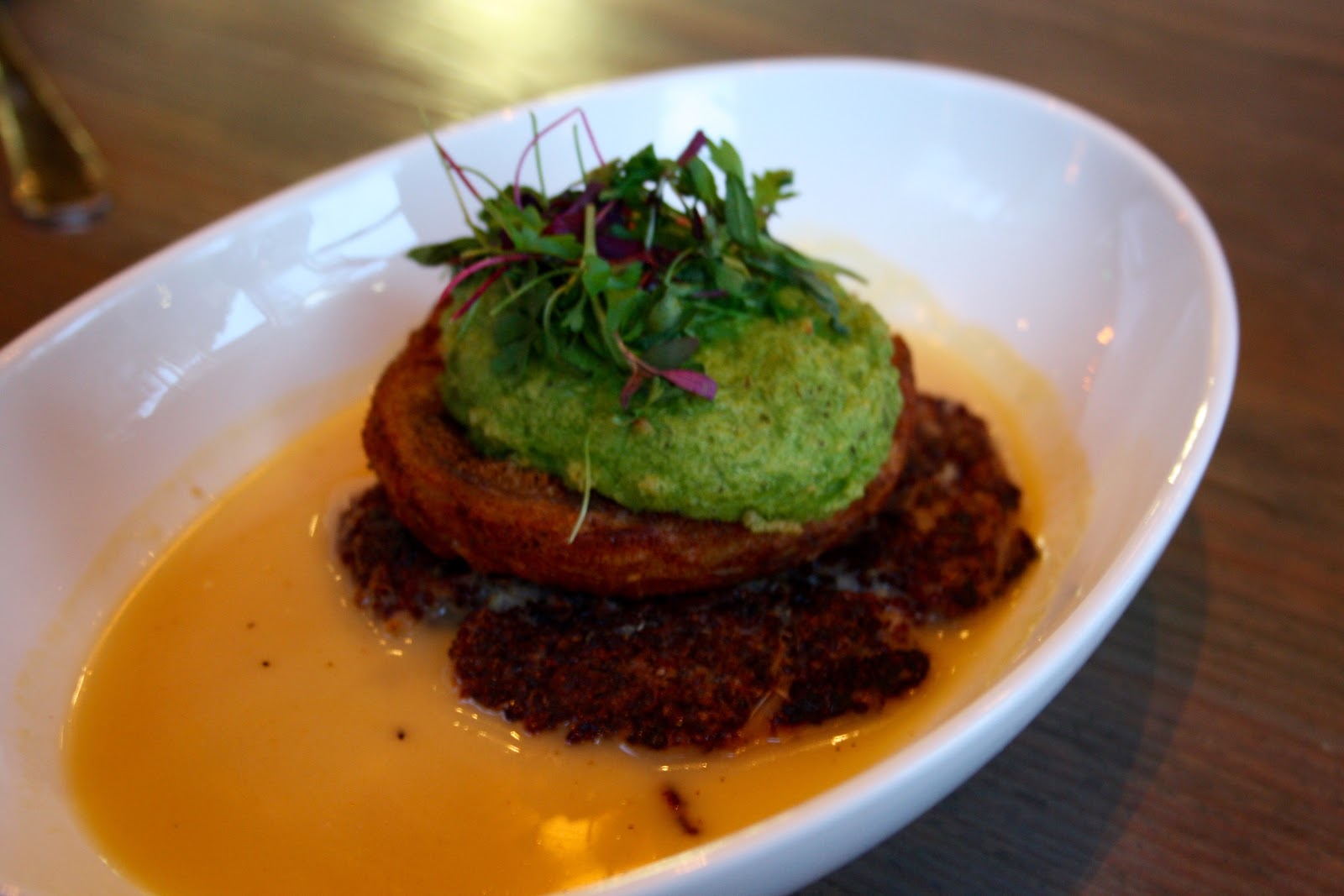 Next, we sampled another one of the evening's specials, the Artichoke Tower. The bottom of the tower was a quinoa cake, topped with a fried artichoke heart, with truffled artichoke puree at the very top. I love artichokes so I was really intrigued by the fried artichoke heart, but the textures of each component were a similar soft texture, and the truffle oil in the puree overwhelmed all the other flavors.
Finally, we came to dessert…
So many of the desserts on the menu sounded interesting, and it was hard to choose just one, so we ordered two! The first was the Knaffe (classic Middle Eastern dessert with layers of Syrian cheese, shredded phyllo and rosewater reduction, $10). The phyllo was shredded into crispy threads, and Christina said she especially liked the pieces that were almost  burned because they added an extra bitterness. The cheese inside had a similar consistency to mozzarella, and although there was a drizzle of rosewater reduction and a dusting of powdered sugar on top, the dish as a whole was not very sweet and didn't strike me as a dessert. It did make me curious to try the Lobster Knaffe (chunks of lobster meat in a savory saffron-lobster sauce, on top of sweet farina cake, with scattering of crispy shredded phyllo dough, $16), which was on the appetizer menu.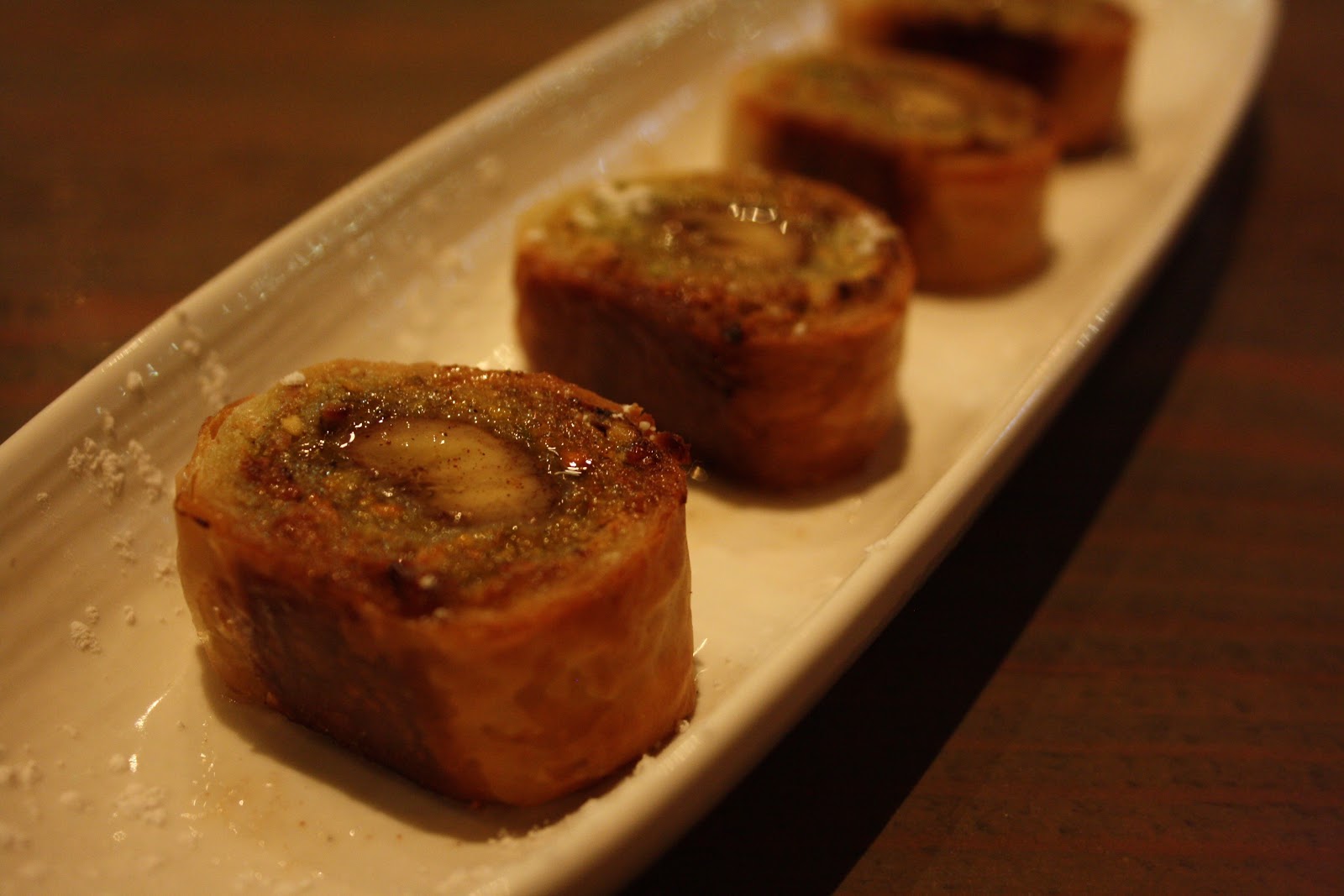 For our second dessert, we selected the Baklava (roasted banana, pistachio, phyllo and rosewater reduction, $8). The roasted banana, nuts, and spices reminded us of banana bread. It was just different enough from traditional baklava to feel really luxurious and unique. At this point, I was pretty stuffed from the rest of the meal but I could have found room for  a few more pieces of banana baklava. We definitely ended the meal on a high note.
I would recommend Saha to anyone who likes Middle Eastern cuisine and trying unexpected combinations. We didn't love every dish, but the experiments that worked were really exceptional and delicious. Have you visited Saha? What was your favorite dish?
2451 Shattuck Avenue, Berkeley
(510) 900-2457

Becca is a New England native who recently moved to Oakland. She loves cooking and eating and is excited to explore her new home as an assistant at East Bay Dish.

Latest posts by Becca Frost (see all)