Liba Falafel is just a few blocks away from my office, but I'm embarrassed to admit it took my coworkers recommending it to me a few times before I finally tried it. I wouldn't usually go out of my way for falafel, but I was eventually convinced when someone described the Liba experience as being a sum greater than its parts. My first Liba falafel salad was SO good – fresh, delicious, every bite a little different – that I now consider Liba one of my favorite downtown lunch spots. Their crunchy, colorful salads topped with warm falafel can't be beat.
My go-to order is the Falafel Salad. After you pay, the cashier gives you an empty compostable bowl, which you take over to the salad bar and fill up yourself, before topping it off with fresh falafel. You can also order a Falafel Sandwich, which works the same way.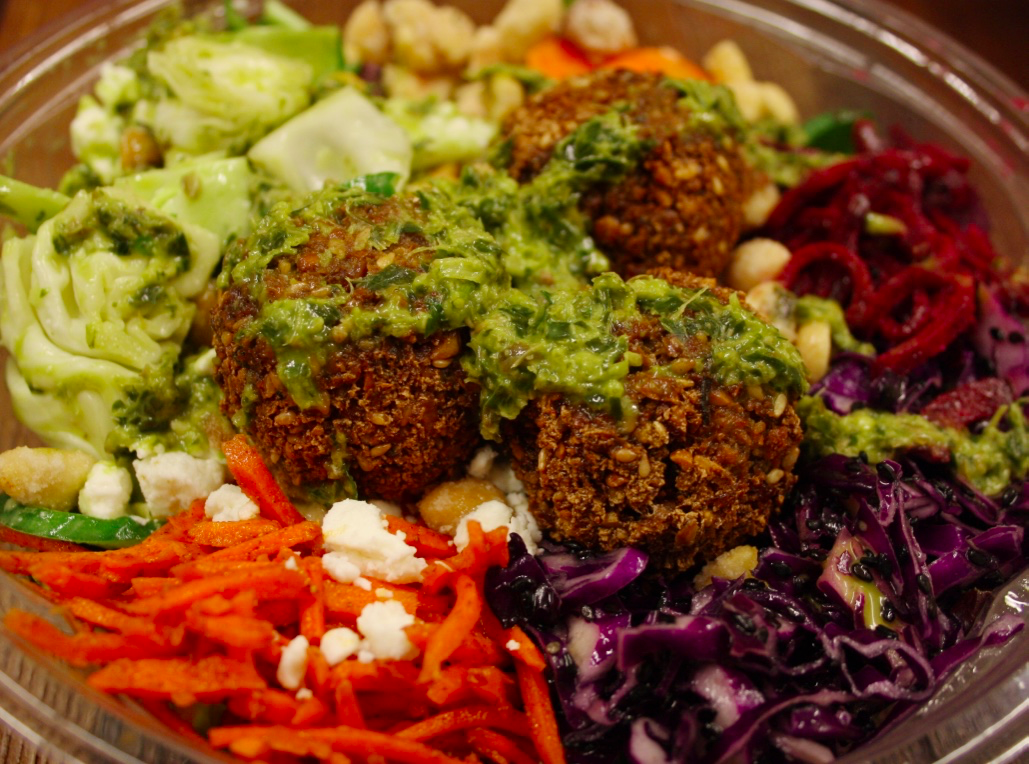 The bar is a smorgasbord of incredible prepared salads, toppings, and dressings. A few of the offerings have been the same every time I've gone, like basic spring mix, Moroccan carrot salad, Persian cucumber and cabbage with herb-sesame dressing, braised eggplant in tomato sauce, tomato-ginger chutney, pickled red onions, and pickles in dill-cardamom brine. I mix up my combination and get something slightly different every time I go, but I always top it off with three pieces of falafel, feta cheese, rosemary peanuts, and chimichurri dressing. The mix of complex flavors and textures makes every bite exciting and super yummy.
Liba is so delicious that it feels like a treat even though it's full of fresh, healthy veggies. If you've never been or if it's been awhile since your last lunch there, I can't recommend Liba enough. You can visit them at their brick and mortar location downtown and their salad bar pop-up at farmers markets around the Bay Area. What is your favorite Liba Falafel combination?
380 17th St, Oakland
(415) 806 – 5422

Becca is a New England native who recently moved to Oakland. She loves cooking and eating and is excited to explore her new home as an assistant at East Bay Dish.

Latest posts by Becca Frost (see all)