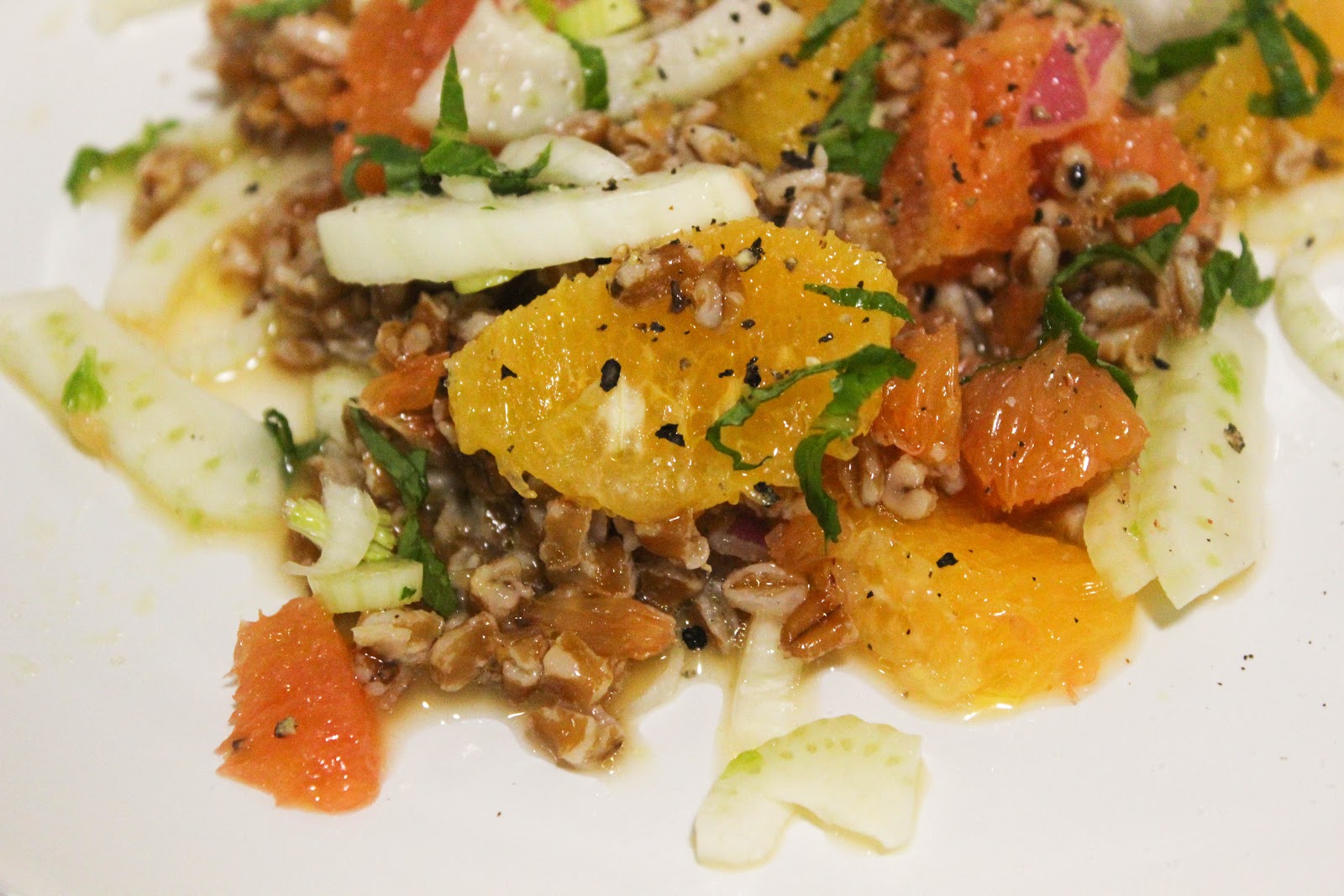 I'm almost to the halfway point of my 8 week #foodloverfitness challenge and I feel great. In Week 3, I ate pizza, ramen and ice cream but still managed to lose weight and and inches with plenty of exercise and healthy food like this Farro Fennel Orange Salad.  I was able to go back to the diet right after each "cheat meal," but it took me a couple days to catch up on sleep.  I'll explain how being tired affected my workout plans, but first let's talk about my progress.
How much I lost
This week – .8 pounds and 3 inches
Total –  3.4 pounds and 8 inches
Farro Fennel Orange Salad https://t.co/NCwQvKzxt3 @markethallfoods #foodloverfitness pic.twitter.com/HvnTnqGEsv

— Christina Mitchell (@eastbaydish) January 29, 2018
What I ate
I made Market Hall's Farro Fennel and Orange Salad and it was both light and hearty, with brightness from the citrus. It was my first time cooking with Agrumato Orange Oil, which was made by crushing olives with whole oranges together, and I think I'm definitely going to use it in other dishes in the future.
I also made Mini Egg Omelets with kale and onions for breakfast and Italian Sausage & Veggies for dinner.
Week 3: still weight and inches! @TIFFTrainEm #foodloverfitness pic.twitter.com/UH4EzdGXVx

— Christina Mitchell (@eastbaydish) January 29, 2018
How I worked out
Training online with TIFFTraining gives me structure and flexibility.  Tiffany uploads the training plan to an app and then I follow along on my phone and do the exercises wherever I want. Since I went to the gym 3x last week, I didn't feel like going at all this week, but I still accomplished my goal by working out at home!  And I also finished the week with a beautiful but very steep 7 mile hike.
What I learned
I was too tired to go to dance class this week, and I was kinda sad to miss out.  This made me realize that getting enough sleep is way more important than I thought, so I did some research. Not only does it affect your ability to exercise, sleep also controls your diet and affects your fat cells, so I will definitely be making it a priority from now on.
Sometimes tasting is better than eating. This week I didn't have restraint with a bowl of ramen or an ice cream cone, but when I was at a pizza tasting, I was proud of myself when I only ate one slice and had bites of five other slices.
I've never tracked measurements like this before, but it's obvious that I'm losing more inches than pounds. And that's fine with me.
My "fat pants" are getting loose (yay!). Now I just need to keep going so I can fit in my regular pants.
Next week
My goal is to continue the meal plan, workout 4-5 days a week and get 7 hours of sleep. Wish me luck!

Christina is the founder of East Bay Dish and a social media marketing consultant. If you want to attract more customers with social media, click on my picture 🙂

Latest posts by Christina Mitchell (see all)