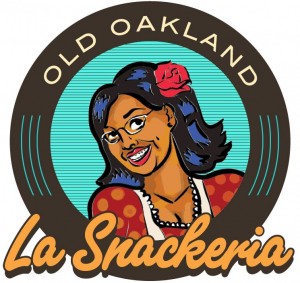 After working at her family's 70 year old restaurant, La Borinqueña Mex-icatessen and starting her catering and mobile food business, Tina Tamale is getting ready to open La Snackeria in late September around the corner at 815 Washington Street.   She's a friend so I've been hearing about her #secretproject for a while, but she wasn't ready to spill the beans…until now.
Why did you decide to open La Snackeria?
After 33 years in the food industry, I felt it was time to open a shop of my own to highlight all the flavors my life in Oakland has always been filled with day to day.
Why now?
The opportunity presented itself when the ideal location suddenly became available. A very dear amiga aka our chief cheerleader & supporter helped me dream bigger than I could imagine. It's been a whirlwind of planning & we are almost finished with our six week flip of the former sandwich shop we are moving into!
What kinds of things will be on the menu?
We'll be highlighting local, fresh food. Quesadillas filled with melted handmade Oaxacan cheese & char siu style pulled pork, lots of salads from the bounty grown by local farmers plus aguas frescas with tapioca balls that we call boba frescas. We'll also have snacks & desserts made both in house & by local indie food purveyors like Tart! Bakery.
Why Chino Latino?
My business & life partner, Gil Yee, is American Born Chinese by way of New Orleans, LA. I am Cali-Mex by way of Oakland, CA. Since Oakland Chinatown is just a few blocks away from our home, my daily food shopping naturally explored this cross-cultural relationship.  Many #testcocina recipes were born out of what I find in our local markets!
How will the new project affect La Borinqueña Mex-icatessen and Tina Tamale catering?
This is all about expanding & exploring what our cultures & communities have put before us over the years. La Borinquena, my family's 70 year old Mexican restaurant, is all about tradition. Tina Tamale has brought catering & special event vending to thousands of people hungry for authentic Mexican-American food. La Snackeria is a natural next step of expanding our family of brands. Our customers then discover our other businesses & it's all about sharing.
What are your goals for the future?
As spokesperson of our brands, I have been very fortunate to appear on multi-media platforms including social media, print, online video, TV & radio all evolving from being an early Oakland blogger. I have been able to share my bilingual Latina American life with a liberal sprinkling Spangish throughout while showing off what my amazing hometown of Oakland has to offer. My goals are to cross over on a mainstream level & to continue to start new indie businesses.
Anything else we should know?
I was recently endorsed by an Oakland mover and shaker, Libby Schaaf, for a Kiva Zip micro-finance loan. These are 0% loans for entrepreneurs that anyone can help fund by loaning individuals as little a $5. I was lucky to have a ton of support & I am now a funded borrower. Later on, I wish to become a trustee myself & endorse nano, micro & small Oakland Grown business owners especially women & people of color. You can read about our micro-loan story & FAQs about Kiva Zip here: http://zip.kiva.org/loans/6495/i/j6x8

Christina is the founder of East Bay Dish and a social media marketing consultant. If you want to attract more customers with social media, click on my picture 🙂

Latest posts by Christina Mitchell (see all)