A food tour can be a great way to show off the town when you have family and friends visiting.  But it can also be an opportunity to take a staycation and learn more about Oakland.  Lauren Herpich started Rockridge Food Tour started a few months ago and I was invited to check it out last week.  We walked all over the neighborhood for about three hours, talking and snacking along the way. Here are some suggestions so you can get the most out of a Rockridge Food Tour: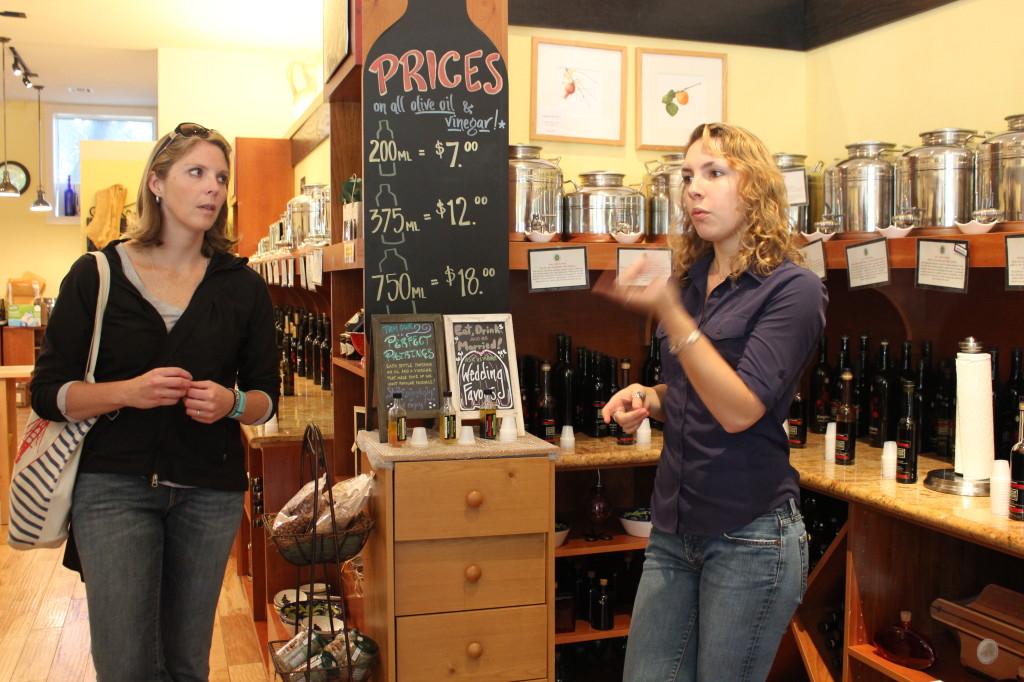 Get there 10-15 min early
Lauren starts right on time, so give yourself time to find a parking spot.
Wear comfortable shoes
Rockridge is a pretty large neighborhood and we covered about 3 miles.
Eat breakfast
I've been on lots of tours through the years and have learned not to eat breakfast because they usually serve so much food.  But one of Lauren's goals is to leave her guests feeling "satisfied – not starting nor overfull."  I definitely left satisfied, but had to eat a snack a couple hours later, so I wouldn't skip breakfast next time.
Listen
She shared a lot of interesting history including how the land around the Claremont Hotel was acquired through a checkers game, how the neighborhood got its name and the origin of a well known ice cream.
Ask questions
Even though she shares a lot of information, feel free to ask questions if you think of any.  I asked a few at Amphora Nueva and learned about the shop's name and why they only had olive oils from the southern hemisphere at the time.  Someone else asked a question at Rockridge Market Hall and we all learned about several ways how to put a cheese plate together.
Taste everything
We tasted our way through the neighborhood: a La Farine morning bun, olive oil, vinegar, cheese, pulled pork from Ver Brugge and Zachary's Pizza.
Talk to people
Lauren was really nice and easy going, so we talked about how she moved to Rockridge from Chicago with her husband a couple years ago.  She used to give tours there and decided to use those skills as a way to support her new neighborhood.  I wish I had also gotten the chance to talk more with the other people on the tour because everyone seemed cool.
Use the discounts
She gave us a map and coupons for the next visit.  We also had the option to buy something during the tour and pick it up afterwards.
The Rockridge Food Tour would be great for friends, family or even a date – and you don't have to be a tourist to enjoy it.

Christina is the founder of East Bay Dish and a social media marketing consultant. If you want to attract more customers with social media, click on my picture 🙂

Latest posts by Christina Mitchell (see all)