A friend and I went to dinner at Gather in Berkeley and we were really impressed with the delicious cocktail and springy asparagus and pancetta pizza, so I was excited when Christina and I were invited to try out Gather's new 510 Happy Hour. On weekdays from 5:00 – 6:30pm, draft beer is $5 and signature cocktails are $10, so it was a great excuse to go back and learn a little more about the menu.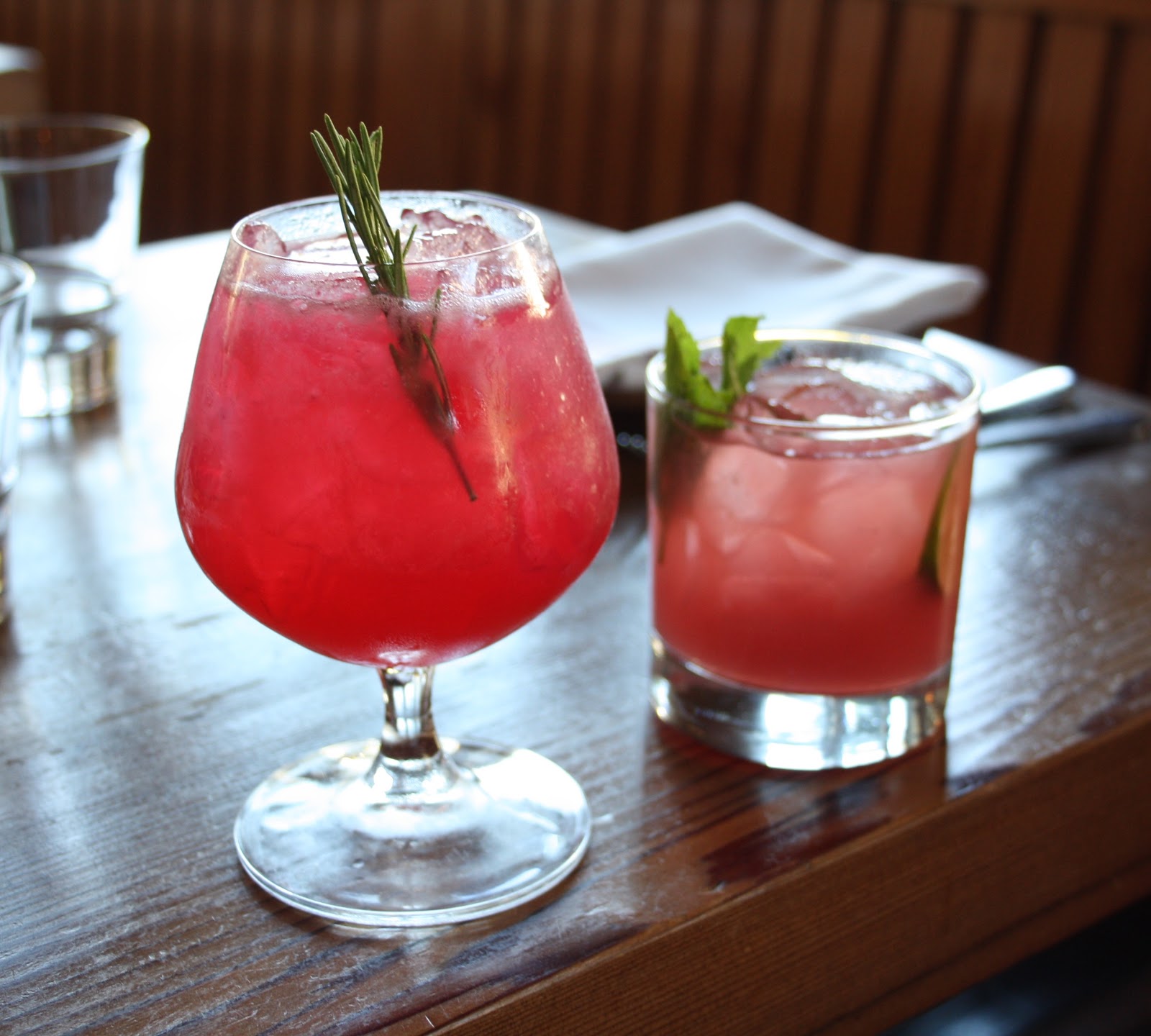 We started with two very pink cocktails, and I have to admit, it was exciting to see such vibrant drinks on their way to our table! The Kali's Gift (left – tequila blanco, mezcal, Dolin Blanc, lime, hibiscus cordial, $10 at happy hour) was tropical with a deep smoky finish from the mezcal. It was totally unlike any cocktail I've had before, and I loved it. The West Indy (right – Lo-Fi Gentian Amaro, gin, lemon, grapefruit, pineapple cordial, $10 at happy hour) reminded me of a punch without the bubbles. The fruitiness was balanced with the herby fragrance of the mint garnish, which completely transformed the flavor.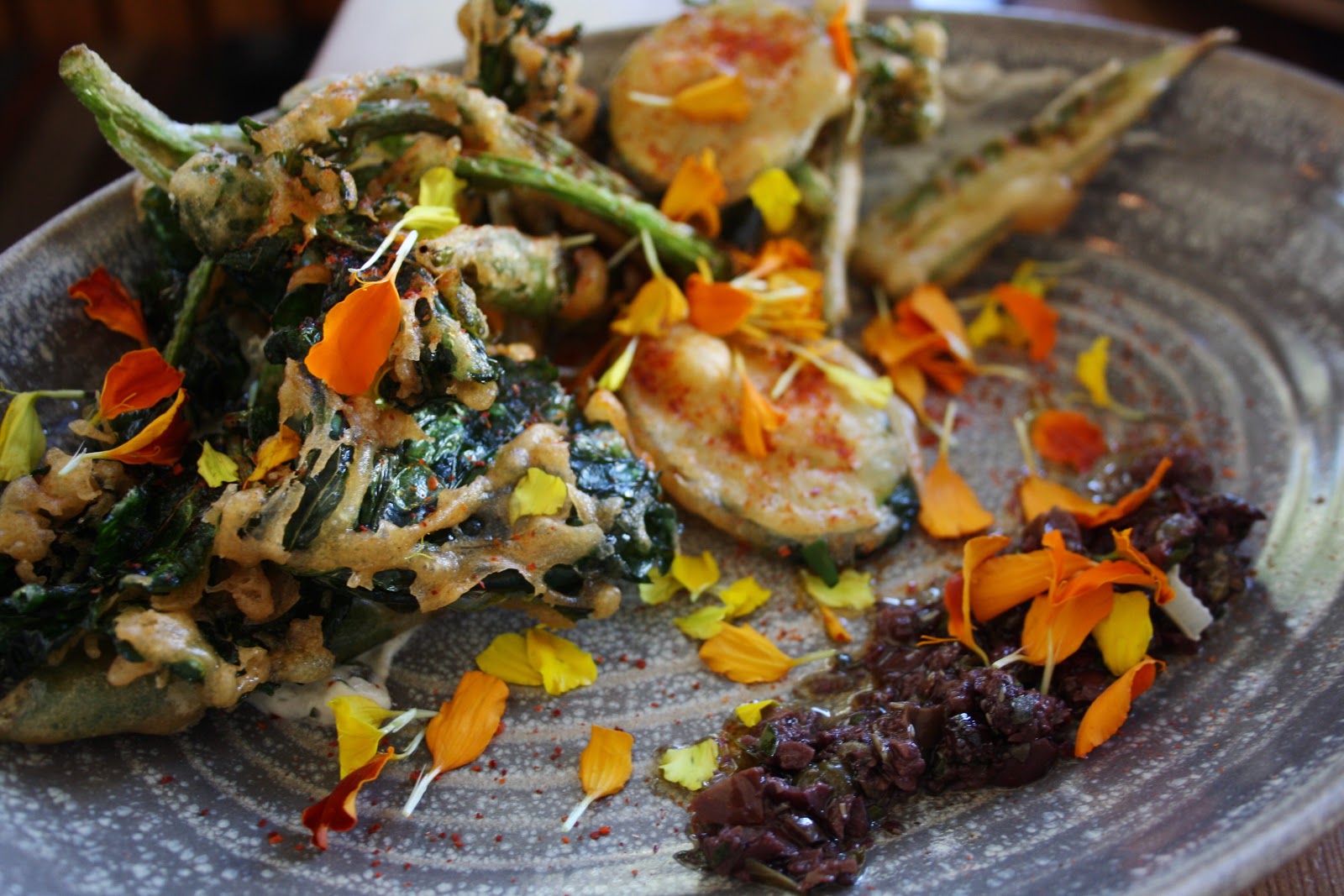 The Chef sent out a few small plates to accompany our cocktails, and started with the Summer Vegetable Fritto Misto (cashew tartar sauce, olive salsa, Espelette, $16). The cashew tartar sauce and tapenade helped cut through the richness of the crispy fried kale, broccolini, and zucchini, and I thought the petals were a beautiful, whimsical garnish. This dish was delicious, but I was a little surprised at the $16 price tag. I was glad to have tried this dish but I'm not sure I would order it again.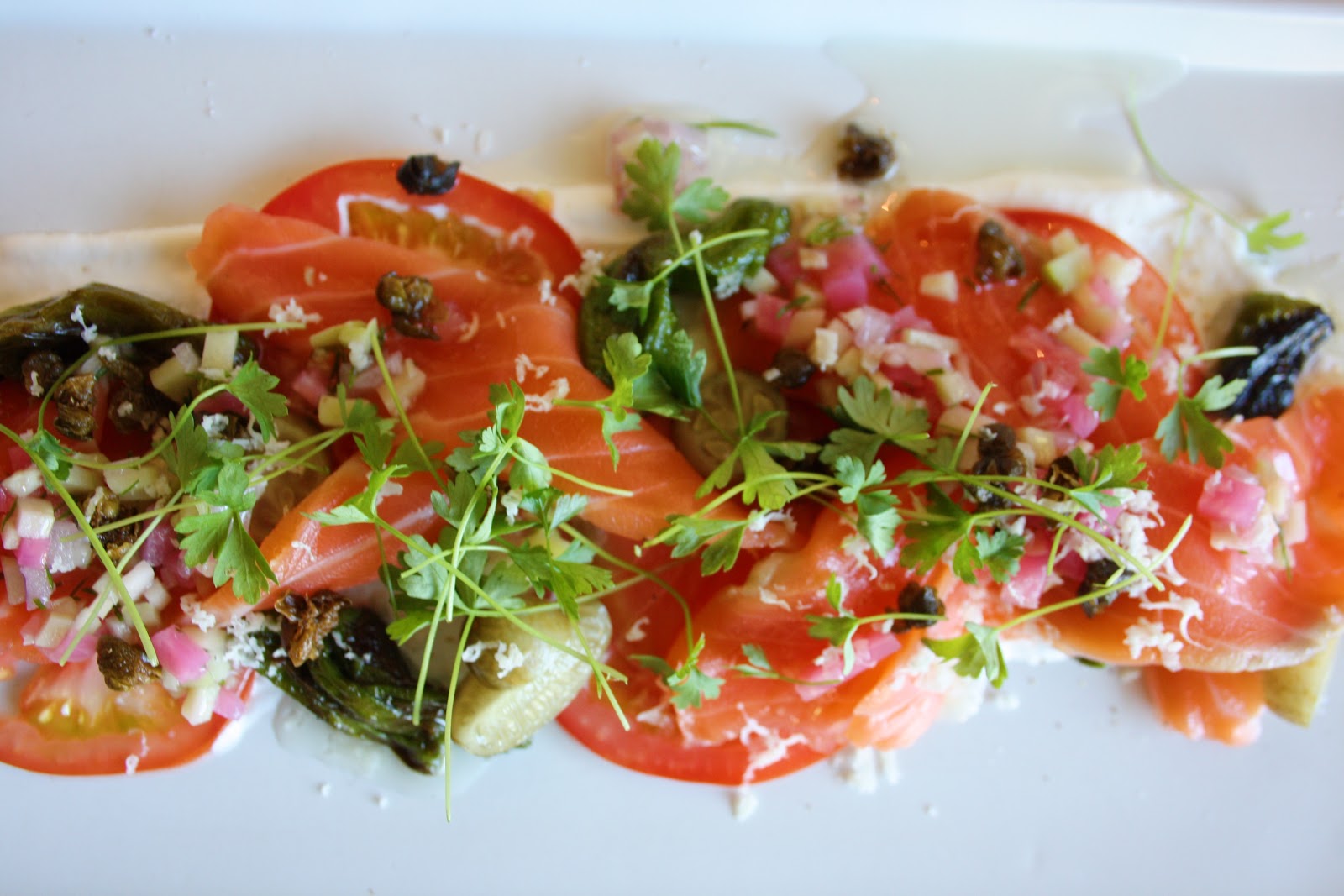 The King Salmon Crudo (tomato carpaccio, shishitos, cucumber salsa, horseradish, dill, $16) arrived next, and the subtle sweetness of the tomatoes, kicky horseradish, and fresh dill really made the salmon shine. It was perfectly balanced and would be really nice for a light appetizer on a hot day.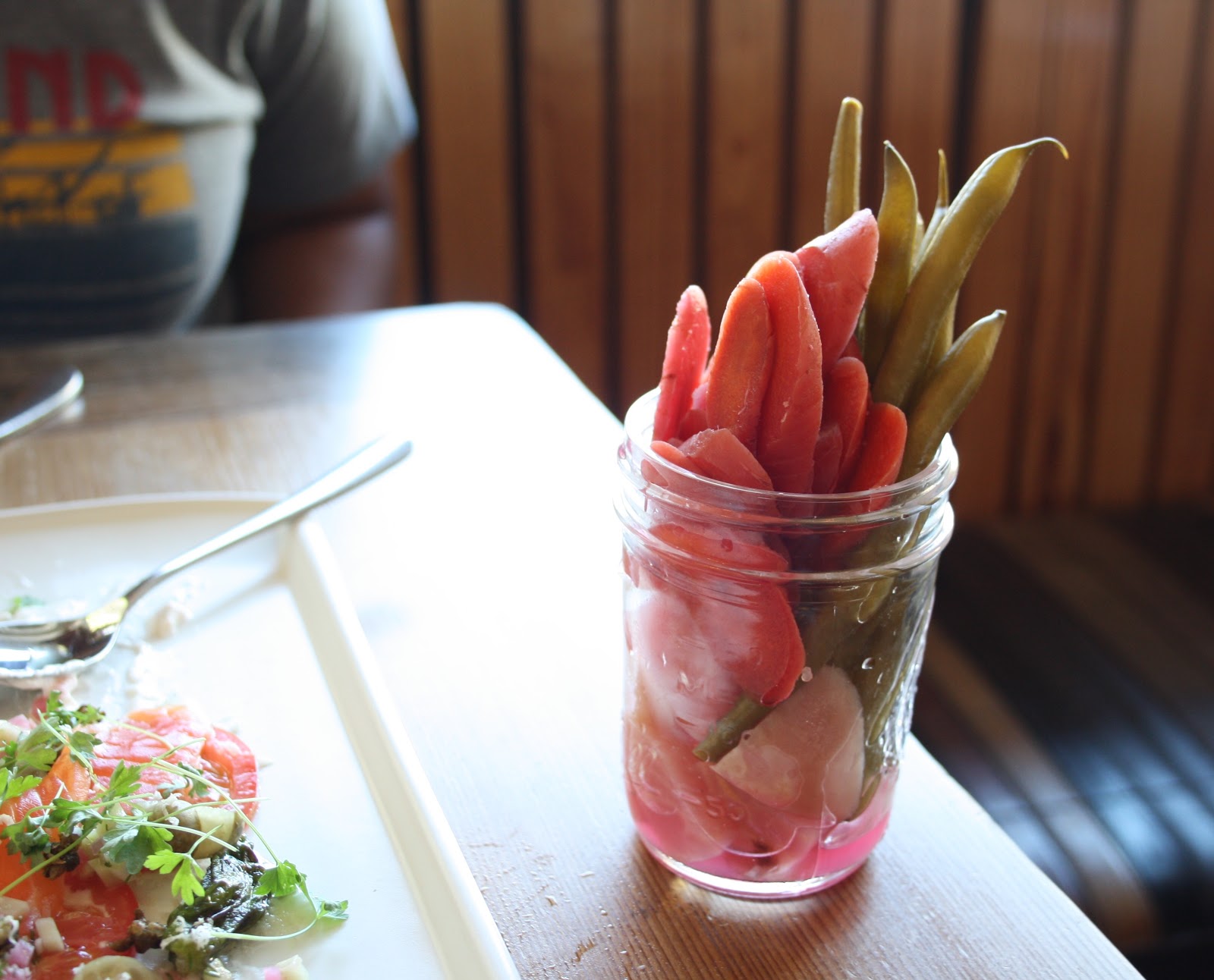 A jar of the House Pickled Vegetables ($6.50) also arrived around the same time. The walls of the restaurant were artfully lined with giant mason jars full of pickled vegetables, so I was glad we got to try some. The jar was completely stuffed with beets, carrots, and green beans sticking out of the top. I wouldn't usually seek out pickled vegetables like this, but if you're a big fan, you would probably really like them.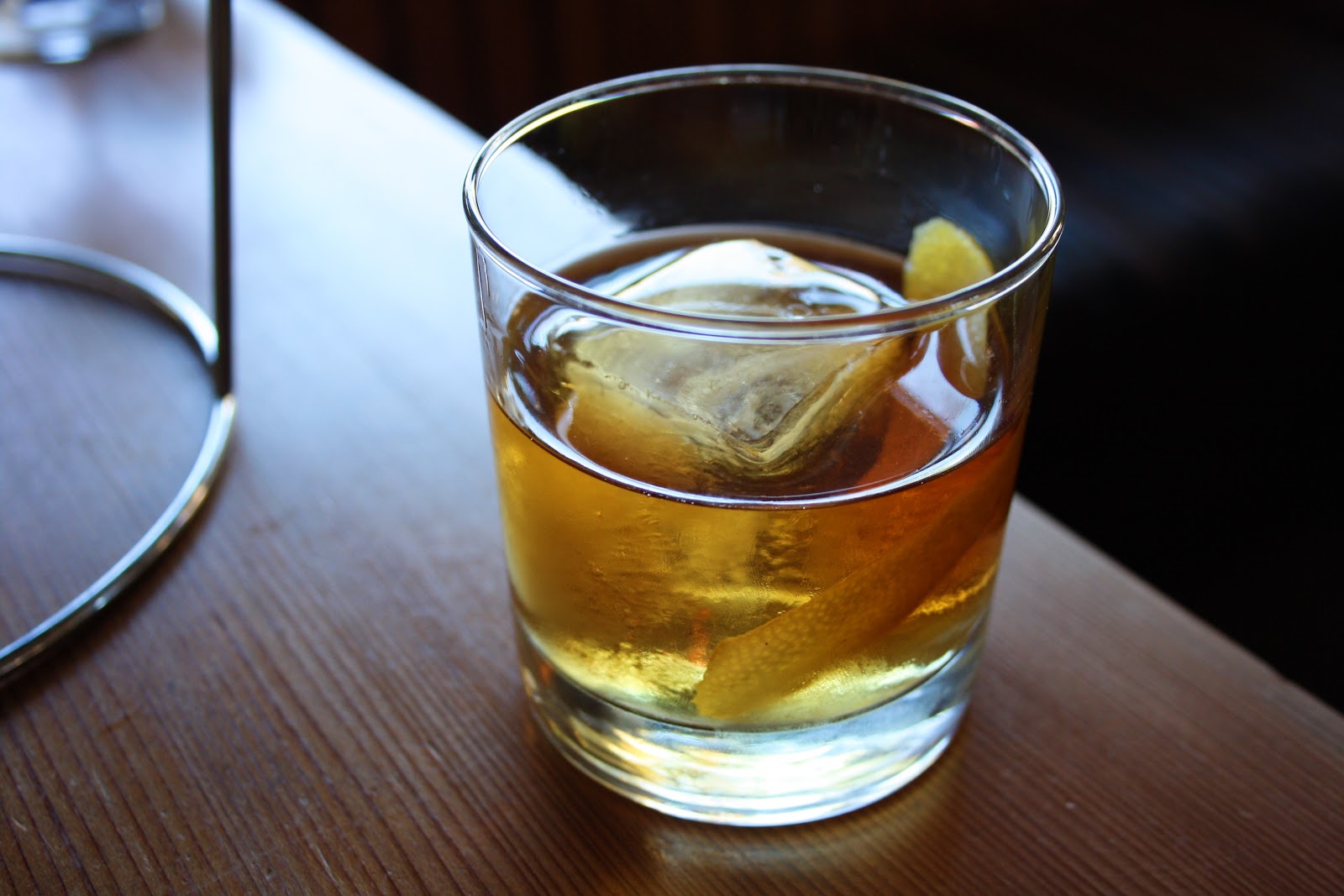 It was about time for a second round of cocktails, so I picked out the Bitter American (Bourbon, Montenegro, Cherry Bark Bitters, $10 at happy hour). It was listed on the Spiritous section of the cocktail menu, and at first it was definitely too spirit-forward for my taste. I followed Christina's advice and let the ice melt a little, then the flavors really opened up and I found it had a certain warm coziness.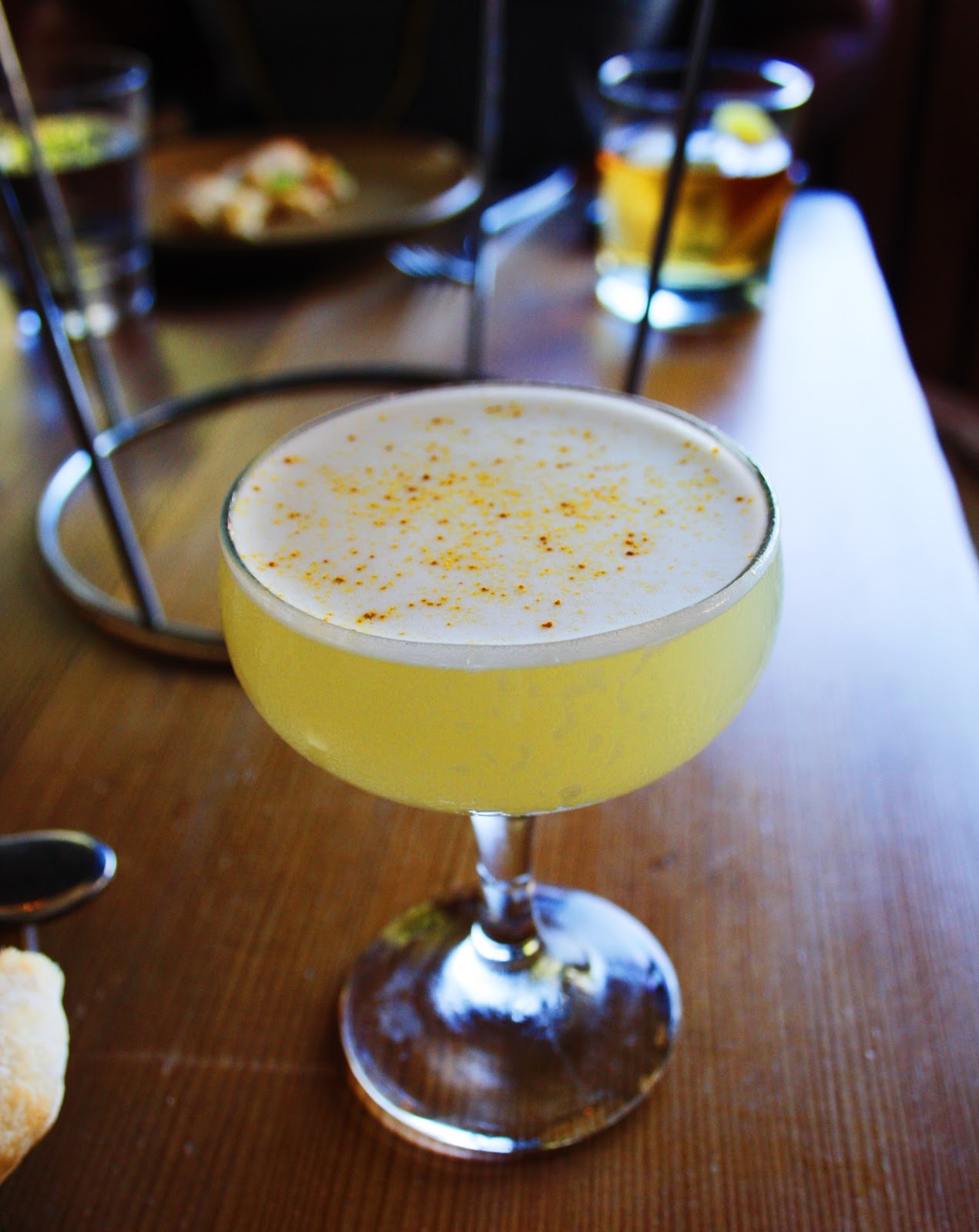 Christina ordered the Late Bloomer (Late Bloomer Gin, Dolin Blanc, Honey, Lemon, Bergamot Tincture, Egg White, Bee Pollen, $10 at happy hour) for her next cocktail. We agreed this would go well with brunch. I liked the lemon and honey flavor combination, which was soothing and almost medicinal. It reminded me of a cough drop in the best possible  way.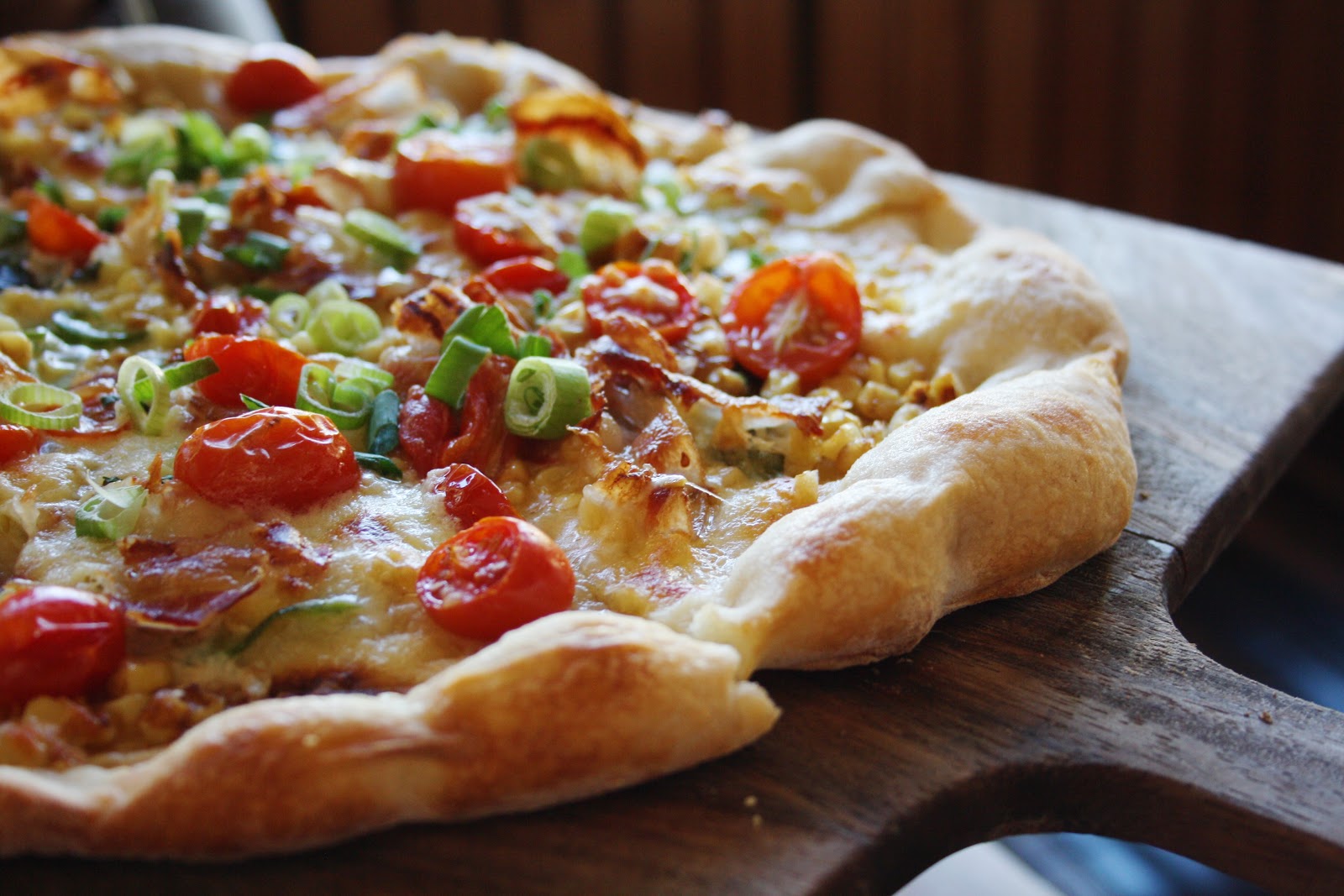 One of my favorite parts of the meal was the Cherry Tomato Pizza (roasted corn, ricotta, basil, chile Serrano, scallion, $22.50). The blistered cherry tomatoes, sweet roasted corn, and basil tasted so summery, and the Serrano added a little heat to certain bites. The toppings were simple, straight forward, and incredibly delicious. I also loved the crust, which was thin and crispy like a flatbread in the center but had little pockets of dough around the edge for extra soft-chewiness. I took home the leftovers and ate another piece as soon as I got back to my apartment. That's how good it was.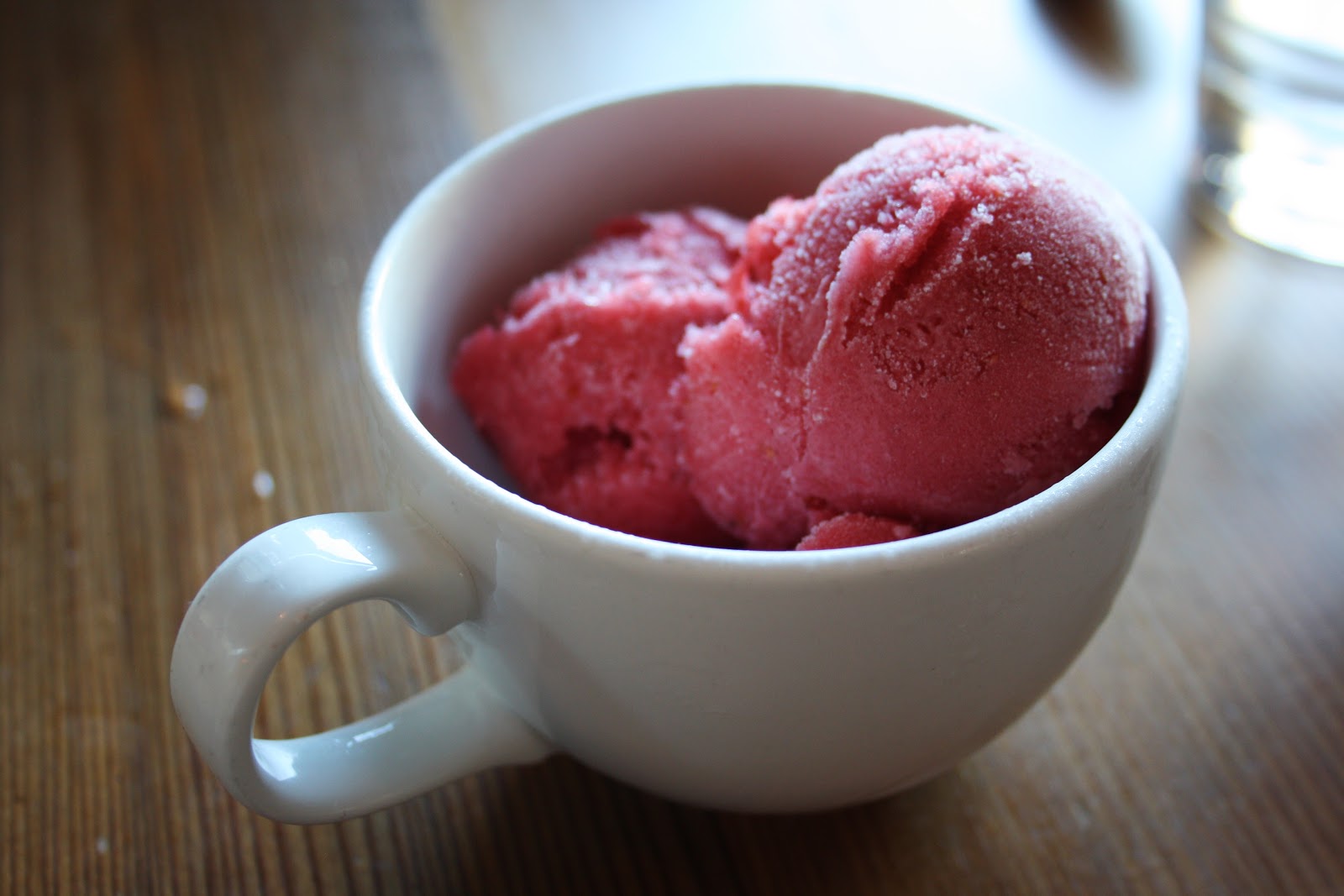 We finished the meal with Raspberry Sorbet ($6) which was tart, slightly sweet, and a lovely, light way to end our dinner.
I really enjoyed how thoughtfully Gather's food and drinks were composed, with seasonal ingredients and garnishes. Each dish was balanced within itself and our happy hour dinner also felt well balanced as a complete meal. Have you visited Gather? What did you try?
2200 Oxford Street, Berkeley
(510) 809-0400

Becca is a New England native who recently moved to Oakland. She loves cooking and eating and is excited to explore her new home as an assistant at East Bay Dish.

Latest posts by Becca Frost (see all)